A welcome upgrade to a must-have plug-in for any serious After Effects user who wants to bring their edits over from Avid Media Composer or Final Cut Pro with minimal fuss
If you're an editor who uses Adobe After Effects then you've probably been faced with this question: How do you get your footage, easily and without a lot of wasted time, into AE for further post? There's always the option of just working with a single clip in After Effects or importing a single clip at a time to build a new comp in After Effects. But that can be a very tedious task, to say the least, for a large, complex edit.
One popular tool for getting your edit into After Effects is Automatic Duck Pro Import AE, a long-time favorite since its inception in 2001 by editor Wes Plate and his engineer father, Harry Plate. It was a company born out of necessity: under deadline, Wes needed to get his offline edits into Adobe After Effects. Realizing that he obviously wasn't the only one with this problem, he and his father set out to create a series of plug-ins that would solve it.
I've never been a big After Effects user and am usually in a position where extensive motion graphics and VFX shots are farmed out to more dedicated specialists. But with the changing face of post-production, we're all doing more (with less) than we ever have before and I've been using, and learning, AE much more in recent months. With that I jumped at the chance to review Automatic Duck's newest release Pro Import AE 5.0. I'm not new to the plug-ins in general. We use Pro Export FCP at my facility to send FCP offline edits to our online Quantel eQ suite. This plug-in lets me export an AAF file that carries quite a lot of information from offline to online, which saves the online editor time when rebuilding an edit for final finishing.
But Pro Import AE is the tool that put Automatic Duck on the map. Using it, particularly this new version, is quite simple. The software installs in After Effects. You then export a list from your editing application (an XML from Final Cut Pro and an AAF or OMF from Avid Media Composer) and import that list into After Effects through Pro Import AE. But the tool's advantages are more than just getting multiple clips into an AE timeline. What you're getting is a true rebuild of an edit with all your effects, notes, time warps and speed changes, keyframes and DVEs importing along with your clip from your editor into AE. If you're using AE as an online tool, the time Pro Import AE could save you is enormous.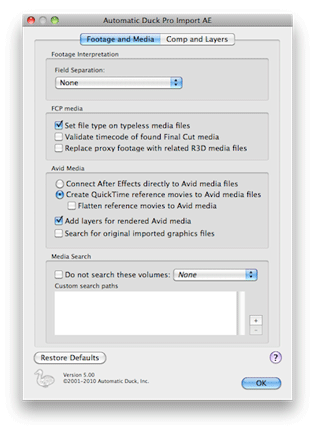 As a test I created a timeline in FCP and applied the majority of supported features that the Automatic Duck Web site says Pro Import AE 5.0 supports. It was a relatively simple timeline overall in that it wasn't terribly long or full of a lot of layers, though all of the clips did include a supported effect, marker or keyframe. I'm happy to say that pretty much everything did seem to translate intact. A couple of notes: Since AE doesn't support grouping, FCP multiclips come in as single clips. Also, sequence markers are placed on a top layer as a placeholder, which is very nice for organization. Unfortunately, third-party filters aren't really supported more than clips are simply labeled with the name of the filter. But time remapping works quite well.

The above image shows a side-by-side comparison
of the Final Cut Pro timeline and the After Effects
composition
I also tested an Avid Media Composer 5.0 timeline export via an AAF file. Like the FCP sequence, Pro Import AE 5.0 was able to rebuild the timeline into a near exact replica. AutoDuck has developed a smart approach to work with Avid MXF media in After Effects. It creates QuickTime reference movies for each of your clips and uses those in the After Effects composition. A few notes on the Avid edit: The Dissolve and DipTo Color transitions weren't rebuilt in the Avid import but markers were placed on the clips to indicate the transitions. When changing a clip name in the bin it came across in the Media Composer rebuild but not the FCP rebuild. The plug-in also built the Media Composer Matte Key layers but didn't apply a key or a note in After Effects.   Timewarps worked well, as did clip locators, though that isn't mentioned on the Automatic Duck site. (The image at the top of this review shows a side-by-side comparison of the Media Composer timeline and the After Effects composition.)
Comps and Layers
After Effects has an interesting way of dealing with multiple shots in a timeline. Instead of   putting multiple shots in the same video layer, all shots get their own layer. That can mean an After Effects project of tens or maybe hundreds of layers when you're exporting a full edit from your NLE into After Effects. Pro Import AE does give you several options for how the clips are layered in the AE comp. That's where the power of the subclip comes in handy. You many not need to take an entire edit over to AE. Pro Import AE makes it very simple to make multiple sequence subclips in your editor and take those over to AE, via Auto Duck, one by one. Depending on the size of your edit and how many shots you need to bring into AE, Pro Import AE 5.0 can shave off a ton of time during the process.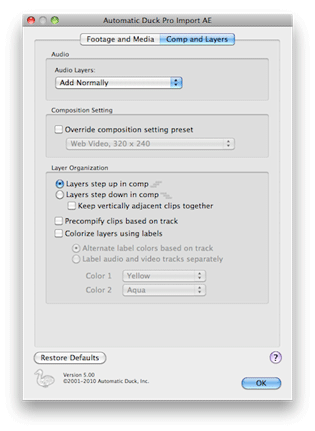 I did notice a few crashes as I was trying to import some of the sequences. It seemed to happen more on XML imports from Final Cut Pro and more often when audio was involved. There are several options as to how Pro Import AE will handle the audio but I found the most stable method was either placing the audio into a composition of its own or ignoring it altogether. I wonder if the crashes were more related to the AutoDuck import or to After Effects CS5 itself?
One complaint I've often heard about Automatic Duck is their somewhat Draconian copy protection measures. There is a specific process that must be followed when installing and authorizing the software. It can take some time and be a bit confusing but I'll defend that process for just a moment. One thing that happens all too often, especially in the Final Cut Pro universe, is when an editor loads up a flash drive full of plug-ins and copies them from one system to another. We all know it's done. You can't do that with Automatic Duck products because the authorization process won't let you. Small developers like Automatic Duck aren't Apple, Avid or Adobe and they feed their families off of the products they make. I'll cut them some slack on this point, especially since the company has such good technical support. In my experience and what I've heard from others, Automatic Duck support has always been fast and thorough when dealing with installation issues or operational issues.
In closing, the bullet point features for this new 5.0 release of Pro Import AE are worth noting. There are usability improvements across the board and features that will be important to a number of specific workflows:
• 64-bit compatible plug-in supports After Effects CS3 through CS5;
• Support for Motion 3 and 4 project import;
• Option to replace Final Cut Pro proxy media with R3D files;
• DPX/Cineon sequence support from Final Cut Pro;
• Support for MXF4Mac and other MXF QuickTime components;
• Improved text import with font, color, size and style info (CS4 and later);
• Updated third party plug-in translations;
• New usability improvements.
Overall Automatic Duck's Pro Import AE is a must-have tool for any serious After Effects user who wants to bring their edits over from Avid Media Composer or Final Cut Pro (or Apple's Motion) with minimal fuss. The $495 cost for a license is easily justified with just a few uses on the right job. If you're a dedicated After Effects artist, it's a no brainer. Why not make life easier for yourself and your clients when it comes time to send over jobs for your AE artistry? Pro Import AE's best feature is how much time it saves, and time…well, we all know how the rest of that saying goes.