Packed with features for both Mac and Windows users
ZBrush is an award-winning digital sculpting program used for film effects, video games, concept design, scientific illustration, illustration, character creation and other 3D modeling, including jewelry design. Pixologic released ZBrush 4 in July 2010, which also happened to be the software application's 10th anniversary. This version is a well-stocked package with an interface that resembles the use of traditional sculpting. Now you can sculpt models in both 3D and "2.5D," where a 3D image is dropped onto the canvas for illustration. Additional 3D models can be created and dropped to the same canvas for further effects.
The new version of ZBrush brings both Mac and Window users to an equal playing field and offers a variety of new sculpting features. This version is definitely not a facelift of former incarnations of ZBrush, but instead is overstuffed with new and powerful features.
GoZ
It is becoming increasingly easier to create exclusively in ZBrush. For those who use additional programs, however, Pixologic has provided GoZ for a seamless transition of geometry back and forth between Maya, Max, Modo and Cinema 4D. GoZ was first available in the last release of ZBrush 3.2 for Mac. In ZBrush 4 it is available for both Mac and PC. You can make a sculpture in ZBrush, complete with texture maps, normal maps and displacement maps and, using GoZ, send it back and forth between programs. This bridge does not stop there. Pixologic has made its proprietary information available to other manufacturers, so expect to see more programs added to GoZ in the future.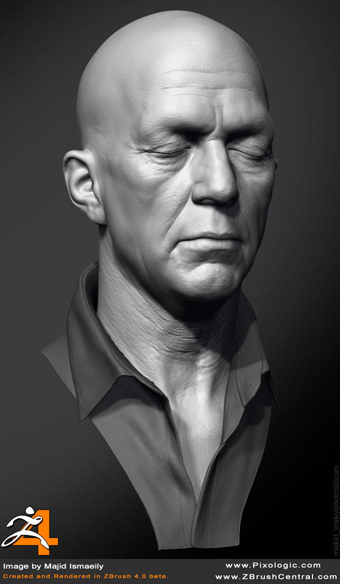 ZSketch
While the last version of ZBrush for Mac included GoZ, the last version for Windows introduced ZSketch. Mac users, rejoice: ZSketch is very intuitive. If you have a traditional sculpting background, like I do, you'll find it's more like sculpting in real clay, similar to when you add tubes of clay to your model. ZSketch is accessed inside of ZSpheres, a window for modeling using spherical shapes. It is quickly becoming a favorite tool among power users.
Shadow Box
Shadow Box, which is a very quick way to create a base mesh, is new to both the Mac and Windows user in ZBrush 4. You can create a mesh by simply drawing a mask on the three sides of Shadow Box. Combining Shadow Box with masking pens makes hard surface modeling as easy as organic modeling in ZBrush.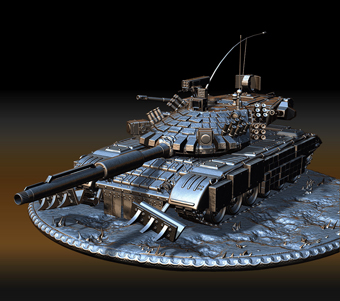 Steve Warner puts the hard surface modeling tools to the test with the creation of this Spetsnaz Tank. Watch his step-by-step tutorial on how to do it.
Spotlight
This new feature allows users to collect images, for example, photographs of skin, and use these images as different textures on your model. Spotlight is also billed as a painting system, since you have access to complete image editing, as well as cloning and tiling images.
Light Box
Light Box organizes all your folders, including Projects, Documents, Tools, Brushes, Materials, Textures, Alphas, Scripts, and others, in one convenient browser window.
The most interesting new tools can be found inside Light Box Projects. One such tool, Mannequins, is an absolute time-saver and considerably speeds up the creative process. No more laboring through the creation of ZSphere models; now you can dive right in using preexisting mannequins for posing. Although your choice of mannequins is limited to humanoids, a dog and a frog, you can change the general shape inside ZSpheres of each model to result in an entirely different creature altogether. Using multiple mannequins helps you quickly set up a scene and any posed mannequin can be easily converted into a sculptable mesh.
Along with Mannequins there are several free models that can be found in Light Box including Demodog, Demorhino, Demosoldier and Demozsketch bug.
New Brushes
Anyone who is familiar with the wide variety of existing ZBrush brushes might wonder why it is necessary to add more. ZBrush 4 includes a few new ones that are well worth mentioning because they will save you so much time.
Match Maker Brush assists in contouring one design to match the contours of another, for example, a breastplate design contoured to a chest.
Move Elastic Brush is a wonderful new brush that is quite different from the traditional Move Brush. Move Elastic Bush tries to maintain the size of polygons to keep overall polygons from stretching. It is a great brush for making organic shapes.
Move Topological moves parts of a model independently of others. For example, moving eyelids around an eye or lips around a mouth.
Clip Brushes lets you clip or cut areas perpendicular to the surface. These brushes cut away or slice through the model.
Brush Alpha Enhancements
You can now spin alphas as you make a stroke, which means you've now got even more options for bringing texture and decorative patterns to your modeling.
Best Preview Render Mode (BPR)
Best Preview Render does exactly what it says it does, rendering the best version of your ZBrush stills or animations by manipulating Shadows, Color, Ambient Occlusion, subsurface scattering and fibers.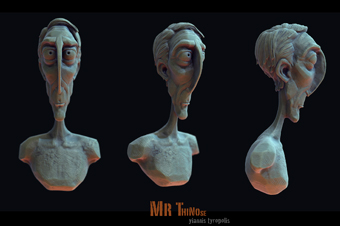 Yiannis Tyropolis created, modeled, textured and rendered (top of page) his character inside ZBrush 4.
Transpose Measuring
Transpose Measuring acts as a traditional sculptor's caliper, letting you measure portions of a model and compare it to other areas.
Saving ZProject
ZBrush users now can save an entire project complete with subtools, timelines, materials textures, document size and camera positions. As you'd expect, these ZProject files can be extremely large. But it is very handy to be able to save everything in one place. One slight oddity: If you've imported an obj into your model, you must first save it as a tool before it will be saved in ZProject.
I could go on and on; the above are but a small sample of the many great new tools available in ZBrush 4 that will continually stretch your imagination and creativity. There can be a steep learning curve when learning ZBrush from scratch and getting used to all of the new features can take some time. However, once you become familiar with each existing and new feature, you'll soon find your productivity and creativity increasing. The ZBrush forums offer a great deal of technical support and there are many video tutorials out there to bring you up to speed. Though the user interface does take some time to learn well, and scrolling becomes a regular, almost annoying part of creating in ZBrush, this powerful program truly is the closest thing to working with traditional clay.

A sculptor both in virtual and real worlds, Bridgette Mongeon enjoys bridging the gap between the traditional and digital studio (http://www.creativesculpture.com). She is also the host of the Art and Technology podcast at http://www.digitalsculpting.net.