Camera Has 35mm CMOS, Will Support Dual-Link HD-SDI RGB Workflow
Bridging the gap between high-end ENG acquisition and feature filmmaking, Sony this morning announced the PMW-F3. Based on Sony's XDCAM EX platform, the F3 is designed to support high-end workflows with a Super 35mm-sized CMOS sensor and optional dual-link HD-SDI output.
The F3 is scheduled to ship in February 2011 at $16,000 for the body only or at $23,000 for a kit that includes three Sony-branded T2.0 PL-mount prime lenses at 35mm, 50mm, and 85mm. Sony is formally introducing it with film-school-oriented launch events this month at USC in Los Angeles and next month at NYU in New York City.
Targeting Filmmakers
Sony didn't say how much the dual-link software upgrade would cost, but the company is clearly pricing the camera aggressively to go after the same independent-filmmaking market that has been courted by Red Digital Cinema, not to mention the high-end Canon DSLRs that are all the rage among filmmakers seeking shallow depth-of-field effects. The full 35mm sensor will give filmmakers cinema-style control over their field of focus.
Out of the box, the F3 will support 10-bit 4:2:2 1080 50p and 59.94p over HD-SDI. But with the optional firmware upgrade, due within a year, the F3 will also support full RGB 1080 23.98p, 25p and 29.97PsF recording with Sony's proprietary S-Log gamma. (Hyper Gamma will be available in this mode as well.)
Asked at a press briefing exactly what audience the F3 is targeted at, Sony's Tatsuro Kurachi, group marketing manager for broadcast and professional AV, responded, "We want every SRW-9000 renter to own this camera," referring to Sony's one-piece HDCAM-SR camcorder. Sony's Peter Crithary, marketing manager for production, immediately clarified, "If you have a first-unit F35 or SRW-9000, this would be a perfect second camera."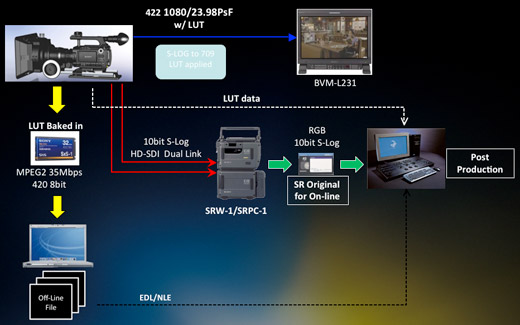 Sony's illustration of a high-end F3 workflow
High-End Dual-Link RGB Workflow
The F3 is based on Sony's XDCAM EX platform, and it will support existing XDCAM workflows, including recording a basic 8-bit 4:2:0 MPEG-2 stream to SxS memory cards at 35 Mbps. But the F3 really shines with a high-end RGB workflow model. Imagine that the 35 Mbps MPEG-2 stream is only a proxy, being recorded to SxS cards with a look-up table (LUT) baked in. At the same time, the camera is outputting 4:2:2 1080p video via HD-SDI to an on-set monitor with a LUT baked in to convert the S-Log footage to R709 color space. (Sony says that, as far as it knows, this is the first time a handheld camera has included that capability.) Finally, the camera is recording its high-quality digital negative: dual-link HD-SDI out to the HDCAM SR format in S-Log, without a baked-in LUT, at either 440 Mbps or 880 Mbps.
At first, that HDCAM SR format is likely to be tape, but Sony said a year from now filmmakers may be recording to its new SR Memory card format instead of SR tape, with options of 220 Mbps or 440 Mbps. That would make the camera a true direct-to-edit solution, giving Sony a functional equivalent to Avid's DNxHD or Apple's ProRes formats. Filmlight supports the SR codec in its Baselight system today, and Sony said Avid and Apple will announce native SR support "very soon."
New CMOS Sensor
Sony wouldn't say much about the new Exmor CMOS sensor that has been developed internally for the F3. Officials confirmed that it has an effective pixel resolution of 1920×1080 but wouldn't discuss color filtering. Crithary said more info will be available for launch, calling the new chip "a big step up from previous CMOS technology." The rolling-shutter effect colloquially known as "Jellocam" is said to be improved but not quite eliminated.
Future Upgrades
In addition to the RGB workflow, Sony said future software upgrades for the camera will enable 3G SDI as well as a 3D link feature that will allow easy synchronization of two cameras and lenses for stereo-rig operation. For documentarians, a new Sony-developed zoom lens will use the camera's proprietary native lens mount. (The camera ships with a PL-mount adapter.) There was no word on specific dates for the new features to roll out, but it's probably safe to expect something in demo form in time for NAB 2011, when the camera will presumably have been on the market for two months.
For more information, see Sony's press release.
---
Did you enjoy this article? Sign up to receive the StudioDaily Fix eletter containing the latest stories, including news, videos, interviews, reviews and more.