Calling in Favors, Following the Light, and Getting it Done on a No-Budget Shoot
One of the things you notice about the languid, mysterious
Mary Marie
– part sisterly coming-of-age film, part erotic drama – is how
careful
it is. Every element of the image falls exactly in place so that you hardly have to be following the story (two grown sisters spend time at their childhood home after the death of their mother; one of them attracts the attention and affection of a local handyman) in order to glean a kind of fragile narrative from the pictures on hand. The sequences of gorgeously colored and composed images bring to mind a carefully curated photography exhibit. They also convey a pointed intimacy that gives the film its urgency.
Cinematographer Magela Crosignani (The Imperialists Are Still Alive!) tackled the microbudgeted project with a Panasonic HVX-200, a Redrock Micro 35mm lens adapter, and a set of Zeiss Distagon lenses. Working closely with director/writer/actress Alexandra Roxo and her co-writer/co-star Alana Kearns-Green, Crosignani teased out a story that is by turns heartwarming, unsettling, arousing, innocent, and maybe just a little weird – a reviewer at Cinespect.com calls it "perhaps the most, or maybe the only, positive and dreamy film about extreme codependence that I've ever seen." That's close to the mark. Film & Video interviewed Crosignani (pictured above) by email about the challenge. Watch the trailer, below, then read the Q&A.
Mary Marie screens at NewFest in New York City on July 22. More info and tickets here.
Film & Video: How did you get involved with Mary Marie?
Magela Crosignani: I met Alexandra Roxo 10 years ago while shooting an experimental NYU short film in which she was the lead actress. We reconnected a few years back in LA and began talking about working together on a different script she had at the time. That film didn't happen, but a half year later, she called me for Mary Marie and this time the film did come to fruition.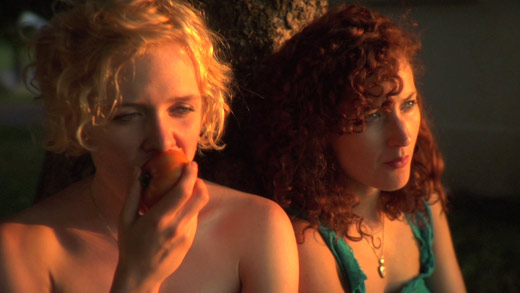 Alana Kearns-Green (left) and Alexandra Roxo
When developing the look, where did you take inspiration? Were you thinking of other erotic films?
Alexandra had many film references in mind by the time I joined the film, films like Elvira Madigan, The Virgin Suicides and The Dreamers. They all communicated a certain romanticism and tone that I tried to interpret for our film. I wasn't always sure it was possible to achieve such romanticism on a shoe-string budget, but Alexandra's vision was so specific that there was no way she was going to let this film look like a documentary.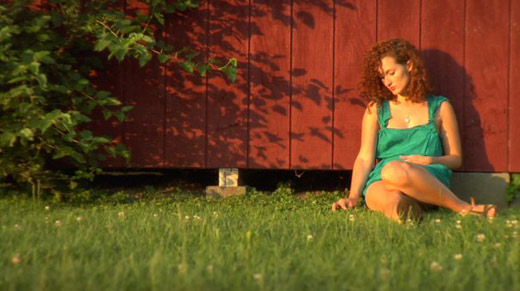 Alexandra Roxo
I've read that this was essentially a "no-budget" film, but it looks beautiful, with lots of striking depth-of-field effects, lush colors, and careful choices of camera angle and movement. What camera and lenses did you select, and how did you get the most out of them?
Even "no-budget" has the word budget in it. I think we were just a no-film. We certainly had nothing resembling a budget. What we did have were local resources that made the film possible, a long list of favors, free locations, free camera and people that donated their time in an incredibly generous way. We had no option but to use our limitations in our favor, and it wasn't necessarily a conscious decision. It was just what was available and at hand.
I didn't select a camera or a lens package. I was given one and I used it to the best of my ability. The camera was an HVX100 with a Redrock [35mm lens] adapter and the lenses were property of the first AC, Jon Boal. They were Zeiss distagons – a 35, a 50 and a 85mm. The lens adapter and the camera were donated by Minji Kang, a filmmaker and student director at Columbia University. I don't know if I got the most out of the camera as that was my first time shooting with it and I did not get to test it properly, but I was happy with the results I was getting and as the film progressed I became more comfortable with it. Mostly I focused on trying to get the best out of the locations we had available.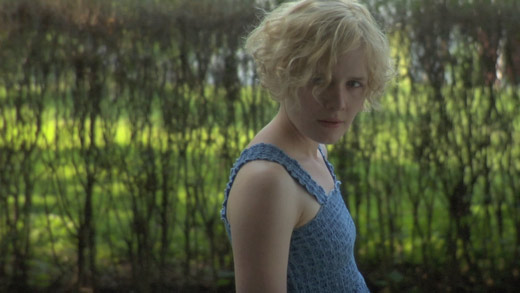 Alana Kearns-Green
How much were you relying on natural light, and what was the camera's performance like in challenging shots?
A large part of the film was shot under natural light. On day exteriors, I would add some fill light by bouncing the sun into bounce cards or a 6×6 Griff. On day interiors, I worked with a combination of natural light, a small Kino-flo package and two HMIs that helped me direct the light whenever the sun was not cooperating. On night interiors and exteriors, I tried using practicals as sources and added china balls to augment or re-create different light ideas. I had two small tungsten units I did not know what to do with until we shot at a bar and realized I would have been in trouble without them. The camera did much better than I expected in low-light situations, but we also tried to keep our low-light set-ups as tight as possible in order to avoid black holes in the frame.
Did you ever think, "If only I had a better camera …"?
I do now … not then. At the time the camera we had was the best we could get. It was free, and it was available, and it allowed us to do the film quickly and inexpensively. Now I wish we had shot it on 35mm film so that we could screen it big and not suffer image degradation.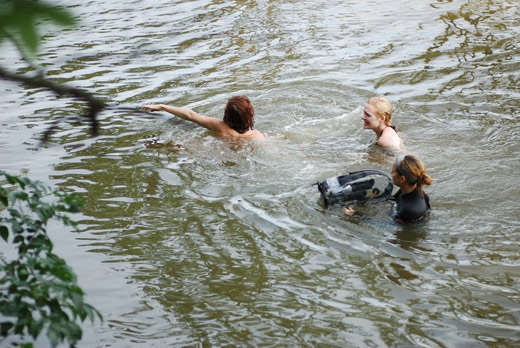 Crosignani in the drink with the two leads
The director and her co-writer both act in the film. What was your collaboration with them like?
It was a very close collaboration in terms of making decisions on set that were going to affect how to shoot scenes and what we could and could not do with the time and crew that we had. They gave me their trust, and I tried to execute their film as close to their vision as possible. They were both a pleasure to work with. Both Alana and Alexandra have an eye for good light. They had the patience to wait for the right moment to shoot a scene so that the sun would help us and not hurt us, and that is all a DP can hope for when shooting a no budget film that wants to look refined.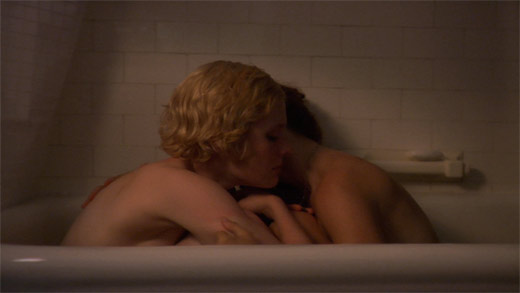 Alana Kearns-Green and Alexandra Roxo
What is the practical effect of nude scenes on a shoot like this? Do they slow you down?
On a shoot like this, nudity is just another thing there isn't time to worry about. The fact that it was the director and the co-writer acting nude was also helpful as they really couldn't blame anyone else but themselves about the situation they were in.
Did you tweak the look substantially in post-production? If so, what did you change?
I was not part of the color correction as, at the time, I was shooting another film out of the country. My only directions were, "Please don't change anything and please don't crush the blacks." I got to see a color pass over the Internet and I had just one disagreement that the director felt similarly about in terms of how far two scenes had been desaturated. I didn't think it was needed. I'm more into keeping the integrity of what we did than into changing it just to match before-and-after scenes. I have not seen the film finished since, so I could not tell you if I won the argument or not.
Can you share any secrets to success on a no-budget film shoot?
Locations, locations, locations … and light studies. If you cant afford to light, then make sure the sun is where you want it when you want it, and make sure the schedule reflects those choices. Eighty percent of the scenes we shot during the day would have looked very different if we had shot them two hours later.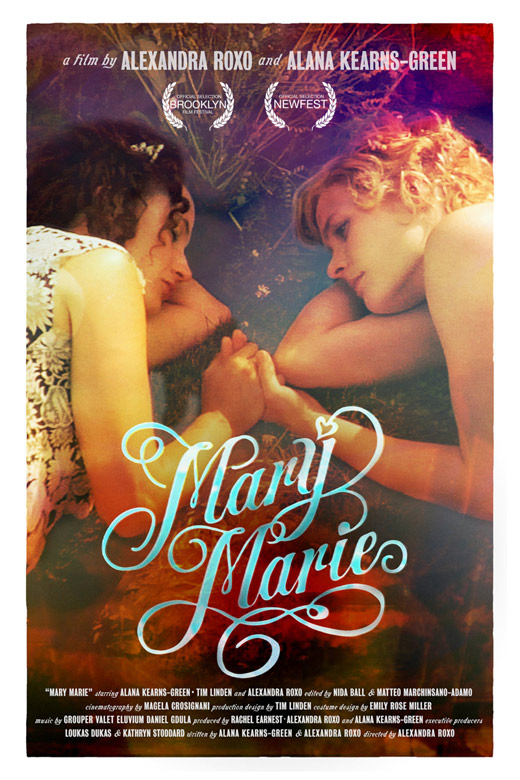 What's your favorite image in Mary Marie?
My favorite image would be the poster, because if there is one, it means the film is out there, is getting seen, and our efforts paid off. I can't tell you the list of images I'm proud of that will never see the light of day. What matters is that these tiny films get done and seen by people no matter how difficult they were to make, how hard to edit, and how long it took to get all the pieces together. I'm proud of Alexandra for fighting it through with very little support, and I'm thankful for the people that helped her finish it.
---
Did you enjoy this article? Sign up to receive the StudioDaily Fix eletter containing the latest stories, including news, videos, interviews, reviews and more.