This ProRes Recorder/Player Is Like an HDCAM Deck in the Palm of Your Hand
Industry infatuation with Apple's ProRes continues to build, from ARRI's adoption of ProRes for its Alexa digital cinema camera to AJA's unveiling at IBC last September of its latest ProRes field recorder, the Ki Pro Mini.
ARRI's Alexa, of course, is a pacesetter that captures 1080p to Sony SxS cards in all four 10-bit ProRes 4:2:2 codecs-422, LT, 422, and HQ-as well as 12-bit ProRes 4444 for RGB.
But it was the original AJA Ki Pro announced at NAB 2009 that blazed the path to recording directly to ProRes, which Apple debuted way back in 2007 as an advanced intermediate codec for editing and post.
In testing Ki Pro for a review back then, I remember trying to shake my incredulity that an Apple codec could be a good choice for high-end video recording in the field. What a difference eighteen months makes.
The original Ki Pro is about the size and weight of one of those fat aluminum 2TB G-RAID drives common in editing rooms, with a top slot for a 250GB hard disk or solid-state drive module, plus two side slots for SxS cards. It records 1080p, 1080i, and 720p to all four 10-bit ProRes 4:2:2 codecs. Moreover, it doubles as a universal up/down/cross-converter, just like AJA's earlier Io HD box did.
Ki Pro has scads of versatility with only one fly in the ointment: cameras keep getting smaller. Assembling a shoulder rig with an external recorder larger and heavier than the camera itself is a non-starter these days.
So for every camera not an Alexa but with HD-SDI or HDMI output, enter Ki Pro Mini. ProRes for the rest of us, as Apple might have put it.
Sizing It Up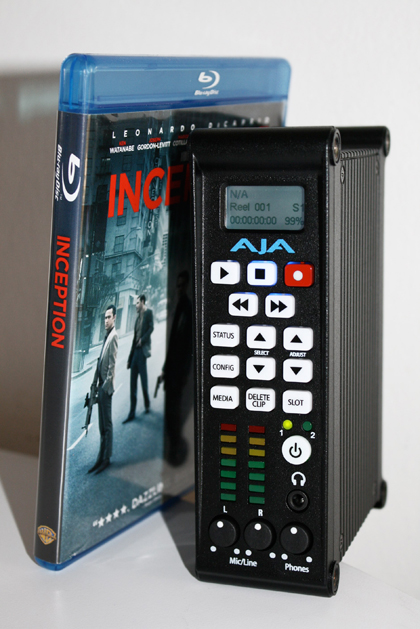 Remember little Betacam cassettes? Stack two (no cases) and that's the size of Ki Pro Mini: 5.4 x 3.5 x 1.8 inches. At 1.3 lbs., Ki Pro Mini is one-third the weight of Ki Pro.
While Ki Pro was designed for horizontal use, like a tape deck, the compact Ki Pro Mini is oriented vertically, like a book standing up. Along the spine are menu and recording controls and a headphone jack, and along the opposite side are HD-SDI in/out, HDMI in/out, LTC in, LAN and LANC for external control, and R/L analog XLR inputs for audio. That's it.
There was obviously no room for hard disks, so AJA placed two CompactFlash (CF) slots on top. At bottom is a 4-pin XLR connector for 12V power. Ki Pro Mini's minimal dimensions and 18W draw don't allow for internal batteries.
Th physical build is solid, like a small brick. No chintzy plastic here. The aircraft-grade aluminum casing is relatively thick and probably serves as a heat sink, since Ki Pro Mini gets toasty with use. Vents surrounding the 4-pin XLR connector at bottom and CompactFlash slots on top encourage convection, which Ki Pro Mini spurs using an internal fan with four selectable speeds for noise attenuation.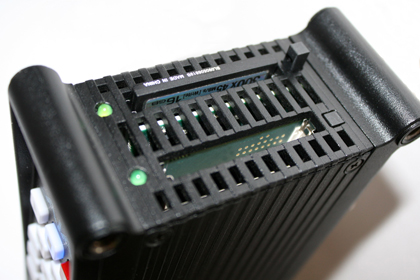 Button controls are sparse but once you get used to them, which comes easily, control of Ki Pro Mini is straightforward. For media recording and playback, there are the usual start, stop, record and forward/reverse shuttle buttons. Two more buttons are dedicated to slot selection and clip deletion. Three buttons take you into menu registers named status, configuration, and media, with adjacent pairs of up/down buttons for selection and adjustment in each register. Status menus reflect current I/O choices. Configuration menus are where basic controls are located and set. Media menus provide card formatting, clip naming, selection of ProRes type, etc.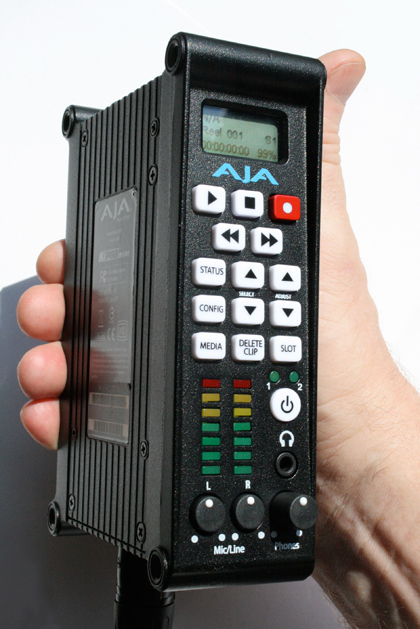 Ki Pro Mini lacks the WiFi control available to the larger Ki Pro, but like Ki Pro, it provides alternative control in the form of a website built into the Ki Pro Mini itself. All you need is a simple Ethernet cable and a laptop to access a graphic display of all operational and media settings, which you can control from the keyboard. Beats pecking at Chiclet buttons.
The review unit I received indicated, under Configuration, firmware version 2.1.0.119. I checked AJA's website and discovered that a new version, 2.5.0.8, had become available in April, adding LANC functionality and support for 1080i30 and 720p60. I downloaded the upgrade to a MacBook Pro, connected the Ki Pro Mini via Ethernet, opened the Mini's internal website, navigated to a page called Update Firmware, and selected the downloaded file. Five minutes later, Ki Pro Mini was newly empowered.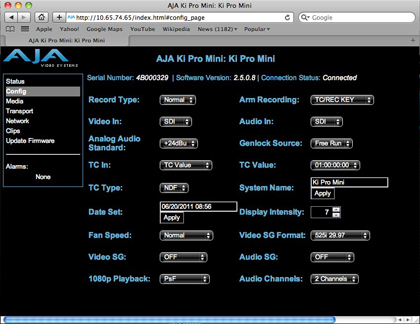 This ability to upgrade firmware and occasional bug fixes is important in a product that is essentially a little computer. It affirms AJA's commitment to the future of Ki Pro Mini, as acquisition formats and perhaps even ProRes evolve.
Compared to Ki Pro, the Ki Pro Mini lacks also FireWire, analog I/O, and up/down/cross conversion. Put another way, Ki Pro Mini really is nothing more than a tiny dedicated ProRes recorder.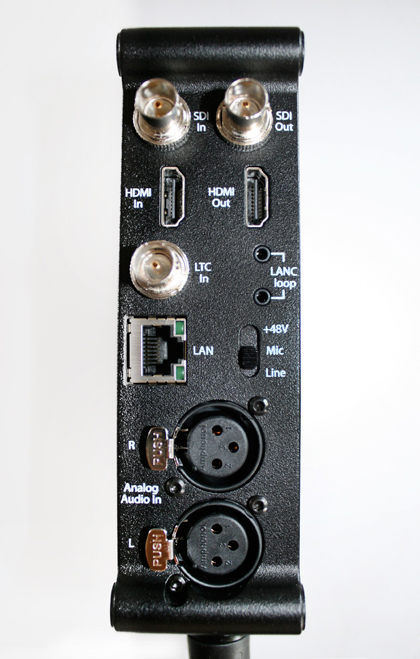 An HDCAM Deck Replacement for Playback?
Some may consider it a handy ProRes player, too. At this year's Tribeca Film Festival, full-size Ki Pros were used in lieu of HDCAM decks for projecting pre-show content and trailers at all 400 screenings. Going forward, there's no technical reason that Ki Pros can't replace all HDCAM decks at festivals. (HDCAM decks are terribly expensive to rent. I know. I've run a festival.)
At Cine Gear in L.A. earlier this month, I used a Ki Pro Mini as a player to screen an 11-minute reel I shot to demonstrate the abilities of Sony's new NXCAM Super35 camcorder. I edited together 1080p/30 ProRes HQ files, outputted a single self-contained QuickTime, copied that to a CF card, inserted the card into a Ki Pro Mini, and was off to the races. (Ki Pro Mini requires 24-bit audio for playback of self-contained QT files.) Our screening went without a hitch – although the projectionist at the Paramount lot gave me the strangest look when I handed him the Mini.
The Mini Vs. In-Camera Recording
Why record to Ki Pro Mini when your camcorder's native 8-bit 4:2:0 compression is good enough? Most camcorders these days produce excellent results on their own, it's true. But long-GOP compression is never as "ready to edit" as intra-frame ProRes is, and 10 bits of 4:2:2 component sampling beats 8 bits any day when it comes to preserving highlights, extending color correction, and compositing. Many, if not most, cameras with HD-SDI and HDMI are capable of 10-bit output to begin with, so why not take advantage?
Or perhaps your camcorder is tape-only and you'd like to step up to the advantages of file-based recording. You could choose instead to record uncompressed – there are now small, solid-state-drive recorders that can do this – but at what price? It's hard to beat the low per-gigabyte cost coupled with high quality of ProRes. Ask ARRI.
Ki Pro Mini was born for onboard mounting, with a threaded quarter-twenty mounting point at each corner. AJA has also designed an optional "cheese plate" mounting surface (seen at top) riddled with tapped holes of all sizes. It bolts to the four mounting points on either side of Ki Pro Mini. Google images of Ki Pro Mini and you'll find additional third-party solutions for mounting to matte box rods and camera "bracketry." For desktop use, AJA provides a small mounting stand and a 90-degee 4-pin XLR adapter, which hews closer to the bottom of the Ki Pro Mini than a conventional XLR does.
How does Ki Pro Mini start and stop recording? Cleverly, it slaves to the timecode embedded in HD-SDI. Recording starts when timecode begins to increment, and stops when timecode halts. When Ki Pro Mini senses no timecode, as in the case of HDMI mostly, recording must be manually started with the red REC button or triggered by LANC.
Using CompactFlash
In closing, here are a few things to keep in mind about CF cards if you don't already use them regularly.
• CF cards can't be locked like other media.
• Each CF card when inserted in Ki Pro Mini acts as a Mac HFS+ drive. Just like on your MacBook Pro, each card must be unmounted before being physically ejected. This is accomplished by means of the slot selection button, which doubles as a card unmount button.
• Not surprisingly, when attached to your MacBook Pro by a standard CF card reader, each card appears as a normal HFS+ volume.
• Although Ki Pro Mini provides two CF card slots, there is no file spanning or relay recording. When each card is 15% full, a "Media Low" warning appears. When a card has only 10% capacity left, "Media Full" appears and recording stops.
• PC users with Windows operating systems must use third-party software like MacDrive to mount Ki Pro Mini's HFS+ volumes. ProRes, like QuickTime in general, can be played using QuickTime for Windows or VLC for Windows.
All photos by David Leitner.
David Leitner is a New York-based independent producer, director, and DP. Seven documentary and dramatic features he produced, directed, and/or photographed have opened at the Sundance Film Festival. A former contributing editor to Millimeter, he has written widely about technology and film history for a variety of publications.