Elixirs for your Digital Health
Many of us belong to health clubs with the latest equipment, workout programs and smoothie bars. Some of us even pay thousands of dollars every year for the privilege to belong to such facilities. So why is it we don't use them more often, or in some cases, at all?
The answer is almost always the health club is not so convenient to use. Given the obligations of school, work and kids, it's no wonder we have difficulty making the time. If you've got to drive, there's traffic and parking, which at many clubs is a hassle. In fact, studies have shown that members of health clubs are much less likely to use them if the clubs exceed ten minutes in total travel time from work or home.
This rule of use versus non-use also applies to our digital tools. There is a great deal of software out there that offers remarkable power and features but is far too complex to figure out or incorporate easily into one's workflow. In their own way, these programs are also located too far away, and so, like the health club, are likely to go unused.
Sorenson Squeeze 7
Since 2001 I've been an ardent fan of Sorenson Squeeze, one of three most essential programs for the digital video craftsman. Yes you need Photoshop, yes you need your NLE – and yes you need Sorenson Squeeze.
Owning Squeeze 7 is like having a Swiss Army Knife in your digital toolkit. Indeed it's hard to think of a platform, format, or display device not supported by this omnipotent transcoding tool: WebM, Flash, H.264, even AVC-Intra and XDCAM EX/HD! You'll still need a dedicated encoder for high-end applications like premastering DVD and Blu-ray, but short of that, Squeeze 7 is a one-shop for whatever you have up your digital distribution sleeve.
From anything to anything is pretty much the story for Sorenson Squeeze: seventy-eight default presets ship with the product, with hundreds more downloadable for free from the Sorenson Web site. Squeeze has always been Web-focused but Squeeze has recently made significant strides in features for broadcast video and mobile applications.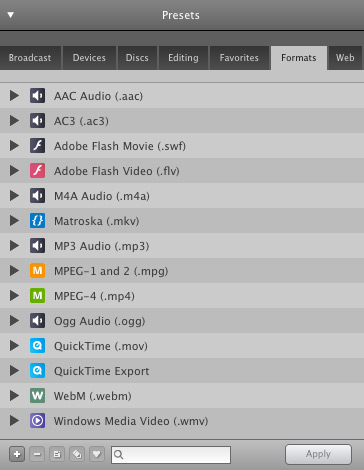 Standard preset configurations supported in Squeeze 7
The industry's leading tapeless formats, including AVC-Intra and XDCAM, are supported in Squeeze 7, below. Even Dolby AC-3 for DVD is accommodated, though for the Pro version Dolby encoder, an additional $100 investment is required. Sorry.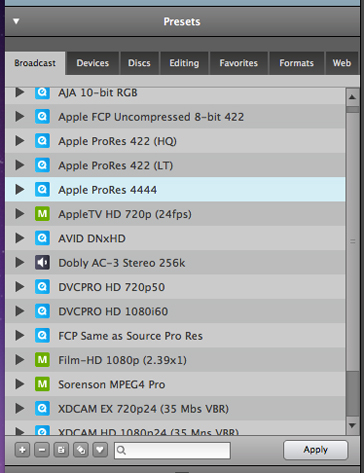 Expanded options aimed at broadcast and film
Sorenson 360: Power in the Cloud
Given today's forecast for more "clouds" the new subscription online video service Sorenson 360 is a natural extension of Squeeze capabilities. Video can be easily and quickly optimized and embedded in the desired page using the 360 player. Players may be preconfigured in a range of styles and layouts, or customized for a particular client or brand. Subscriptions start at $99/month and max out at $999, for the 2TB, unlimited user Enterprise package.
I remember the hassle this used to be five years ago: customizing the skin of the QuickTime or Interactual player. Multi-day workshops and thick manuals were the norm to accomplish such a feat, not to mention the wad of cash necessary to pay for it. Here the process is cheap, easy and intuitive: No protracted workshops with long-winded presenters are required to use and manage Squeeze/360.
Mobile users accessing Web site video will most likely access the 360 player over a 3G network, so video encoded to 480p (rather than 720 or 1080) makes the most sense. The iPad doesn't currently support 16:9 so delivered content must be letterboxed or upscaled. No worries there. Squeeze 7 via Sorenson 360 handles it all with grace and maximum aplomb.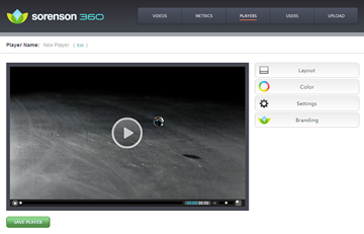 The 360 player can be preconfigured from a library of templates, above, or customized to suit a particular brand of style. It's a powerful feature that can add substantial panache to any Web site.

Necessary Arsenal
Squeeze 7/Sorenson 360 reflect the essence of what we do, and so constitute a key tool in our modern storytelling bag of tricks. When it comes to utilizing such tools, remember it's not just about the features and what the program can do. It's about accessing a program's power easily and conventiently. Sorenson Squeeze excels at this perhaps better than any other tool out there. You'll buy and you'll use it. Often.