Superfad on Reviving the Irreverent Life and Work of the Late Graham Chapman
In 1980, Monty Python founder Graham Chapman wrote a memoir, A Liar's Autobiography Volume VI, with just enough biographical material to hold it together and more than enough cheek to keep Python fans happy. Like the blazingly original Monty Python's Flying Circus comedy show and the iconic films it spawned after its 1969 – 1974 run on the BBC, the book is more a series of satirical skits than one linear, confessional narrative. Nine years later, as he was dying from cancer, Chapman walked into a friend's recording studio and in one night, set it all down on tape, mocking himself and his fellow Pythons with his perfectly modulated imitations.
Save for the occasional YouTube pastiche borne of some slapdash images and leaked clips from his narration, that's where the story might have ended. Instead, after Chapman's partner discovered the tapes in their loft and turned them over to producers Ben Timlett, Jeff Simpson and Bill Jones (who happens to be Terry Jones' son), a better, almost Pythonesque idea emerged: why not blend Chapman's narration with voiceovers from the troupe's creators, playing themselves but also key members of Chapman's family, and have 16 different animation facilities visualize that feast in 3D?
These colliding animation styles—including CG, stop-motion, sand animation and more—seem wholly appropriate to tell both Chapman's complicated tale and the collaborative genius at the heart of every Python sketch. "Graham's is the story of a man who was openly gay but secretly alcoholic," producer Jeff Simpson told The New York Times in June. "Creatively, the different styles reflect the stages in Graham's life. Also, it saves us a lot of time." Original Python members John Cleese, Terry Gilliam, Michael Palin and Terry Jones quickly came on board (though Eric Idle is not involved) and the producers set up a blog, Project Chapman 3D, to chronicle their progress.
"You've Done Stereo 3D for Movies Before, Right?"
The design and production facility Superfad, with offices in L.A., New York and Seattle, landed the enviable task of animating key scenes from Chapman's early life. The project marks the company's first "full-on character animation sequence for a feature film," says Superfad assistant director Andrew Stubbs Johnston. It is also their first in stereoscopic 3D.
Despite that small detail, says partner and EP Geraint Owen, Superfad jumped at the chance to join the project after the London office of Moxie Pictures, which represents Superfad in Los Angeles, had been approached by the producers. "After we had already signed on and were shooting spots," says Owen, "someone at the Chapman Project said to me on the phone, 'Of course, one of the things we like about you guys is you've done stereoscopic 3D stuff for movies before, and you feel comfortable.' I didn't really know what to say. It was too late and I certainly didn't want to disappoint them. So we just carried on." Owen, incidentally, was the only one from any of the 16 chosen facilities who had previously read Chapman's book, which surely counts for something. "That's probably because I'm the only one who's that old," he says dryly.
Superfad is animating three segments that total about nine minutes of film time: Two family scenes entitled "Scarborough" and "Fish Shop," and "Teen Sex List," a montage of Chapman's first sexual experiences. The team was initially asked to choose the segments they'd like to animate. "But as time went on," says Stubbs Johnston, "the directors overseeing the visuals suggested we pick those sections we'd already gravitated to," including key scenes of a young Chapman with his parents inside the family car. "Part of our day-to-day job here at Superfad is problem solving for clients, and any way you looked at it, it was just the perfect situation to bite off just about any part of this film. We were happy to take any part of it," he says.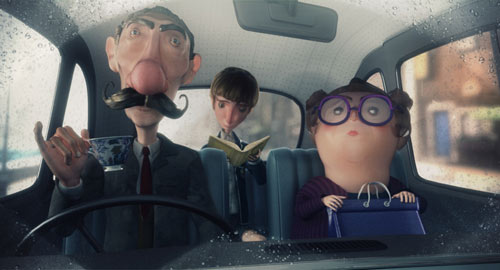 A final render of Superfad's Chapman family portrait
Setting the Tone for Collaboration and 3D
Due to the diverse geographic locations of the film's full set of animators, the Chapman Project blog not only educates the public about the film in progress but helps the extended production community keep tabs on one another. At the outset, the producers made introductions by asking each of the animators to share initial style frames with the group. They also advised those newer to 3D on what to avoid.
"They helped remind us that we had to be considerate of people's eyes and brains and not give the audience headaches by cutting too much," says Stubbs Johnston. "So we tried to keep our scenes similar in set up, as far as where the camera lens and characters were in relation to each other. We also didn't do too many quick cuts where your eyes have to adjust."
That took some getting used to, says Superfad director Sean Dougherty, given the bulk of Superfad's commercial work. "It was a real shift for us. Our thing, especially on commercials, has always been to cut it down as much as possible and get things moving as quickly as possible. This was definitely a step back from that. The challenge for the whole team was that we're so used to watching :30 spots. When you work on something longer format, you have to learn to let things breathe." At the beginning of the animation process, he says, that just feels way too slow to be right. "But when you watch it a few more times you understand that that slower pacing is necessary and that it's not an entire encapsulation, but part of something bigger." A few weeks ago, the team finally saw a 30-minute sample of some of the film's other animations, each at varying levels of completion.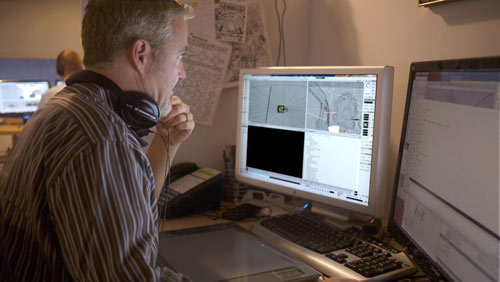 Superfad animation supervisor Mike Wharton reviews details on the father character's expressions and animation while working in Softimage.
Modeling and Character Design
Although all the scenes were composited in After Effects, the bulk of modeling and texturing was done in Softimage. "We also did some of the character modeling in Maya and Cinema 4D, so we could spread work out across different artists," says Stubbs Johnston. "Our lead designer, Pierce Gibson, created most of the characters in Maya originally and those had to be remodeled in Soft later. That's been our design approach on most projects: You do what you need to do to make it look right, then figure out the production of it later." Superfad can work this way, he says, because "we have both the design side and production side of the process all in house. And being one of the larger companies working on this film, that plays to our advantage."
Character design started with the requisite character bible Superfad received from the producers. It was filled with Chapman family photographs. "We set up some rules and ideas about what the characters would be like, and how they would act," says Dougherty. "Pierce really ran with that and extracted some really interesting details to give to each of them, like the father's bulbous nose, which suggests he's been sipping the sauce a few times a day, to the mother's giant windshield-shaped glasses. Even the car," a Ford Anglia not unlike the one in Harry Potter and the Chamber of Secrets, "is a fun character and provides a key role in the scene. It's the epitome of an awkward environment, and every kid's nightmare, to be stuck with his parents, stuffed inside a sardine can."
Dougherty says the Chapman Project's visual team responded immediately to Gibson's original renderings of the family, part of which he credits to what some Python aficionados might consider an unlikely source. "When Pierce started designing, we had the luxury of having some really amazing interns from France," he says. "Because they had the most time to work on it early on, they really set the bar in terms of inspiration and brought in some amazing references. They are actually animation students in France, and inspired a lot of the designers here."
When it came to rendering Chapman himself, Dougherty says, the team tried to take a more honest approach. "These scenes—everything in the film, in fact—were seen through his eyes, so we didn't think he'd turn himself into a caricature. He likely would have been more true to himself." "We could see from the photographs that at this point in Graham's life, he was actually a pretty good-looking kid," adds Stubbs Johnston. "He always looked very proper, in his school uniform, so we knew he'd need to be a likable, appealing little kid." But Chapman apparently got a good dose of the absurd from the outset. "The photos of Graham's real parents actually look very similar to our models," he says.

Terry Jones and Michael Palin, with a stand-in cardboard Chapman, recording voiceovers for the film. Photo credit: Paul Jeffers for The New York Times
About halfway through the process, the producers sent the team a video of Michael Palin and Terry Jones augmenting Chapman's original narration by recording voiceovers as, respectively, Chapman's father and mother. "Here we were animating on audio alone," says Dougherty, "and then we actually see the real people recording the same moment. It was absolutely amazing." As a result, he says, the texture in the father's face actually includes a bit of Michael Palin's real wrinkles.
Keeping 3D Comps in Softimage
Given the project's short production timeline and extra time needed to learn and implement the new stereoscopic workflow, Stubbs Johnston says there was little margin for error. "We had to act as efficiently as we could, and that meant keeping as much as we could on the 3D side inside Softimage." The team first spent considerable effort, he says, setting up stereo rigs inside Softimage. "Maybe if we'd had a little more time, we could have worked a lot more things into After Effects as far as the comping goes. But there are certain things you just can't do when you bring stereo 3D into After Effects, so we tried to keep it all in Softimage." Otherwise, says Stubbs Johnston, the team would have been forced to comp everything twice, and rendering was already in duplicate for the left and right eye passes. "Everything has to line up exactly between the left and the right channel, and if one little thing is off, it throws off the depth of the scene. But pretty much everything you saw in the beauty render coming out of Softimage looks nearly identical to the final product, minus some color corrections and other little tweaks." Says Dougherty, "That luxury of doing everything in post was removed for us on this project."
Superfad's workflow for the "Teen Sex List" segment, however, was completely different. "With that much character animation, stereoscopic was the unknown for us," says Stubbs Johnston. "But for this scene, we did everything in After Effects. It's a quick flurry of a montage, done all in one style. We were considering blending different styles in this scene, in the spirit of great Python montages, but the nature of stereoscopic quickly led us in a much simpler direction. We wanted to shoot things practically, and a layered approach just wasn't doable."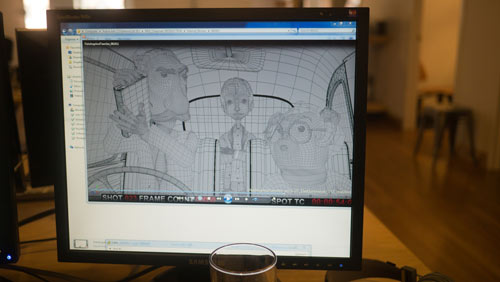 Necessary Upgrades
In addition to "a new, younger version of Sean," Owen says Superfad readied for the project by investing in stereo playback equipment. "We definitely needed new monitors to be able to check the stereo images as we went, also because we had several people working on various parts of the segment at once," adds Dougherty.
Stubbs Johnston credits the facility's latest tool, Arnold, an unbiased stochastic or distributed ray tracer, with smoothing out much of their renders' rougher edges. "It's still actually in beta, but it makes everything look a lot more natural, from the lighting to the texture," he says. "And it's a pretty efficient renderer as well." Marcos Fajardo developed Arnold while working at Sony Pictures Imageworks on Monster House. The ray tracer is known for the way it deftly renders soft shadows, dispersion effects, motion blur and even depth of field, which it achieves by distributing the rays over the virtual camera lens. Fajardo plans to sell it through his Madrid-based company, Solid Angle SL (at this writing, his site is still under construction). SPI is currently using Arnold on Arthur Christmas.

The Superfad team, including (from left) director Sean Dougherty, assistant director Andrew Stubbs Johnston, executive producer Geraint Owen and producer Mike Tockman
With Superfad's segments nearing completion and final renders from each animation house due in mid-October, the filmmakers, working with Brainstorm Media and Trinity, will have the long winter months to piece the film's disparate 3D parts together into a meaningful whole. Graham Chapman's A Liar's Autobiography will premiere this spring in theatrical release in the U.K. and in the United States on the Epix channel, currently only available on Verizon FiOS.
How true to the Python legacy will that film ultimately be? It depends on whom you ask. Terry Jones, often the butt of both Chapman's and Cleese's jokes, told The New York Times the film shouldn't be made. "There isn't a single word of truth in it," he said with a wink and a nudge. For Superfad, Python fans all, the answer lies in the nature of the project itself. "A lot of people have asked us if we felt we needed to maintain that prototypical, collaged Monty Python animated look," says Dougherty. "If anything, this whole process is the collage, with all the studios and different looks involved. The film will be an amazing collage of styles. But we're really happy with where our piece ended up. Everyone here really pushed themselves and learned a lot along the way."
For more information: www.superfad.com; www.projectchapman3D.com; www.autodesk.com/softimage; www.cinema4D.com; www.autodesk.com/maya; www.adobe.com/aftereffects; solidangle.com

---
Did you enjoy this article? Sign up to receive the StudioDaily Fix eletter containing the latest stories, including news, videos, interviews, reviews and more.