Two New Zooms Plus Expanded Output Options Extend Camera's Usability
Sony has announced new features and products for F3 shooters, offering two new zoom lenses plus a series of firmware updates that enable high-end functionality, including S-LOG and RGB 4:4:4 output, a new S-LOG shooting mode that protects highlights by shifting the gamma, more flexibility among the HD-SDI outputs, and a link cable for stereo-3D synchronization. The company was reluctant to set a date for all of the new features, but everything that's been announced is slated for availability no later than January 2012. Read on for more details, or scroll all the way to the bottom for cheat-sheet access to the various updates, options and prices.
The two new lenses include the SCL-P11X15, a T3.0 1.5x wide-angle PL-mount lens with focal lengths from 11 to 16mm, and the SCL-Z18X140, a T3.9-T6.8 14x FZ-mount lens with a focal range from 18 to 252mm. "The FZ mount is uniquely designed for the F3 in terms of the imager, the flange depth, etc.," F3 marketing manager Peter Crithary told StudioDaily. "What's quite extraordinary [about the 14x zoom] is the SteadyShot image-stabilization feature. We can literally shake the camera and the image remains perfectly stable. The other interesting characteristic is the price point: the 1.5x lens will be $7700 in January 2012, and, in a shorter time frame, the 14x will be $12,200 in November."
The rest of the new features for the F3 are enabled through an array of firmware upgrades, some free and some not, that unlock advanced functions to take full advantage of the camera hardware. The camera shipped with v1.00 firmware, which enabled a range of basic features including shooting 4:2:2 at 1080/50p and /60p. The v1.10 firmware added 23.98, 25 and 29.97PsF frame rates as well as the ability to output HDMI simultaneously with HD-SDI for monitoring purposes. V1.10 also allows the F3 to run the CBK-RGB01 option, available now ($4440), which enables S-LOG encoding in the camera along with dual-link RGB444 output, 3G-SDI output, and LUTs.
Up next is a free firmware upgrade to v1.20, which will enable the 14x zoom lens as well as the optional 3D Link upgrade. Otherwise known as CBK-3DL01 ($5500), 3D Link enables two F3 cameras to be synchronized via a two-meter cable for stereo-3D shooting. The cameras may be simultaneously controlled by a single remote adjusting focus, iris and zoom position.
Also included in the free v1.20 upgrade, but only usable once you've purchased the RGB01 option, is S-LOG EI (Exposure Index) mode. This is a version of the CINE EI mode originally developed for the F3's big brother, the F35. It allows an operator to step through exposure-index values, shifting the S-LOG gamma up or down to capture more detail in either the shadows or the highlights. The setting becomes especially useful because of the relatively low noise level of the F3's imager, Crithary says. "In the low-light areas, it's quite spectacular," he explains. "We're able to move the exposure, or latitude range, up or down. If you move the range up, you will get over a stop of extra highlight latitude." He says the S-LOG EI mode allows the F3 to compete with more expensive cameras by adjusting the exposure index to 1600 or 3200 without increasing the signal noise to unusable proportions.
Version 1.30 will be a required firmware update for the 1.5x zoom lens. It also addresses another feature request from users, Crithary says, enabling 4:2:2 output over HD-SDI Link A. This allows users to output S-log over one 4:2:2 output simultaneous with a monitoring LUT over another 4:2:2 output. S-log 4:2:2 output at 50p and 59.94p – frame rates that cinematographers often use to create high-quality slow-motion effects via 24-frame playback – will also be enabled via dual-link or 3G SDI. "Now you're combining the best of both worlds," he says. "Not only do you get full-resolution at the 60p frame rate, but you will now have that using the entire 800 percent dynamic range of the image sensor."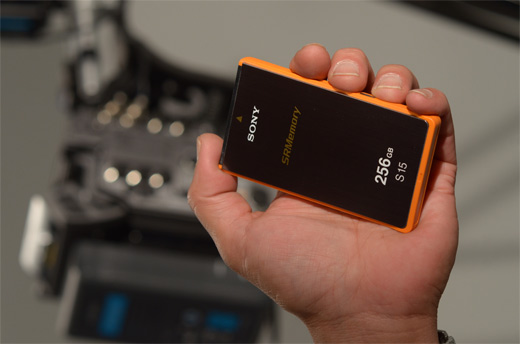 Sony is touting the new SR-R1 SRMemory recorder ($12,500) as a key piece of the ideal F3 workflow. Slated to ship in January, it records to solid-state media using the same SR codec that's been in use on digital tape since 2003. (Support for uncompressed DPX recording and stereo 3D workflows is coming later.) The solid-state format allows recording at three different data rates – 220 Mbps, 440 Mbps, or 880 Mbps – in 4:2:2 or RGB, depending on workflow needs. "The SR codec is natively supported with the Da Vinci Resolve," Crithary said. "It now supports up to 16 channels of uncompressed audio. The codec itself is scalable to 4K. There are a lot of advantages to this codec that other algorithms can't match." Crithary said Sony will also be offering a bridge technology allowing files to be cloned from tape to memory card and vice versa. Customers who preorder the SR-R1 before December 31 will get two 256 GB SR memory cards as part of a special deal.
There is one more forthcoming piece of equipment that's special to the F3 – the CBK-MH01 lens hood, first shown at NAB 2011, which Crithary acknowledged is still an experiment. It's an attachment to the F3's built-in LCD panel with a 1.4x magnifying lens (you can flip the magnifier up to get a direct view of the panel) that can be rotated up to a 75-degree angle from the lens barrel. Its advantage over existing aftermarket adapters is that the MH01 doesn't require power or an HDMI connection to drive a separate screen. Crithary declined to make a guess at price and availability for the MH01, but when we asked if that meant it would arrive "sometime in 2012," he said it could be sooner.
Product/update
Price/availability
Details
Firmware v1.10
Free
Available now

Simultaneous HD-SDI and HDMI output
Adds LUTs for monitoring in S-LOG mode (requires purchase of CBK-RGB01, below)

CBK-RGB01
$4440
Available now

Adds RGB444 and S-LOG output

Firmware v1.20
Free
November 2011

Allows use of SCL-Z18X140 14x zoom lens, below
Enables S-LOG EI mode (requires purchase of CBK-RGB01)
Enables 3D-link (requires purchase of CBK-3DL01, below)

CBK-3DL01 (3D-link)
$5500
November 2011

Synchronizes two F3s for stereo-3D shooting

SCL-Z18X140
$12,200
November 2011

High-power 14X zoom lens
FZ mount (F3 native)
18-252mm
T3.8 (at widest)

Firmware v1.30
Free
January 2012 or sooner

Enables 4:2:2 output on Link A HD-SDI
Enables S-LOF 4:2:2 1080 50p/59.94p output via dual-link or 3G-SDI
Allows use of SCL-P11X15 1.5x wide zoom lens, below

SCL-P11X15
$7700
January 2012

Wide-angle zoom 1.5x
PL mount
11-16mm
T3.0
For more information: www.sony.com/f3.
---
Did you enjoy this article? Sign up to receive the StudioDaily Fix eletter containing the latest stories, including news, videos, interviews, reviews and more.