FCPX's Multicam Features Auto Sync and Support for Mixed Formats, Frame Rates, and Up to 64 Camera Angles
This morning Apple announced Final Cut Pro X v10.0.3, an update that should close the gap on key features previously found in FCP7 but still missing in FCPX, notably multicam editing and video out support for broadcast video monitoring, both promised last September. The update went live in the Mac App Store this morning at 8:30 am ET/5:30 am PT. It is free to existing users and remains a $299.99 download for new users.
Apple's reimagining of multicam features automatic sync and can handle up to 64 different camera angles of varying formats, resolutions and frame rates at once. Other new features in 10.0.3, which follows a small bug fix last November, include a chroma keyer with advanced controls, the ability to manually relink projects and events to new media, and support for layered Photoshop files. Apple has also improved the functionality in FCPX's new version of XML, paving the way for several simultaneous third-party device, App and plug-in releases that take advantage of the NLE's new architecture.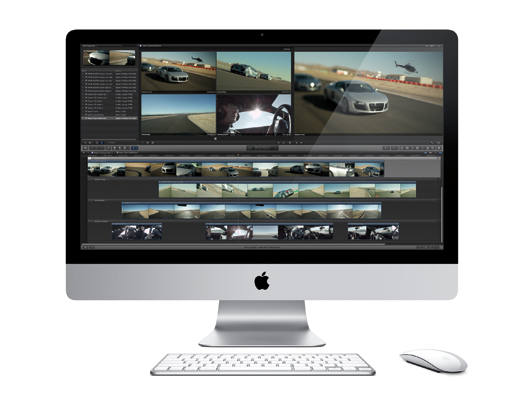 One such App, a $9.99 XML translator from Intelligent Assistance called 7toX, will be a godsend to editors with existing FCP7 projects. Developed by Philip Hodgetts and also available today in the Mac App Store, the tool converts FCP 7 XML to the new flavor of XML in Final Cut Pro X—itself updated to version 1.1 in this release—letting you bring projects forward from Final Cut Pro 7 directly into Final Cut Pro X. "When we first released Final Cut Pro X, we talked openly about the fact that we were not going to attempt conversion between XML versions because we knew the fidelity wouldn't be perfect," Apple's Richard Townhill, senior director of applications product marketing, said yesterday. "We knew it would be impossible because of all the differences between 7 and X, from the fact that projects and the timeline are approached completely differently to the fact that we have a new and improved effects engine and completely different effects plug-ins. Phil Hodgetts really impressed me with the work that he's done. He's gotten astonishingly accurate conversion from FCP 7 XML to FCP X XML and we're very pleased to have that App available at the same time."
Compared to Hodgetts' earlier Project X27, which Scott Simmons covered on our blog in October, the new translation tool takes full advantage of the expanded fidelity in FCPX's improved data transport functions, which now let you do color correction and audio keyframes via XML. "Final Cut Pro X XML is just richer overall than Final Cut Pro 7 XML, and it's a lot easier to move your media from less rich to more rich than it is to go the other way around," said Townhill. The App also takes advantage of FCP 10.0.3's new relinking tool, smoothing out, and in most cases, shortening tasks that took much longer to do in FCP7.
To coincide with the release, Apple has updated its 30-day Final Cut Pro X trial and "Final Cut Pro X for Final Cut Pro 7 Editors" white paper it made available in September when the first FCPX update was released.
New Chroma Keyer and Multicam Editing
The tweaks to Final Cut Pro X's original chroma keyer, used on air this season by Saturday Night Live and Late Night with Jimmy Fallon, offer up more controls to fix edge problems that result from sloppy greenscreens. "People wanted to make adjustments and for that they had to go to Motion," said Townhill. "A lot of the feedback we got was that as editors, they really didn't want to leave Final Cut to clean things up. So we stuffed those controls back in 10.0.3 so you can pull a near-perfect key without leaving the NLE."
It may have been conspicuously absent since June, but FCPX's new multicam editor, now that it's here, is a point of pride for the Apple product team. "We think we have the industry's best implementation of multicam," said Townhill. "We can now deal with 64 different angles, which means you can cut between 64 sources with different resolutions, codecs and frame rates, something you won't find in other NLEs. And with the magnetic timeline, you can skim through each angle individually." A new angle editor lets you adjust or rename the angles as you go and even apply FCP or third-party effects to your angles.
The key to getting a good multicam, added Townhill, is keeping everything in sync, and this gets tricky when cutting source material from DSLRs or the GoPro, neither of which have timecode. "Final Cut Pro X lets you use date and time, so you can pick up the date-and-time metadata from inside the video stream and synchronize based on that," he said. "But if the date and times aren't set properly ahead of time, you won't get what you planned on. We wanted to make this aspect really, really easy so we went one stage further, letting you sync your camera angles based on audio waveforms. In most cases you're shooting your four or six or more angles with cameras that have scratch audio, even if you're recording the clean audio (which can also be one of your angles) to a broadcast recorder. To fine-tune your sync, FCPX will analyze the audio waveforms and match them so that all the camera angles synchronize."
Broadcast Monitoring and Effects
While Townhill stressed the importance of the update's new features— "not just moved forward into a new architecture but greatly improved upon"—he was quick to point out the critical role third-party developers have always played in Final Cut's evolution. "One of the reasons for Final Cut's historical success is because of the vibrancy of our third-party ecosystem," he told said. "It's that open nature of Final Cut that has allowed and continues to allow the development network to build some really cool tools. I've been in this industry a long time and I can honestly say our developer ecosystem is vaster and more vibrant than I've ever seen it before."
Broadcast monitoring, officially still in beta while manufacturers like Matrox and Blackmagic Design ready their drivers for release (AJA released a compatible PCI-express card last Friday), will get additional boosts over time as Thunderbolt devices roll out.
Townhill also highlighted visual effects plug-ins Red Giant Magic Bullet and GenArts Sapphire Edge, both of which have imminent releases of new versions compatible with Final Cut Pro X v10.0.3. "They are probably two of the most popular visual effects plug-ins that people are using in Final Cut right now," says Townhillhe said. "And these two companies have been able to do things with the new architecture that they simply couldn't do before, like on-screen control, which takes advantage of all the pipelines we've got under the hood." (Red Giant did, however, publicly express concern this summer about a bug in OSX 10.7 Lion that caused Final Cut to ignore custom data in Looks and Colorista II; Townhill said that bug has been fixed and Magic Bullet will be now fully compatible with OS X Lion and Final Cut Pro X v10.0.3.)
Transitioning to FCP 10.0.3
Radical Media's CTO Evan Schechtman, a Final Cut Pro X beta tester and by his own reckoning likely the earliest adopter of Final Cut Pro X, calls this update an even bigger deal than the original release. Radical Media cut HBO's Paradise Lost 3: Purgatory, the West Memphis 3 documentary now nominated for an Academy Award, on Final Cut 7 and Schechtman says the New York- and LA-based facility is ready to transition completely to Final Cut Pro X now that broadcast monitoring and multicam editing are in the mix. "The executives on up to the CEO are all are behind the move. We plan to do some TV shows in the first or second quarter completely within FCPX, and then go into DaVinci and Smoke for finish," he said. He used a recent project for the Gagosian Gallery, an iPad App featuring 360-degree video of Richard Serra sculptures, as a test balloon for Final Cut Pro X and got great results. "We shot full-frame 360-degree videos that come out as 4K distorted files," he said. "We had to do color-correction. I thought, 'Let me see what happens.' I drop them into FCPX, I played them back in real time from my internal drive, I applied four or five layers of color correction and then I exported. That's 4K color-correct on nonstandard format in real time. Without FCPX, I would have had to go first to DaVinci Resolve and transcode those files."
Schechtman was trying out Intelligent Assistance's 7toX App for the first time yesterday when I reached him at his office. "I was sitting in front of a job earlier today and started relinking my media the old way, by opening up a Final Cut 7 project," he said. "It was just old and slow and the media is a mess. I was having a really hard time relinking. So I thought I'd see how the App could get me out of my mess." With an old drive connected, he started to relink his media to Final Cut 7, he said, "thinking I had to and then realizing I didn't have to. I did my XML export and I dropped it on the 7toX. It opens up Final Cut Pro X and it relinked everything automatically, whereas Final Cut 7 couldn't do that. I took a series of audio files offline on purpose because I wanted to use the update's new relink tool and the relink tool is telling me things the old version (7) didn't. It was effortless and it looks gorgeous. I'm looking at nine tracks of audio and four tracks of video, clip connections are maintained and things that were turned off are hidden. And while this is a shorter piece than many we do, it's fairly complex, and it played back with no problem. I think a lot of people are going to eat their words when they start using FCPX this way."
While not every Radical Media project is multicam, the majority are. Schechtman said he particularly likes the way FCPX's multicam "synchronizes clips together, but also uses audio for fine synchronization to refine based on timecode, time of day or even markers. The cool thing is, you can put markers in by a sync point, but it doesn't even have to be frame-accurate. It will just hone in where the audio needs to look for fine synchronization." These are not revolutionary features for a nonlinear editor, he admitted, but they are "unique in their implementation because of the groundwork that was laid. And this is still within year one."
Radical Media also has "an enormous XSan implementation, with another 280 TB literally sitting in boxes" to add to it, bringing the facility's storage capacity to nearly a Petabyte. "In our workflow here, we see FCPX as a really good digital asset manager. If you look at just the organizer window almost as an application unto itself, it's going to help us get through more media faster than any program. People are going to be able to get to their basic rough cut and story cut, in my opinion, faster than in any other editing system. Now once the cut is polished, we will export to DaVinci Resolve for color correction and Pro Tools for audio. We still will use their exporter with various Roles, because that is how we will do language and other versioning for broadcast. Even internally, how we show an agency or a client different cuts, this will be automated by metadata."
One steep learning curve remains, however. "Now there's a different kind of responsibility put on the assistants to come up with a specific set of naming conventions on the head of a job," said Schechtman. "That's going to be a new set of standards we'll be working in but as of today, now that I've had a chance to really bang on the new version, we're ready to take the plunge."
---
Did you enjoy this article? Sign up to receive the StudioDaily Fix eletter containing the latest stories, including news, videos, interviews, reviews and more.