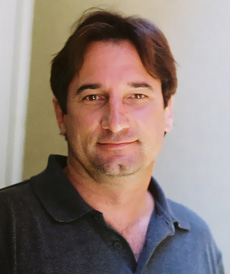 Co-Production Strategies, Quality 3D, and Getting Ahead of the Commodity Mindset
In 2010, Digital Domain acquired In-Three, creator of the proprietary Dimensionalization technology for 2D-to-3D conversion, and moved the bulk of its staff to Florida, where it was renamed the Digital Domain Stereo Group and became a key part of the new strategy for its parent company. The group is headed by Jeff Barnes, who co-founded The Computer Cafe Group in 1993 and worked as a VFX producer and/or production executive on films including Alice in Wonderland, Spider-Man 3, Sin City, and Pan's Labyrinth. He's also a board member and past Chairman of the Visual Effects Society. In an exclusive interview with StudioDaily, we asked him about DD's value proposition for 3D conversions, the company's co-production strategies, and staying ahead in a brutal business environment.
StudioDaily: Tell me about some of the 2D to 3D conversions the Digital Domain Stereo Group has done.
Jeff Barnes: The projects we've spent the most time on are Transformers: Dark of the Moon and The Smurfs. We're currently converting a large feature catalog title for one of the studios, but it's not something we can talk about yet. We're also working on a game cinematic project that will be amazing. It will probably change the way people look at conversion for game cinematics. Prior to that, the In-Three group had done about 500 shots on G-Force, as well as all sorts of commercial projects and music videos.
SD: Is the goal for Digital Domain to be a VFX vendor on the projects it converts?
JB: What we have here, we believe, is really unique in the industry. You have conversion houses, and you have VFX houses. Sometimes you have a house that does VFX and conversion, but they're so heavily weighted to the side of conversions that their VFX work isn't at the same level, or vice-versa. I don't know of any other top-tier company that has the award-winning VFX sensibility of Digital Domain as well as the high-end conversion acumen of In-Three — which is now the Digital Domain Stereo Group. We're offering something no one else has in terms of post stereo across the board. We can take any shot from beginning to end and produce it in 3D. So whether it's a full CG shot or raw footage that needs to be converted, we have tool sets and personnel to accomplish this at the highest level.
SD: There must be pressure to make that case for quality in your work in order to keep 3D-conversion services from becoming another commodity.
JB: That's a really good point. When I first took this job, I wasn't so sure about doing conversion over just shooting natively. But I have become a fan of the flexibility it offers the filmmaker. Even the top people in this field have said conversion can look really amazing, and it gives you the flexibility to do whatever you want with the image. On Tron: Legacy, DD did produced a lot of what I will call native 3D post work, including dealing with camera anomalies and the whole gamut of services that are wrapped around the production of a 3D image at such a large scale. Additionally no one else has that kind of artistic sensibility or experience under one roof. So we believe the potential is huge for this company in this space. If you look at what the manufacturers are shooting for with 3D-ready TV sets, what RealD is looking at for theater installations, this market is expected to grow and expand in a really large way, and right now everyone needs content.
The consumer is just now starting to understand how to look at these images. You might ask three or four people about a film and two of them will say the 3D looked fine and the others may say it looked horrible. It is the wild west in a way, but very exciting as well. It's a brand new way for creatives to express themselves. Because DD has a lot of experience in creating award-winning VFX, that knowledge translates to the conversion process as well. We know all about having those creative conversations with creatives, and now we can also help them to take the stereo look into a whole new dimension.
SD: Do you think the quality of the image is better if visual effects are delivered in stereo 3D rather than being handed over as flat shots for conversion?
JB: That has traditionally been part of the challenge with the conversion process — one vendor does the VFX work, packages it up, and sends it to another unrelated entity for conversion, and the communication between those two groups is minimal. Sometimes the packaged elements are organized, and other times it is a mess of data. For that reason, keeping the work under one roof is beneficial both from a financial and time and quality standpoint. At the end of the day, conversion is a visual effect. There are a lot of ways to skin this cat and get the most out of the imagery in post. If we need to regenerate some smoke to fit the look of the picture, a traditional conversion-only company can't do that as effectively as we can. Transformers is a good example of a project that required us to use all of our disciplines really well, making all of the pieces work together in a seamless end product. So, to answer your question, working with 3D stereo elements is always more advantageous than converting from flat. However, the tools have gotten very advanced and you can also create some very impressive imagery from a flat image if you need to.
SD: Is the idea that the 3D conversion team will be involved in a project early on, in much the same way as a VFX supervisor?
JB: That's the hope. The industry is still grappling with whether it even wants 3D, because not everyone embraces it. There is more bad stereo work than good in the market and it confuses the audience as to its viability and value. But as it becomes more prevalent, the quality increases and budgets grow. We'd like to get to that point as soon as possible. I believe they did 3D stereo previs on Tron, and I heard that it was hugely helpful to the director. You can shoot a 2D movie and, if it's lit correctly, it can be converted to 3D and look great. But 3D is a different medium from 2D and, like any other part of the production process, if you can have those conversations up front it's really beneficial for the images at the end.
SD: Where do DD's international efforts such as the partnerships in China (with Beijing Galloping Horse) and London and Mumbai (with Reliance MediaWorks) fit into the 3D picture? Is conversion going to be a lucrative business in the Chinese market, for instance?
JB: I can't speak specifically to China, but if you look at the international business, 3D stereo is driving the box-office overseas, especially in Asia. In the discussions I've had with studios, most of them are more excited about the potential of 3D overseas than in the U.S. How it will translate into relationships like the one we're building in China is yet to be determined.
SD: In your previous life as a founder of the Computer Cafe Group, you established a production company, Sententia, that worked on Pan's Labyrinth and Danika. Currently, Digital Domain is a production partner on a film version of Ender's Game. Is that just a case of great minds in VFX thinking alike, or is there a confluence of strategies there that influenced your decision to join DD?
JB: When I came here and interviewed, that's what got me excited. We had a vision and goals [with Sententia], and when I first met with the CEO of Digital Domain in Florida and had discussions with the management team here, I learned that they were doing everything that we had been trying to do at Cafe, and were much better funded to see it through. I don't know if you're aware that Digital Domain is launching an animation studio, Tradition Studios, in Florida, which is in pre-production on its first feature-length CG animated film, and they've also launched the Digital Domain Institute, with classes starting next month, in Florida. These were all things we had played with at Cafe for years but at a much smaller level. So from that standpoint, I was really excited about coming on and watching those things grow. That's really the best way to be effective and create a model that's self-sustaining in todays market. The VFX and post business has gotten really tough, and you have to think outside the box — which is what DD is doing.
SD: It was kind of surprising to see the public backlash against 3D conversions that came with the release of Clash of the Titans.
JB: That was an interesting statement. It was the first time the public rose up and said, "We're not going to pay for this." On the other hand, I think Titanic is going to be huge for the industry, as well as the success that Disney has seen with animation conversion projects like The Lion King and Beauty and the Beast. The studios realize that they can repurpose all of their old titles and make a reasonable return as long as they take the time and do it right. And it really is about being realistic with time frames and budgets. Great stereo conversion work can be achieved if those parameters are kept in check.
---
Did you enjoy this article? Sign up to receive the StudioDaily Fix eletter containing the latest stories, including news, videos, interviews, reviews and more.