Side By Side, a new documentary on the transition from analog to digital filmmaking, had its premiere this week at the Berlin International Film Festival. Director Chris Kenneally and producer Keanu Reeves traveled the globe, interviewing cinematic luminaries – Martin Scorsese, James Cameron and Christopher Nolan, for starters – about the ongoing digital revolution. The idea came together in 2010, when Kenneally was post-production supervisor on Henry's Crime, an indie feature starring Reeves, and shop talk between the two turned into plans to make a movie on the subject of filmmaking technology. Shot with digital cameras and post-produced at Sixteen19 in New York City, the film aims to capture a key moment in the evolution of cinema as an art form. Tribeca Film acquired North American rights to Side By Side this week, and plans a summer release, a broadcast premiere in early 2013, and a tour of college campuses and film schools. Check out the trailer, below, then read our interview with Kenneally.
StudioDaily:
Where did the idea for turning the digital cinema transition into a documentary come from?
Chris Kenneally: Keanu was the producer of Henry's Crime, and he was involved in everything from the mix to the color-correct. We had many conversations about workflow and, philosophically, how we got here and where the technology is going in the future. We both agreed that we're at a tipping point where digital has taken over most post processes, and the last pieces where film is still holding strong are capture and exhibition. But in the last couple of years, digital capture has gained acceptance. It seemed like a good time to go out and talk to the top directors and cinematographers to see what they had to say about what was going on.
Your list of interview subjects is a who's who of innovation in cinema. How did you get everyone to agree to appear?
Keanu obviously helped with access. And we were extremely flexible. Keanu typewrote a letter to Chris Nolan asking if he could give us 20 minutes of his time. If he said, "OK, I'm free from noon to 1 p.m. on Tuesday in Berlin," we'd figure out a way to make it happen. It was disappointing when we couldn't get someone, and exciting when we did. We hounded some of these people for months and months.
How did you generate your wish list?
A lot of the time, we'd talk to someone who'd say, "You really need to talk to this guy." One name that kept coming up was Anthony Dod Mantle. He seemed to be there for every milestone in the history of digital capture. He made the first Dogma 95 film (The Celebration), 28 Days Later, and Slumdog Millionaire, which won the Oscar for best cinematography. But they're all busy people, so scheduling interviews was difficult.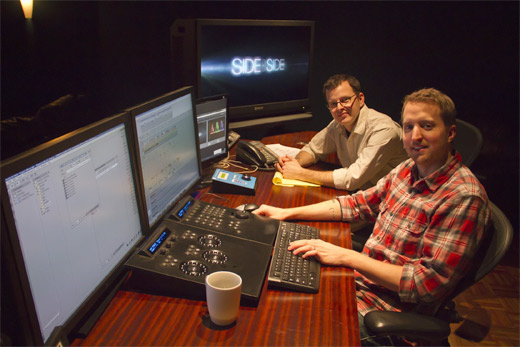 Director Chris Kenneally (left) and Sixteen19 colorist Brian Boyd
What did you shoot with?
We shot the interviews with the Panasonic AG-HPX170, which is a prosumer camera. We'd have very short notice and very little set-up time, so it helped that we were able to carry these through airports and set them up very quickly. We got a lot of beautiful shots inside a laboratory showing film processing, which we shot on the Canon 5D. Our DP, Chris Cassidy, has been using that camera for a long time.
Where does the film's title come from?
Film and digital have reached a point where digital holds up, quality-wise, side by side with film. It's a term that came up a lot. When you shoot 3D, you shoot with cameras mounted side by side. At the end of the DI process, when you match up your film print, you play two projectors at the same time and see both images side by side. It's a term we heard in almost every interview.
What did you learn about people's attitudes toward film and digital?
It was surprising. When we started out, I thought certain people would be anti-digital, and certain others would be pro-film, but you couldn't break it out demographically. Old guys and young guys, DPs and directors, women and men – people had their own opinions on the subject, and the people we interviewed are super-thoughtful, intelligent people who do this for a living. Nobody adamantly hates this or loves that. They're passionate as well as thoughtful.
Where did you set up post-production?
We were at Sixteen19 in New York. For the color-correct, they needed to get all of this stuff to match so the footage would work together, and they did a great job of that. The movie is so much about the technology that we were actually using to make the movie, and these guys were a good resource during production as well as in post.
Are you actually making any 35mm prints?
Keanu wants to make a film-out, and actually have that print in the metal can, with the handle and the whole thing. There's something to be said for that from an archival standpoint. Some people can really scare the crap out of you. They say the digital world is full of abandoned formats, and hard drives are going to die, and you'll lose all your material. It's interesting to see whether people think that way – it's almost like a psychological test.
For more information: www.sidebysidethemovie.com
---
Did you enjoy this article? Sign up to receive the StudioDaily Fix eletter containing the latest stories, including news, videos, interviews, reviews and more.