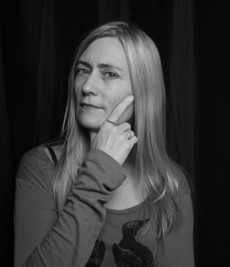 Editor Robin Burchill has made a career cutting spots, music videos, and the occasional feature film. She got her start at New York's Consulate in 1992, and later moved to Chemistri, where she cut spots for Old Spice, Lean Cuisine, Verizon and Aamco, among others. In 2008, she joined Fluid, where she has worked for clients including Verizon, Old Spice, the New York Lottery, and Vitamin Water on spots by directors such as Bennett Miller, Jake Scott, and Jesse Peretz. We asked her five questions about what she's up to, what she likes, and the relative merits of sex and goats … when it comes to TV spots.
1. What are you working on today?
Two spots for Blue Cross Blue Shield – an elderly mom slapping the crap out of her husky, grown son and a patient, giggling Pee Wee Herman style, tearing apart an examination room looking for a hidden camera. They're funny.
2. What is the best tool or innovation you've found that has come out in the last year?
To be honest, the creative work I like most could be done almost as easily with a flatbed or a [Sony] RM-450 [editing controller] as with any newfangled device. Putting one moving image next to another effectively is still pretty impressive to me. That said, the continual development and innovation of digital-camera technology has revolutionized my perspective. Though I have a few melancholy moments pondering the demise of film, there are a bunch of digital cameras on the scene making some really fine images. My current favorite is the ARRI Alexa, but each month seems to bring a new latest and greatest. Beautiful photography is what it's all about, ultimately.
3. What project (film, television, commercial or music video) most impressed you in the last year? Why?
Werner Herzog's film Cave of Forgotten Dreams delighted me most. A visually stunning film that speaks to the heart of what it means to be an artist and a human being. I love that it isn't afraid to be in awe in the presence of the greatest mysteries — Herzog's almost innocent earnestness in the face of such an overwhelming environment is refreshing in today's cynical times. It's one of the few uses of 3D that brought more to the project than just the latest gimmick.
4. What's the best, or your favorite, project that you worked on in the past year? And why?
My favorite project of last year would be a toss up between some spots I did for Blue Cross Blue Shield featuring goats and a series featuring Kim Cattrall for I Can't Believe It's Not Butter (of all products.) The Kim spots were funny and tongue-in-cheek, had good performances and were surprisingly sexy for spots about a buttery spread. (Or maybe not so surprisingly sexy.) The Blue Cross spots also had tongue-in-cheek humor and good performances. While the ICBINB spots have an edge on sexiness, the BCBS spots make up for it by, well, having goats.
5. Name the top four artists on your iPod.
The Black Keys; The Maggies; Pinataland (lesser known orchestral Americana pop band that draws on historical events for the subjects of its songs); Love Struck (another lesser-known band hailing from Brooklyn in the garage/rockabilly vein, a new discovery for me)
For more information: fluidny.com.
---
Did you enjoy this article? Sign up to receive the StudioDaily Fix eletter containing the latest stories, including news, videos, interviews, reviews and more.