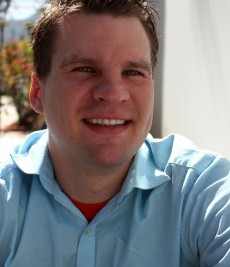 Last month, FotoKem named Joseph Slomka VP and Principal Color Scientist for digital post-production and creative picture services. That's a heady title. In post-production, color science is everything. Digital techniques bring with them the potential for perfect image reproduction throughout the post process — but also new opportunities for misinterpreting, mismanaging, or otherwise mishandling data and metadata in ways that can frustrate cinematographers and directors.
Slomka brings with him a master's degree from the Munsell Color Science Laboratory at the Rochester Institute of Technology as well as a six-year tenure as color scientist at Sony Pictures Imageworks, where he managed color pipelines for more than 30 major studio films and other facility projects. He also worked with the AMPAS Science and Technology Council to develop the Image Interchange Framework (IIF) and the Academy Color Encoding Specifications (ACES), which are meant to provide a common basis for working with digital cinema cameras on the set and in post-production. He has also been involved with the ASC Technology Committee and was a main contributor to the Sony Imageworks openColorIO project. Among his tasks at FotoKem will be standardizing processes at FotoKem's affiliates Keep Me Posted, Margarita Mix/LA Studios, and Spy.
We asked Slomka to talk about his day-to-day assignment at FotoKem, the state of color management across the industry, and what can go wrong.
StudioDaily: You're becoming the color-science guru at FotoKem. That sounds like an impossibly vast job description, but can you break down a few of the ways you'll get your hands dirty on a day-to-day basis?
Joseph Slomka: Every day, I'm working with clients and facilities to communicate color science data throughout the pipeline. At FotoKem, we are always advising filmmakers on the particular cameras, technology and output they want and need, and how to get it through post production in the most efficient and simplest way. I also work with the lab people who are processing the film and the programmers on our nextLAB system to ensure the latest information is up to date. And each day, these activities include color science education — a different solution may solve their problem, cost less and look better. We are here to advise them on how to make the each project as good as it can be
The industry increasingly works in an all-digital environment. Why is it so difficult to design a pipeline that keeps color consistent from acquisition through exhibition?
The main challenge is addressing the various ways that each manufacturer is doing things. With digital, there are infinite "negatives" and "stocks" to achieve a look, just like choosing a film stock only much more varied in formats. At FotoKem, we strive to have a rigorous definition of color and detailed asset management and information sharing – it's what keeps the pipeline consistent. In a real world situation, when something doesn't work, the filmmakers switch immediately to another tool to keep things moving along. Everyone needs to understand what that decision changes in the process, and how to integrate it.
What complaints do you hear from cinematographers when a color workflow isn't up to snuff?
The simple complaint is, "That isn't what I shot." The DP is on the front end and by the time you hear feedback it's nearly complete.
And how much awareness do you think there is of the importance of good color science in post?
Now, there is a great awareness of color science in post. The color-science discussions are occurring before production begins. This shows that studios are beginning to understand that color-science decisions have a big effect on the movie long before the camera arrives on set. This is a good thing.
What are some of the most common mistakes in production and post that result in the loss of useful data and/or a compromise in image quality in a digital workflow?
The most common mistake is not having the camera color setting on the camera reports. When filmmakers use the run-and-gun approach to shooting with a digital camera, they really need to understand all the settings need to be tracked and transferred. Furthermore, all vendors should be involved in the color discussion before the first day of the shoot.
Can you name a widely held misconception in our industry about color science?
That it's magic.
You collaborated with AMPAS on the development of the IIF ACES workflow, and you contributed to the open-source OpenColorIO project. Are we doing a good job of implementing those initiatives?
We are doing a good job as an industry in far as developing ACES. Parts of the ACES project are done and it's meant to be used as a framework . It's getting on set, and all major studios have buy in, and are invested in working together. As far as implementation, it's not 100% set in stone – it's an AMPAS working group versus a SMPTE spec.
And what do you see as the next steps for the industry as a whole?
Over the next five years, the industry is headed towards an open color IO in pipelines and ACES in all areas of production.
---
Did you enjoy this article? Sign up to receive the StudioDaily Fix eletter containing the latest stories, including news, videos, interviews, reviews and more.