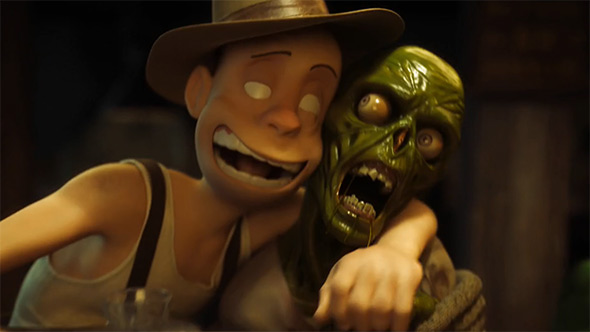 With the creative backing of David Fincher and artist/writer Eric Powell, Blur Studio has taken to Kickstarter to raise $400,000 in support of a story reel for a proposed animated feature film based on Powell's small-press comic book series The Goon. The film would be co-directed by Blur Studio co-founder Tim Miller and longtime Blur director Jeff Fowler.
You might think someone like David Fincher might be able to, ahem, kickstart a project all by himself, but Blur says Fincher and the others behind the project have already invested "hundreds of thousands" of their own dollars and many hours of work. They've already made a widely circulated proof-of-concept clip starring the voices of Paul Giamatti and Clancy Brown. (You can watch it below.) But there are no takers among the big studios so far, Blur says, largely because a PG-13 animated film — and a Goon film would be a PG-13 proposition at the very least — is a tough sell in Hollywood.
The last time Miller and Fincher got together on a project, the result was the widely admired opening title sequence for The Girl with the Dragon Tattoo. Miller is also slated to direct the X-Men spin-off Deadpool for Fox and a live-action adaptation of Warren Ellis comic Gravel for Legendary Pictures. Fowler, meanwhile, is probably best-known for the Oscar-nominated animated short "Gopher Broke." So, yeah, these guys might know a thing or two about bringing a project to fruition.
If you contribute to the project, rewards include lots of behind-the-scenes views of the filmmaking process, special The Goon Kickstarter T-shirts, a "faux bronze" figure, and signed memorabilia. At the $10,000 pledge level, you get to chill out at a private screening of the story reel, plus lunch, at Blur Studio. There's no guarantee, of course, that a $400,000 story reel will lead to a greenlight for the full feature film, but Fincher, Fowler, and Miller sure seem to be having fun drumming up grassroots support for the project. "If you're torn," suggests Fincher in a Kickstarter video aimed squarely at highly engaged film fans, "ask yourself: Does Hollywood know better than you?"
---
Did you enjoy this article? Sign up to receive the StudioDaily Fix eletter containing the latest stories, including news, videos, interviews, reviews and more.