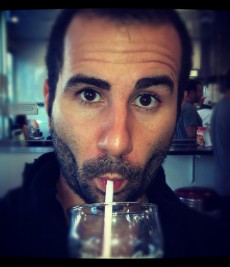 You could say Federico Ponce has one of the most important jobs on Iron Man 3, even though he didn't work on the film. He was brought in by the project's creative director as an art director helping to design the film's trailer. Ponce's work on trailers can be broad-ranging, demanding not just design and logo work but digital set extensions, shot cleanups, and newly created VFX elements. And, with some trailers spreading virally online, they have to withstand frame-by-frame scrutiny. We talked to Ponce about his work on movie trailers and his expectations of what the future holds for the form.
StudioDaily: How do you describe the work you do on a trailer?
Federico Ponce: I offer different services depending on the client. Most of the time I am hired to create a concept, design it and execute it. Sometimes I have to assemble a team, and sometimes I go at it alone, depending on the complexity of the project.
What's a typical timeline for a job? How long will you spend working on a two-minute trailer?
The life of a trailer is complex. I am usually hired for the initial phase, which can happen as early as two years before the final trailer comes out, but I will only be working on it for four months before handing the project off to a different team. At that point, the team can follow my directions and designs. Sometimes I come in for a stereoscopic conversion, and that is a bit hectic, a crazy three to four weeks. But some artists might spend up to two years straight on the entire project.
When you come in that early, does the lack of completed footage make your job more difficult?
I've come in at stages where I am handed a first draft of the script with no principal photography or concept art. Sometimes we are working with green-screen and unfinished effects, and that makes things a lot more difficult. There are no visuals to go from, just abstract concepts and ideas.
What's the collaborative process like? Who's involved on the studio side, and how often does a film's director get involved?
It really depends on the director and their personality. Some of them are very hands-on and can be sitting right next to you, watching you work, and you can take that as literally as possible. Sometimes they just look at some stuff at the end and have some input. The studio and the directors are phenomenal, and they are with us throughout the process. It really is a big team working together.
How often do you create new visual elements that will only appear in a film's trailer? What are some examples?
The scope of the effects ranges quite a bit. It could be something as easy as removing wires, or it could be a full-blown explosion, camera track, set extension, blood removal, or something else. Unfortunately, I can't really point you to samples of the work without getting in trouble. But I can tell you that, in some cases, we have even created brand-new shots for the film, though that's not that common.
What are your most indispensable tools and technology?
Autodesk Entertainment Creation Suite, Adobe Creative Suite, and The Foundry's suite.
What trends do you see in trailers? How are trailers today different from the ones created 10 or even five years ago?
I love that question. Well, trailers are much more complex now and the market has diversified. For starters, we now have trailers for videogames and trailers for books. Theatrical releases have big-budget trailers, but there are also independent and smaller budget features where previously an independent flick didn't have the budget for a great trailer. The technology has democratized the process to a certain extent. On top of that, you have some spillover design work onto titles and credits inside the actual movie. All of that has become a lot more complex. The work is better, the production level is higher, and the strategies are smarter. Overall, the industry has grown up, to the point where now trailers are their own mini movies. They have become that important. A good trailer can make or break a movie. Trailers are huge now.
As for the trends I see, maybe a few years down the road we will see exclusive two-to-three-minute content for digital and mobile distribution. Maybe we'll see trailers get into different intellectual properties. Maybe trailers will get shorter — we'll see a campaign full of one-minute teasers and not quite get to the trailer stage, leaving the audience hanging until the actual opening. It's all about teasing. One thing is for sure, they will continue growing and continue becoming more important as audiences' attention spans get shorter and shorter.
For more of Ponce's work, visit him on the web: fedeponce.com
---
Did you enjoy this article? Sign up to receive the StudioDaily Fix eletter containing the latest stories, including news, videos, interviews, reviews and more.