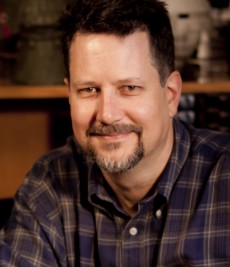 Renowned VFX supervisor — and Photoshop co-creator — John Knoll (Avatar, Mission: Impossible: Ghost Protocol, Pacific Rim) is the new Chief Creative Officer at Industrial Light & Magic. ILM said Knoll will "serve alongside" ILM President Lynwen Brennan. Knoll joined ILM in 1986, and has been a VFX supervisor since 1991.
"In John I see a keen eye and an incredible mind for creative problem-solving, and that's what visual effects are all about," said Lucasfilm President Kathleen Kennedy in a prepared statement. "I'm confident that with [Brennan's] business acumen and John's experience and passion for combining creative art with technology, the company will continue to perform at the highest levels."
"I am fortunate to work at a company as stable as ILM," Knoll said in a prepared statement, "where we can focus our energy on the creative and continue to be able to bring together the right mix of talent and technology to keep ILM on the cutting edge."
Knoll's achievements at ILM include the establishment of the Rebel (Mac) Unit — which led to the development of early digital compositing techniques (for The Abyss), digital lens flares (for Hook), and advanced digital camera projection techniques (for Mission: Impossible, Star Trek: First Contact, and Star Wars: Episode 1, The Phantom Menace — and his work on ILM's Imocap on-set performance-capture system, which debuted on Pirates of the Caribbean: Dead Man's Chest. He's a five-time Oscar nominee — and won one of them, for Dead Man's Chest.
Industrial Light & Magic: www.ilm.com