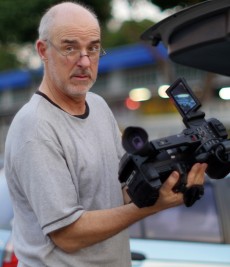 A Compact 10-Bit AVC-Ultra Powerhouse
However you measure superior performance and operating efficiency, the Panasonic AG-HPX250 has proved itself an industry workhorse for documentaries, news, and other nonfiction applications. Introduced in 2011, the HPX250 ushered in a fabulous new era of compact camcorders with versatile wide-range compensated optics, variable frame rates, and 10-bit 4:2:2 on-board recording that had up until that point not been available in a camera at several times the price.
The AJ-PX270 continues this welcome trend, delivering an even lighter-weight, more compact, better low-light-performing camera that can be slipped easily into a small sack and carried aboard airplanes, across international borders, and through public places without attracting a scintilla of notice or askew glance.
Bearing Panasonic's prestigious AJ broadcast-grade prefix, the AJ-PX270 is the company's first P2 camera to support AVC-ULTRA recording at 200 Mbps.
This level of performance, available with a paid upgrade (grr!) is enabled by the new and faster P2 media, including the microP2 card. With throughput approaching 2 Gbps, the new P2 cards allow for capturing astonishing pristine images, even if one has to pay a little extra for the capability.
New, Lower-Noise Sensor
The PX270, with a newly developed 1/3-inch 3MOS sensor, offers many operational advantages for the documentary shooter, including ease of focus, superb balance, lower weight, and a reduced-size form factor. But, as we know, such sensors (with tiny pixels like fine-grain motion-picture film) may struggle in low light and exhibit a more constrained dynamic range.
The PX270 addresses these challenges head-on with lower noise and much improved shadow integrity in low light.
A new menu option, High Sensitivity, has been added to facilitate camera setup, adjusting, among other things, the detail coring and gamma functions, which formerly had to be set manually and individually and saved to a dedicated scene file.
---
Shooting fast-action sports and wildlife at the end of a long telephoto? You need the benefit of a small format sensor to focus critically. Try shooting NASCAR sometime with a DSLR!
The PX270 delivers outstanding images in low light, especially for a camera in its class. This scene captured in a traditional Singapore eatery exhibits excellent shadow detail despite the poor mixed illumination and high contrast.
---
What's on the Menu?
In the new PX270, that would be, uh, just about everything. The menu options have expanded exponentially to embrace a more comprehensive professional approach. A 12-axis color-corrector supports three possible skin-tone configurations, allowing easy integration of multiple cameras in a broadcast environment. The matrix is similarly full and completely adjustable in +-63 increments. And Master Gamma can now be set numerically, just like the big boys.
Even more impressive, a Film-Rec option formerly only found in a $50,000 VariCam has been added, with a dynamic level settable at up to 600%. A Video-Rec option, also borrowed from the VariCam, offers increased contrast for TV dramatic productions. More notably enhanced menu choices include a master pedestal settable to +-200 and several additional low-bandwidth recording formats, such as LongG25 and LongG12, for wireless streaming to iPhone/iPad via LAN. The camera continues to offer DVCPROHD/DVCPRO and good old-fashioned DV, for the true laggards among us.
---
The PX270 menus are expansive, with a range of choices and degree of sophistication that can be daunting to the new shooter.
Among many other things, the PX270 camera menus feature a full broadcast-level color corrector and matrix.
Wow. You wouldn't expect to see this in a $6000 camcorder—Film-Rec and Video-Rec gamma options borrowed from the flagship Varicams!
---
Operational Enhancements
Performance isn't everything; it may not even be the main thing. We have to consider a camera's operational aspects, as well, like how well the camera is balanced and designed to support the shooting process. Is the camera comfortable to hold for long hours each day? Are the many buttons and controls large enough and robust enough, and are they well-placed around the camera? Can the camera find and hold focus easily? And what about the quality of the viewfinder? Performance doesn't mean much if you cannot see critical focus!
---
The OLED EVF is a welcome improvement over the underpowered LCD in previous compact camera models.
---
The PX270's new OLED viewfinder is very sharp, with excellent contrast and very deep blacks that help facilitate finding and holding focus. The OLED screen is quite small, however, so keep this in mind. It's only one-half inch. The onboard zoom rocker has been vastly improved in the new model, with a much smoother engagement and a more positive feel. The top handle fitted with 3/8-inch and 1/4-inch mounting sockets is notably more rugged and reassuring. And the new battery, physically smaller but with the same capacity, is fully recessed and protected and no longer subject to impact damage in the course of battle.
The camera's on/off switch has also been redesigned; I found the previous style sketchy and difficult to manipulate, especially with gloved hands.
---
The PX270 supports simultaneous output via HDMI, 3G-SDI, and HD-SDI at 10 bits 4:2:2 to an external device.
---
An optional USB module, the PM30 used on the HPX600, allows a wireless LAN connection to up to three Apple devices laptops, iPads or iPhones, simultaneously. Panasonic states support for other devices is forthcoming, along with a new 3G/4G/LTE capable dongle.
---
For years, a balky zoom control has plagued compact camcorders, including the HPX250. The action of the zoom rocker in the PX270 is much smoother and more precise.
A new, smaller 5800mAh Li-Ion battery is fully recessed to protect against shock and damage to the retaining latches. Earlier-style batteries will work with the 270 but the newer batteries won't work on the older models. Note the new transparent access door at left that permits easy viewing of the card slots and installed P2 cards. The door's opening system has been, mercifully, redesigned; the semi-concealed tab used in the 250 was an insult to humanity and oh-so-maddening to engage with the fingertip.
---
The Gripes Continue
The PX 270 pushes the envelope with respect to what is possible and practical in such a compact package. The real estate available for the essential buttons and controls is severely limited; the second XLR audio input, for example, seems particularly forlorn at the right rear side of the camera. As the size of buttons and controls shrink to fit the space, it doesn't bode especially well for those of us with Bart Simpson-size hands.
---
The lack of available space for buttons and controls is a major challenge for camera designers. The PX270 has eight user buttons, which are attached to other buttons, thus requiring two hands and the pressing of a SHIFT BUTTON (b) at the top of the camera. Six user buttons are placed on the left side; there are two more dual-function buttons around the other side. Honestly, it's difficult to see how a shooter can access the user buttons while operating the camera. User buttons typically support functions like FOCUS ASSIST, REC CHECK, OIS, Y-GET, and TEXT MEMO, among other things.
The main menu button and rotary dial feel a bit too flimsy and fragile for my tastes.
I don't like the brittle plastic covers that protrude and get caught then break off inside a working shooter's camera bag. A heavier-duty, more flexible rubber material should be used instead.
---
Summing Up
Look, no camera system is perfect, and certainly no new camera is going to be without at least a few compromises. Still, on balance, given the compact size of the camera, its relative low cost, and the extraordinary high level of performance, especially with the 200 Mbps upgrade, the AJ-PX270 is the best value I know of for documentary and news applications in the market today.