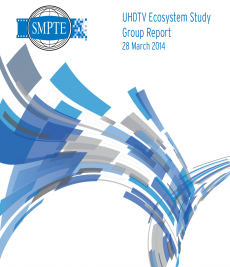 SMPTE's Technology Committee Tackles the Ecosystem for Broadcast Production
As 4K acquisition becomes an increasingly common feature of the production landscape, an elephant remains in the room: how does high-resolution content get delivered to the home? SMPTE considers that very question in a new report from its UHDTV Ecosystem Study Group that looks at lingering questions related to color space conversions, support for frame rates greater than 60 fps, interoperability with existing SDI architecture in the broadcast industry, and new, more immersive audio formats to go along with the higher-resolution picture.
First, there is terminology. SMPTE would like everyone to stop using the terms 4K (which specifically describes images of 4096×2160 pixels) and 8K (7680×4320) to refer to Ultra HD. Rather, SMPTE has specified UHDTV1 (or UHD-1) at 3840×2160 and UHDTV2 (or UHD-2) at 7680×4320. Both formats are described in SMPTE document ST 2036-1, and color-encoding parameters for both formats are derived from the ITU's Rec. 2020. Usage of the term Quad-HD is similarly discouraged.
The complete report is available for download from the SMPTE website. Here's a summary of the study group's recommendations.
Colorimetry and color space. UHDTV implementations are allowed to use Rec. 709 colorimetry for backward compatibility with existing SDI interfaces, and that's commonly how UHDTV production is happening today. However, UHDTV has its own color space, with a much wider color gamut, and the group anticipates a "long transition period" as the wider color gamut is adopted, during which color-space conversion options will be needed. And it's not a straightforward process. "Gamut mapping is not trivial," the group warns. "Every known automated method works poorly for some images, usually for high-key and low-key scenes." The report indicates that color-correction will be required twice in a UHDTV workflow — once in UHDTV's native Rec. 2020 color space, and then again when the image is converted from Rec. 2020 to Rec. 709 for legacy HDTV display.
Fractional frame rates vs. integer frame rates. SMPTE's UHDTV spec currently includes the following progressive frame rates: 23.976, 24, 25, 29.97, 30, 50, 59.94, 60, and 120. SMPTE is being asked to include two more frame rates: 100 and 119.88. Advocates of the latter, fractional, frame rate say that it will improve interoperability with footage captured at the existing fractional SD and HD frame rates of 29.97 and 59.94. (In addition, they argue against the use of integer frame rates in regions that currently use fractional frame rates, noting that it complicates the sharing of material between facilities.) Advocates of integer frame rates say they simplify processing, make audio and video sync easier, and allow global interoperability of video. They specifically suggest that SMPTE perform studies on the quality and complexity of a variety of frame-rate conversions before deciding that new, fractional frame rates are necessary in the age of UHD. Notably, the study group was unable to reach a consensus on this point.
High frame rates. After SMPTE settled on 120 fps as a kind of one-size-fits-all standard for high-frame-rate acquisition, more research was completed on the benefits of "considerably" higher numbers. "A capture rate sufficiently high that motion is effectively frozen in a single frame with a completely open shutter would enable complete freedom in post-production," the study group said, noting that mezzanine compression would help facilities deal with the dramatically increased storage requirements of high frame rates. More research is underway.
Mezzanine compression profiles. The study group suggests a mezzanine compression system working at a ratio of anywhere between 2:1 to 20:1 in order to reduce bandwidth — compressing the baseband UHDTV signal, which demands about 12 Gbit/sec, so that it could be carried over 3G SGI, or even 1.5G HD-SDI. Also recommended is a set of standards for carrying uncompressed UHDTV over packetized real-time network interfaces, as well as for "visually lossless" compression with minimal latency for live production.
Extended audio requirements. The study group is taking audio seriously, suggesting that mixing facilities be upgraded to produce high-quality "immersive" audio. UHDTV master audio should be uncompressed at 24-bit and 48 kHz or 96kHz, the report indicates. The study group is recommending that "immersive audio formats" be standardized for UHDTV, along with a common file format and a standardization of the required audio characteristics for audibly lossless compression.