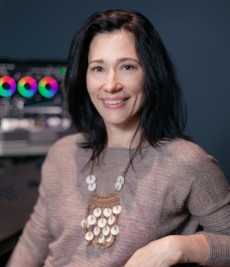 Colorist Laura Jans-Fazio on Working in 4K in Real Time on the Baselight at Encore
Working on a show for Netflix isn't your typical episodic TV job. For one thing, an entire season of TV is released to Netflix viewers all at once, which creates a nontraditional production schedule. For another thing, Netflix is committed to 4K, meaning post has to be equipped not just to provide 4K deliverables, but to work at 4K in real time, so they can see the results of their efforts as work proceeds. We asked Laura Jans-Fazio, final colorist for the second season of Netflix's House of Cards, to fill us in on her task of finishing color for the atmospheric Netflix drama.
Grading on a Filmlight Baselight 2 system at Encore – a Deluxe Entertainment Services company that has also done post at 4K for FX's Justified —Jans-Fazio worked her way through the season one episode at a time, as each edit was locked, though not necessarily in order. "It was a whirlwind at the time," Jans-Fazio recalls. She was working on 5K Red Epic .R3D footage scaled to 4K for display, so real-time performance was imperative. "Ahead of the project, Encore ramped up production to support the 4K workflow, which required a lot of heavy lifting. I was able to play 4K in real time while grading with multiple layers and shapes, and even doing some comping right in the Baselight."
Jans-Fazio collaborated remotely with cinematographer Igor Martinovic and executive producer David Fincher using Pix System software. "The production set up David Fincher and the DP with calibrated OLED monitors," she recalls. "I would grade the first half of an episode, upload it to the Pix system, and then do the second half while I waited for notes. After I got the notes, I'd send it back through Pix, get final notes, do a runthrough review, and then we would lock it and load it."
How efficient is that kind of long-distance collaboration? "It worked really well, all things considered," Jans-Fazio says. "And the Pix System is amazing. You open it up and look at moving files without downloading, and you can see all the notes. We took an XML out of Pix for David and Igor's notes and married them into the EDL for each episode, so that I could preview them on the screen through the Baselight," she explains. "I didn't have to jump back and forth between a computer and my grading screen. I could see everything right on top of the image, and I could turn it off at any time."
The show's look was driven by its themes of political machinations. "The dark and moody cast reflected the story's manipulative characters," she explains. "We avoided overall saturation. As a colorist, I had to work collaboratively, adapting an idea and a look to create a palette that worked for the season. I had been a big fan of the show to begin with, so I re-viewed season one. I had some conversations with the creatives and the co-producers and went from there."
Working on episodes in non-chronological order meant Jans-Fazio had no idea what was happening in the show, story-wise, but she says that's par for the course. "It's really all about the interpreting the image in context and understanding the mood when I grade," she says.
That means having an efficient, well-rounded conversation about the show's look, how it fits into its genre, and what kind of emotion the creatives want to communicate with the visuals. Mostly, she says, the effort isn't in creating something new through color, but making the most of what's already there. "You can only go in so many different directions," she says. "We're bringing it to life, showing off what was intended when they shot it. And that's not just cinematography — it's production design. It's wardrobe. Everything that was devised for the show is part of what you end up having as your starting point. From that, the palette evolves."
Specifically, she says, the darkness in House of Cards had to feel like an intrinsic part of the world we live in: "It is very dark, yet we are still able to see detail and color within the shadows. We could see the blue shirts and the port-colored ties and the light coming through the windows. The warm skin tones and the cool blues. That was pretty gratifying — to create something that allowed all of that to shine through. We created a dark political world — and what's scary about it is, it's real life."
---
Did you enjoy this article? Sign up to receive the StudioDaily Fix eletter containing the latest stories, including news, videos, interviews, reviews and more.