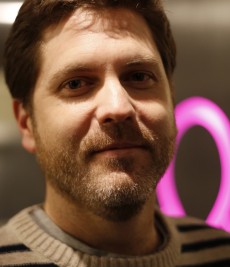 Making Movies in High School, Learning the Craft on Space Jam, and Getting the Call from ILM
It's a few days before the Transformers: Age of Extinction premiere in New York, and I've arranged to meet co-visual effects supervisor Pat Tubach at Industrial Light & Magic in San Francisco. Stephen Kenneally, a senior publicist, introduces us in the hallway on the way to the studio's dining commons. It's family day, and kids on their way to the Star Wars store surround us.
Tubach has a closely trimmed beard and blue eyes that crinkle when he smiles, which I'll soon learn is often. He has been at ILM since 1999's The Perfect Storm, for which he was a compositor.
"Do you know how this works?" he kindly asks as we enter the dining commons. "I usually take a spin around and then decide." The food is organic, locally sourced, and inexpensive. The view outside extends from the Golden Gate Bridge to Coit Tower and out across San Francisco Bay to Marin County. We walk past pizza makers, a grill, a salad bar, and sushi chefs offering the special of the day. Tubach decides on a sandwich. I order sushi. And we take our food into a quiet, private dining room.
This is his last day before he leaves for Hawaii with his family for a well-earned holiday. Considering that he dived headlong into Transformers action straight from Star Trek, he's remarkably relaxed.
"I came on in October last year, when the heat was turning up on the post-production side," Tubach says. "About when they finished principal photography. Jeff White had been on set supervising Transformers with Scott [Farrar], and I took on the post-production. I had been in the Transformers universe before. I had been the compositing supervisor with Scott on the first one, and had spent some time compositing on the second and third. I understood a lot about the look and how to get the shots done."
Nine hundred-plus shots, that is. But that number doesn't tell the whole story.
"It was the scope of the work," Tubach says. "It was dense. Incredibly thick is the way we like to put it. There's a robot in just about every shot. Multiple robots. Multiple robots having conversations, fighting, tearing something down. So a lot of shots had to be touched by every department and worked on by multiple people."
"Some shows might have 1000 shots," he continues, "but you know 300 are 2D compositing shots so you don't have to worry about the larger impact on the studio. We had to have a huge crew to get it done — around 500 people." He and Farrar attended dailies together during the first part of post-production, and then Tubach coordinated with the studios in other locations — ILM's own group in Singapore and the studios Base Effects in China and Atomic Fiction in Oakland.
"When it came to the end of the show, we split off sections of teams at ILM that I could pull aside after Scott [Farrar] ran the larger dailies," Tubach says. "I feel that Scott and I work together easily because we have a similar vision for what shots should look like."
For a detailed look at the VFX of
Transformers: Age of Extinction
, read our
companion Q&A
with Pat Tubach.
In fact, Tubach's first film on which he was a compositing supervisor was the 2003 film Peter Pan, for which Farrar was the visual effects supervisor. He moved into the supervisory role less than four years after joining ILM.
"Going from compositor to compositing supervisor felt like a very big jump at a place like ILM," Tubach says. "There are so many great people here. But I had learned a lot in the years leading up to that."
In 1996, seven years earlier, fresh out of college, Tubach had landed a job at Cinesite in Los Angeles painting out tracking markers and rotoscoping on the film Space Jam. That led to compositing work on 10 more films before he joined ILM in 1999.
Becoming a compositor was not what Tubach had envisioned as a career. But once that door opened, he was open-minded and perceptive enough to realize it brought him closer to his vision than anything else he might have imagined.
"I've always been interested in film," he says. "I studied film obsessively in high school. I made films. I took VHS tapes and edited them with two VCRs in a very painful way."
The obsession with making films led to Tubach asking a high-school film-class teacher if he could develop an independent study program. "Luckily, she was game," he says. "She made an assignment list for me and told me to make a movie in the style of directors on the list, but she didn't give me any clues. That forced me to study what directors like John Ford and Stanley Kubrick did, figure out what it is that makes them special, and then try to make a film in their styles. She graded the films on how successful she thought I was."
"How many films?" I ask.
"Oh, probably 20 or 30," Tubach says.
In high school. I'm stunned.
"You wrote 30 different scripts?" I ask.
"Yeah," Tubach says. "A lot were five minutes. Others were more involved. The longest was probably 10 minutes. One of them was a story about guys trying to get tickets to a Grateful Dead concert. The kind of stuff high school kids could relate to. I didn't realize it at the time, but I was working on some of the same techniques used in Hollywood. How do I get a shot from this angle using a ladder and the lights I have in my garage?"
He also learned about film production, about directing, and about making images.
"Even though my friends had homework to do, I had to beg them to stand on a snowy road in Connecticut when it was five degrees outside because I needed to get a shot," he says. "When someone didn't produce what I wanted as an acting performance, I had to figure out how to talk to him without losing a friend. So it took a lot of negotiation to cajole people into doing what I needed to have the film be successful. Even at that scale, as embarrassing as those films are for me to watch now, I had to have a vision in my mind for what I wanted the thing to be. To me, it was absolutely the start of knowing what goes into making a great image."
But when it came time for college, he found himself in Kansas, at Baker University, a private liberal arts college and the first university in Kansas. Tubach's parents had moved from Kansas when his father, an insurance executive had taken a job in Hartford, CT.
"I wanted nothing but to be involved with film in college," he says. "And I tried as hard as I could. But I didn't have any professional equipment to work with there that would have made filmmaking easier. It was before the time of iPhones and iMovie. So I wasn't sure film could be a reality for me. I started leaning toward journalism and mass communications, toward radio, TV, and writing. So that was a little bump in the road. It wasn't that I was discouraged about filmmaking, but I couldn't see a path forward."
Tubach's brother Doug, 12 years his senior, provided the roadmap.
"He was working at Cinesite in Los Angeles doing restorations of old films," Tubach says. "He said, 'Hey they need people to paint out tracking markers and do roto on a movie.' I didn't know what any of that was. But he convinced me to do it as a summer job. So I lived in his garage and worked on Space Jam."
The work was a revelation for the recent college grad.
"Once I saw what was possible, that you could actually work on frames that show up in the film, it opened a new world for me," he says. "I had to learn a lot, of course, but pretty soon they asked me if I could composite a shot. That's when I understood what digital effects are."
All that time spent in high school watching films by great directors and trying to emulate their styles had helped Tubach develop the eye he needed to create final images on screen. And to appreciate the impact of what he was doing at Cinesite.
"Cinesite got more films," he says. "And it was such a new thing that there was no reason not to keep me doing compositing. Which, of course, being a kid who never thought he'd make it in this industry, blew my mind. I got to do more than someone who would start working as a PA. I was actually creatively contributing to the film. I realized that what showed up on the screen was a direct result of what I was doing every day. That's not something everyone in the film industry gets to do. It felt like an amazing leap forward. It was such a thrill and so much fun I had to figure out how to keep it going. I was well aware of how special that was, even at that time."
Tubach's idea for keeping it going was to work at ILM, and he applied as soon as he heard the studio was looking for compositors.
"We did a few shots for The Mummy at Cinesite," he says. "Seeing the ILM slate pop up was thrilling. Star Wars is hugely important to anyone of my generation."
He didn't hear from ILM for a year and then one day, out of the blue, he got the call.
"The interview process was different then," he remembers. "I sat in a room with all the compositing supervisors and they grilled me with questions for an hour. It was extremely intimidating. But I guess someone saw something they thought could be molded into a compositor."
I ask if he knows what they saw.
"I think, actually, I know what it is," he says. "They asked what I would do if I were asked to do something I really didn't think was the right thing to do. The question has always stuck with me. I think I said that if I really thought there was a better way, I would first do the thing the person asked for because they're asking me to do it, and then I would do a version or two that I thought might be better and show multiple options. I think the answer said something about willingness to work with people, and that's one thing this business is all about."
And as Tubach thinks more deeply about that answer, one of the reasons why he has become a force in this industry becomes clear.
"There is a subjectivity to visual effects that will always be there," he says. "There's no right or wrong answer. You need to be able to take creative feedback and roll with those punches and come back with something better. And you have to be OK with that. You can't be bitter or upset about it. I have friends not affiliated with this business. They'll be talking about their day and how they worked hard on something but their boss didn't like it. Well, that happens to us every day of our lives. We might spend hours on something just to have someone go, 'That's not right. Let's do this.' You just can't take it personally. If it's not right, you do the thing that is right and just keep on rolling.
"I think it takes a certain personality to be able to do that, but that's the type of person I like. And I'm surrounded by that type of person here at ILM. They say, 'OK. What do we do next?' So that's fun."
One reason Tubach is surrounded by that type of person at ILM is that he's hired many of them. From 2006 to 2011, he took on a managerial role as the 2D department supervisor.
"It's sort of like the comp supervisor of all comp supervisors," he says. "It was a new concept. ILM had gotten so big and so busy we couldn't get all the comp supervisors on all the shows together in a room any more, so I was the glue." During that time, he hired compositors, assisted with annual reviews, helped out shows that needed an extra compositing hand, and was part of a "special forces" team that worked outside the shows.
"We did tests for filmmakers with new projects they were trying to get going," he says. "We helped define the look in those super-early days. Some led to big projects, and that was a real thrill."
But he missed working on those big projects himself.
"I felt like I never finished anything," he says. "I'd work on something for a little while and, just as I was getting into it creatively, I'd have to go onto to something else."
He picked the right moment to switch back to a production role.
Mouseover film still above to compare to original live-action plate
"I had worked closely with Roger Guyett on Episode III and we got to know each other well," he says. "When you work with someone and have that creative connection, you sort of never forget that. It's the same with Scott [Farrar]. I told Roger I wasn't getting enough creativity in my managerial role, and he asked me to be on Star Trek Into Darkness with him. It was an awesome opportunity and it turned out well."
So well that he received Oscar and BAFTA nominations. And from that show, he moved directly onto Transformers with Farrar.
"I feel incredibly lucky," he says. "I love my job. It feels special to do something creative and, you know … I have a very artistic daughter. It's nice to show her and my other kids that there are jobs out there that don't have to be drudgery. That you can go to work and be excited about what you're doing. From the bottom to the top, I think everyone who works here has that excitement, whether it's Star Wars or Transformers or whatever, of contributing to that thing that gets people to sit down in a movie theater and escape for a little while."
And what about his brother Doug, who helped make all this possible?
"Oh, he actually works here as a compositor right now," Tubach smiles. "He's been coming here from Connecticut for three to six months at a time since Episode III. He says he'd rather work a few months at ILM here and there than full-time anywhere else. He stays at my house."
"In your garage?" I can't help but ask.
"No, I upgraded him to a room," Tubach laughs. "My kids love having him around. It's a family affair."
---
Did you enjoy this article? Sign up to receive the StudioDaily Fix eletter containing the latest stories, including news, videos, interviews, reviews and more.