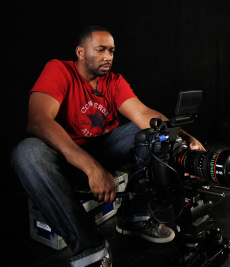 How A Ballerina's Tale Cinematographer Cliff Charles Got in Close Without Distracting the Dancer or Disrupting the Performance
In his new documentary A Ballerina's Tale, which will premiere at the Tribeca Film Festival next month, director Nelson George follows classical ballet dancer Misty Copeland, a teenaged prodigy who became the third African-American soloist at American Ballet Theatre — and the company's first in two decades — before stress fractures threatened to sideline her burgeoning career. George was one of a team of cinematographers on the project who shot interviews and vérité footage with Canon DSLR-style cameras (the EOS 60D, EOS 7D, and EOS 5D Mark III), but performances staged specifically for the film were captured by cinematographer Cliff Charles (If God Is Willing and da Creek Don't Rise), shooting with the Canon EOS C300. In detailed statements provided by Canon, Charles discussed his use of the C300, and why he thought the three-pound camera was ideal for the task of capturing a bravura performance — while staying out of the way of the performer.
"Having the ability to strip down the EOS C300 was excellent," Charles said. "I needed to get close to Copeland but didn't want to distract her or adversely affect her movements with a cumbersome camera package. I had to quickly get out of her way at times, and the compact form factor and ergonomics of the EOS C300 camera helped us do that."
Another factor was the camera's low-light performance. Charles and his gaffer built a soft box that held 16 tungsten bulbs overhead, although it turned out that only 12 bulbs were needed to cast a nice area of soft light on the stage for Copeland to dance in. "It was very cool," Charles recalled. "She wasn't sweating under our lights, and we had plenty of stop."
To capture the performance quickly and efficiently, Charles worked with three different cameras. "I did some hand-held shooting with one of the cameras, and we mainly had one EOS C300 camera on a slider that we would alternate positions with – sometimes higher, sometimes lower," he said. "We had the second EOS C300 camera on a tripod that we filmed from a balcony looking down, and then we had the third EOS C300 camera also on a tripod with a long lens."
The shoot used mostly Canon Cinema lenses, including a CN-E30–105mm T2.8 compact zoom and a handful of primes. The option to use EF-series photo lenses expands the options, Charles notes. "There aren't any cinema lens options that are as compact as throwing on a Canon EF 24–105mm zoom or a Canon EF 70-200mm telephoto zoom," he said. "Obviously the optics are a bit different, but when the call is to be extremely low profile, this is the camera and lens combination to use."
And Charles underscored the simple joy of shooting with a lightweight camera, at least when it comes to handheld work. "If you're doing sustained shots for eight, nine, 10 hours a day with heavy cameras, you might hurt your wrist," he said. "That's what I like about the C300; I can hold it all day long. It's like a glove."
Director Nelson George (second from left), Misty Copeland (seated), and cinematographer Cliff Charles (kneeling) review footage on the C300.
---
A Ballerina's Tale will have its world premiere screening Sunday, April 19, at the Tribeca Performing Arts Center in lower Manhattan as part of the Tribeca Film Festival.
---
Did you enjoy this article? Sign up to receive the StudioDaily Fix eletter containing the latest stories, including news, videos, interviews, reviews and more.