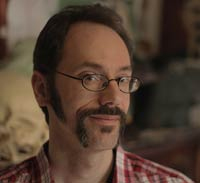 Director Zach Lipovsky and Editor Mike Jackson on Making the Switch from Final Cut
It took nearly 10 years, but Xbox 360's beloved zombie-fighting game Dead Rising finally got a movie version last month, when Dead Rising: Watchtower debuted on Sony's Crackle online streaming service in the U.S. The film was directed by Zach Lipovsky (pictured above, with zombies), an action director who was already known for the SyFy monster movie Tasmanian Devils and horror sequel Leprechaun: Origins, and it was edited by Lipovsky's friend Mike Jackson, whose resume includes an Emmy nomination for his work on The History Channel's documentary Beyond Top Secret. Together, they made the decision to edit their Dead Rising film with Adobe Premiere Pro CC.
"I had been monitoring Premiere Pro for the last few years, testing it every few months, and once CC came out, I said, 'This is ready for prime time. This has everything I need. I'll bet we could even cut a feature on this,'" Jackson recalls. "And when it came out that David Fincher had done Gone Girl with Premiere Pro, it made it a lot easier to persuade other people in the industry that it was a viable platform."
"Everyone was up for the idea," says Lipovsky. "I was really blown away by it. I've always been a Final Cut guy myself, but I had gotten to the point where I was ready to let that go."
Not Your Top-of-the-Line Hardware
Jackson wouldn't be cutting on the latest hardware, but on an earlier-generation Mac Pro. To his mind, that was part of the challenge. Team Fincher could get Premiere Pro to work, but would it do the job on a low-budget zombie action movie? "It certainly pushed my machine to the limit," he recalls. "We had about 4 TB worth of footage. But I threw it in the deep end, and it worked very well."
Lipovsky shot the feature mostly in Redcode Raw, but that footage was transcoded to more edit-friendly files ProRes in order to get better performance out of the hardware. After the picture was locked, first assistant editor Stephen Grobe linked back to the R3Ds in Premiere, then exported an XML that was used to bring the original raw footage into DaVinci Resolve for color-correction. After color, the final deliverables were expoorted from Premiere in HD.
The Little Things Mean a Lot
The real advantages of Premiere's workflow were found in unexpected places, Jackson said. For example, Premiere's Hover Scrub feature dramatically accelerated the shot-selection process. "I had underestimated how much faster Hover Scrub would let me work," Jackson recalled. "Zach shot a big climactic battle scene—probably 45 set-ups with A and B cameras—and I kept all of the footage for that scene on a second monitor so I could whip through it really quickly. That was a huge benefit, as well as the fact that it can play pretty much everything you throw at it. Zach shot amazing footage on drones and GoPros, and being able to drop that all on the timeline and have it just play was a great time-saver."
Being able to reconfigure the desktop on the fly is helpful, too, Jackson said. "The tilde key will instantly make whatever window you've selected go full-screen — for example, the timeline. That's great when you have 20-plus audio tracks and need to shift stuff around."
Lipovsky knows his way around a Premiere timeline, too, and agreed that some of the little things make a big difference. As an example, he said, "you can drag a video clip to your timeline, hold SHIFT, and continue to drag the audio layer to whatever layer you want without overwriting" audio that's already on the timeline.
These days, of course, editors who know their way around VFX software have a big advantage, which makes Creative Cloud's dynamic link feature especially helpful. "The big and fancy shots went out to VFX, but we both have VFX backgrounds, so we did simple compositing work using dynamic link out to After Effects," Jackson said.
Under Control
Jackson did find that, if you're going to spend a lot of time sharing sequences back and forth with others, it pays to write unique file identifiers to clips in your project to prevent the proliferation of multiple copies of clips when Premiere fails to detect a duplicate. In media preferences, a checkbox labeled "Write XMP ID to files on import" will give Premiere the extra metadata it needs to keep those duplicates under control.
After Dead Rising was complete, Jackson learned that for Gone Girl, Team Fincher created a separate Premiere Pro project for each reel. He understands the impulse, but is not sure the extra caution is warranted. "Things like that can keep the projects smaller and more manageable, but that also means spending a lot of time sitting and waiting while opening individual reels," he explains. "I threw everything we had into one giant project and it worked great, but I think I got some side-eye. The Premiere Pro beginners may not have been sure it could handle that. But that was part of my paradigm — I wanted to know if Premiere could handle everything I have thrown at other software. If I can do it in Final Cut, can I assume that I can do it in Premiere?"
Ready for More
Having put Premiere Pro through its paces, Jackson and Lipovsky say they're ready to do it again. "Mike and I are moving on to do a pilot right now," says Lipovsky. "The post facility was built for Avid, but we said, 'Do you mind if Premiere goes through your facility?' And they said, 'No, we already have it on everything here.'
"It's a more visual cutting style," he continues. "It's that, and it's the speed that we respond to. It's a bit more creative way of working. I've never felt that way when I'm working with Avid, and Final Cut is no longer being used in the bigger facilities. Premiere Pro is more the style of cutting that we both enjoy."
---
Did you enjoy this article? Sign up to receive the StudioDaily Fix eletter containing the latest stories, including news, videos, interviews, reviews and more.