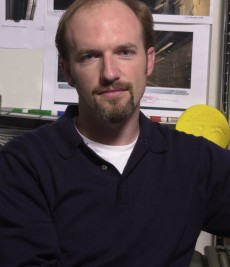 An Unconventional Education, Getting the Gig at ILM, and Designing a City Three Times Over
Disney's Tomorrowland has received rave reviews for the effects and surprisingly, given its writers and director, lukewarm reviews for its story. Rolling Stone called it "a noble failure about trying to succeed." The Miami Herald said it's "a crazy, disjointed mess," but clarified that it's "the good sort of crazy." Even so, the sci-fi film topped the Memorial Day weekend box office.
Brad Bird of The Incredibles, Ratatouille, and Mission Impossible: Ghost Protocol fame wrote and directed the film, which was co-written by Damon Lindelof (Lost, Star Trek Into Darkness), and Jeff Jensen (Lost). The fantasy centers on a quest for a non-apocalyptic future undertaken by Frank (George Clooney), a jaded former boy genius, and Casey (Britt Robertson), a smart, eager, bright teenager. A parallel universe called Tomorrowland embodies that future. Writes critic Alex Pappademas on the website Grantland, "Tomorrowland lionizes builders and engineers and yea-sayers and the dreamers of dreams …"
I had lunch with visual effects supervisor Craig Hammack in a private dining room off the Commons at Industrial Light & Magic in San Francisco, home of several hundred such builders, engineers, and dreamers.
Hammack had just finished working with his co-visual effects supervisor Eddie Pasquarello and director Brad Bird on Disney's Tomorrowland. Balding and bearded, Hammack wears a Fitbit and six tied friendship bands on one wrist.
"They're from my daughter," he said of the wrist bands. "At one point I had 12. These have been on for three or four years."
Only a year or two more than his journey into Tomorrowland.
​All Tomorrowland images © 2015 Walt Disney Pictures. All rights reserved. Images by Industrial Light & Magic.
A Long, Strange Trip
"Pre-production was long," Hammack said. "There were so many complicated things. The film has so many little sequences. There are no central effects other than the city, but it isn't like one city is amortized over the whole movie."
In fact, there are three versions of Tomorrowland: A 1964 city under construction that young Frank experiences during a visit to the World's Fair, a visionary Tomorrowland in 1984, and a dystopian 2014 version. Pasquarello led work on the dystopian Tomorrowland, he and Hammack supervised work on the World's Fair, and Hammack took charge of 1984's utopian vision of Tomorrowland.
A magical pin given to him by a young girl named Athena [Raffey Cassidy] transports young Frank into Tomorrowland and, many years later, a pin with the same design transports Casey into the fully realized vision of the city.
"There was this one shot," Hammack said. "It's all in camera to begin with—a flashback moment where young Frank walked across a hallway in Tomorrowland with Athena to get into this little pod vehicle, They were crossing in front of people, and there was something about the geometric definition of the hallway, the parallel lines, and the lights that became a nightmare. The software tries to figure out what's moving in one direction, so when moving things cross, it becomes a real issue. Legs disappeared into background people. Bright lights clipped in front. And Brad [Bird] wanted to speed the whole thing up and make it 20 percent faster."
The Best of Times, The Worst of Times…
For retiming the live-action shots, the ILM crew used RE:Vision Effects's Twixtor, along with proprietary software developed at the studio and by Disney research.
"Retiming is a bit of a minefield because it's difficult to predict which problem will show up," Hammack said. "You're at the mercy of the software doing interpolated frames and restructuring the frames. Sometimes it's straightforward and you only have a few things to paint and fix. In others, straight lines didn't match up. And we had a lot of timing to fix. Brad was apologetic, but he was right. It's interesting to watch him in the reviews because he paid attention to the frame. He comes from animation, and his tendency is to fix everything."
That was difficult, but it wasn't the hardest shot. That happens later.
"The hardest part was the pin experience sequence in 1984," Hammack said. "This is when Casy sees the ideal Tomorrowland. So many pieces had to play as one five-minute, continuous shot as Casey comes into Tomorrowland and goes down the adventure path to try to find the spaceport with the rockets."
The filmmakers shot various parts of Casey's imagined journey in Vancouver; in the City of Arts and Sciences complex in Valencia, Spain; in Florida; and in a wheat farm near Calgary, Canada, at the base of the Rockies. ILM artists added the futuristic city, with its floating pools and eco-friendly buildings.
"The amount of planning and management that goes into making sure you can tie everything together and transition the shots was huge," Hammack said. "When we were on set, we had to judge how things shot months apart would hook up months later. We'd move on, knowing that the tremendously talented people back at ILM can do anything, but there were still anxious moments. We shot 15 individual parts that we had to string together, and the whole thing was Steadicam operated. We're in the middle of a fantasy world—it only takes one or two moments of something the audience gets a little curious about to break the fantasy. I think we did a great job of putting her in that environment and making it a seamless experience, but it could have gone horribly wrong."
You might say the same thing about Hammack's career.
Career Trajectory
Sometimes it takes a quirk of fate to send a teenager on his future path. Not the future he planned, but one that he could scarcely imagine. That happened to the character Frank in Tomorrowland. And it happened to visual effects supervisor Craig Hammack.
Hammack's father was in the Air Force, and so it makes sense that Hammack expected to attend the Air Force Academy after graduating high school in Plano, Texas.
"I was all set to go," he said. "It was down to me and someone else, and they chose the other person."
With that plan dashed, Hammack decided to follow his brother, an engineering student, to Texas A&M.
"We could afford an in-state school," Hammack said. "I was good at math, but engineering was too rigid for me. I wanted to do something creative."
He decided to study architecture instead, and in doing so, unexpectedly discovered a new world.
"In my second year, in 1992, I was able to study abroad and it was eye-opening," he said. "I spent six months near Florence, Italy, studying architecture. I hadn't been outside Texas before. We lived in an old monastery on the edge of a vineyard near a small village.
"My memory of Italy is of the culture and the light. The quality of the sunlight is just different. Very warm. Very yellow. And I went as many places as I could afford. In Paris, I was fascinated with the activity, the culture, the people, and how they interacted with buildings and the environment. In Italy, I discovered the architect, Carlo Scarpa, who blends old and modern and creates fantastic spaces. These were things I hadn't been exposed to."
Back in Texas, he finished his degree.
"I did my training, but I found fringe classes like furniture design to take," he said.
And then, rather than looking for a job as an architect, he decided to join a new masters degree program offered at A&M called visualization sciences.
"I realized, at the end of my adventure in architecture, that there wouldn't be much opportunity for crativity for a very long time," he said. "You have to pay your drafting dues by drawing other people's designs for eight to 10 years. That seemed mind-numbing. I was a bit of a lost soul. I didn't have a great understanding of what to do. But Silicon Graphics had set up a lab with fancy new equipment, so I stayed on. This opportunity came to me and I flowed with it."
To pay for the classes, Hammack worked for the lab.
"Half my job was evaluating software," he said. "We were one of the few development labs and had partnerships with Alias, Softimage, and other vendors."
The other half of his job was shooting video to document the building of the George Bush library.
"It was a metal platform, three stories up, out in the middle of nowhere in Texas in the summer," he said. "I had to spend 30 minutes there three times a week filming the construction. But it paid for my classes."
Finding a Way into ILM
The combination of software and on-location filmmaking and video-editing skills helped Hammack become the only first-year masters degree student to interview with ILM when their recruiters came to town.
"I was doing some reels for other people and somehow worked my way into being interviewed," he said. "So I applied for an internship that summer, thinking I could do that and come back to school. They turned me down."
But later that summer, he attended SIGGRAPH and wrangled another interview with ILM. A week later, two months after he'd been turned down for an internship, ILM called with a job offer.
The first film he worked on was the 1997 feature Speed 2: Cruise Control, as a technical director under VFX supervisor Stefen Fangmeier and associate VFX supervisor Roger Guyett.
"It was quite a first introduction," Hammack recalled. "Stefen was in my interview. I was being considered for his project. I remember him asking me why I would want to come to ILM. It seemed like a pretty dumb question at the time. Why wouldn't I? And then he told me in maybe not so many words that it was a bad idea—I should start somewhere small and get experience and eventually end up at ILM. So I left the interview thinking, 'Who knows…?"
At school though, Hammack had obviously been an eager student willing to tackle hard projects, so it's easy to imagine ILM's team wanting to hire him.
"For one student project, I learned RenderMan and created a shader that took geometry—a tube—deformed it, and made lightning," Hammack said. "It was a little Tesla coil thing. And for another project, I did an animation of an underwater welder fixing a construction site. It had depth, dynamics, bubbles, and underwater lighting. Cool imagery that was hard at the time. I really liked doing that. So, ILM might have seen that I like to try hard things and solve problems."
Into the Water
Once at ILM and assigned to Speed 2, the new recruit mobilized his problem-solving proficiencies and took a dive straight off the deep end.
"There were a few of us in a meeting around a table," he said. "And one person said, 'Someone has to figure out the water the boat interacts with.' Silence. No one volunteered. I said, 'I'll do it.' I didn't know what else to do. They were very patient with me. When I struggled, Roger Guyett would sit with me and help me out."
To create the shot, he worked with Wavefront's Dynamation particle simulator and ILM's proprietary volume renderer for water.
"It was very technical," Hammack said. "But I loved the work. There is something that draws me toward physics and dynamics. And on Speed 2, everyone did a bit of everything. We had a lot of water, but we also lit shots, and everyone comp'd their own shots."
Then, because Hammack had done so well with Speed 2's water, the studio put him on Titanic.
"We didn't do much work on Titanic, but we did some," he said. "My main shot was the death scene for Leonardo [DiCaprio], as he gets sucked under the water. There were millions of bubbles; it was dramatic. I was the only effects TD, so it was a good opportunity to be on my own and sort out problems myself."
With each film after that, Hammack took on more work and larger roles. He was a lead TD on Wild, Wild West and again on Mission to Mars. For Mission to Mars, he worked with Jim Hourihan to develop stand-alone, command-line fracturing software.
"It was the only way we could drive fractures with particles on the traditionally textured models," he said. "It was very technical but, at the end, we had complex, creative shots."
Pearl Harbor came next, and Hammack found himself on a crew under vfx supervisor Ben Snow.
"By then, I had developed some tools myself," he said. "We did a lot of R&D to render the planes and effects stuff for destroying planes. It was lots of fun."
Star Wars: Episode II followed—his second film with VFX supervisor John Knoll, now ILM's chief creative officer. He took on a sequence in which Anakin and Obi-Wan speed through a futuristic city's sky lanes in pursuit of an assassin.
"I had worked with John on Mission to Mars, so he entrusted me with the Coruscant speeder chase," Hammack said. "At that point, I had a small team to work with. It was more of a supervisory role."
Moving on Up
Indiana Jones and the Kingtom of the Crystal Skull followed and, after receiving two Visual Effects Society nominations for his work on that film, he moved up to become an associate visual effects supervisor on The Last Airbender, working with VFX supervisor Pablo Helman.
"I had just worked with Pablo on Indiana Jones," he said. "And I was a big fan of the Airbender cartoons. I'd watch them with my two daughters and I think I enjoyed them more than they did. It was a completely effects-driven film. We had fire, water, air. I really enjoy the challenge and the aesthetics of complex simulations."
During Airbender, Hammack supervised Olivier Maurey and others who developed ILM's Plume simulation software, for which Maurey, Ian Sachs and Dan Piponi received a Sci-Tech Academy Award.
"I love physics and the creative beauty of complex software, and I enjoy writing tools."Hammack said. "Olivier is so much smarter than me, though, in understanding physics and coding. Still, I could stay involved—write the interface, do artistic proofs of concepts."
After Airbender, Hammack became a visual effects supervisor on Red Tails and was an additional VFX supervisor with Helman on Battleship. But why, given his love for physics and R&D, would he leave the technical, hands-on side to become a visual effects supervisor?
"I ran some effects stuff for Tomorrowland," he said. "Not nearly what I'd hoped for, though. The unfortunate thing is now the tools are starting to pass me by. But for a long time, I've said my real value here is knowing who to call and who to crew. I've always enjoyed supervising people, and I've always enjoyed the crews. I look for people who are smarter than me, to give them tasks I can't do. I fight for people I know will be successful. And, I think it's the kind of thing … you always look upward. From the moment I came here, I was being pushed up a little bit for the next show. Lead this. Supervise that little section. Take the next step."
On the Horizon
According to IMDB, Hammack's next step will be to supervise the visual effects for Battleship director Peter Berg's upcoming film, Deepwater Horizon, scheduled for release in September 2016. Chances are he'll be able to incorporate some much-loved physics and dynamics into this story of an offshore drilling rig explosion.
Meanwhile?
"Every spare minute I have is family-need oriented," he said. "When I get time, I pack in reminders that I'm the dad."
---
Did you enjoy this article? Sign up to receive the StudioDaily Fix eletter containing the latest stories, including news, videos, interviews, reviews and more.