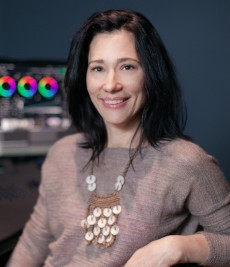 Shooting in 6K with Red Epic Dragons and Grading and Conforming in Baselight
At the moment (and for the foreseeable future), your favorite TV shows are being broadcast through your cable, satellite provider, or over the airwaves in either 720p or 1080i. While camera manufacturers have made the transition to 4K, the majority of filmmakers are primarily shooting 4K for archival purposes.
Online streaming has become the game-changer in pushing 4K workflows and is currently the only way to view 4K TV programming on your new UHD TV. Both Netflix and Amazon are screening some of their original television programming in UHD (3840 x 2160), including Netflix's flagship series, House of Cards, which started broadcasting Season 2 in UHD in 2014 using the HEVC compression standard. (Although you can watch 4K Netflix on compatible UHD TVs with HEVC decoders, due to DRM you cannot watch 4K Netflix on your 5K Retina display iMac.)
Although 4K shooting is common for feature film and television production, 4K post is still in its infancy. Last month at Red Studios Hollywood, Red Digital Cinema and FilmLight hosted a behind-the-scenes look at post-production on Season 3 of House of Cards. The presentation featured colorist Laura Jans-Fazio of Encore Hollywood and show producer Hameed Shaukat as they projected Red Epic Dragon source footage, along with a demo of Jans-Fazio's color grading work on the Baselight color grading and finishing system.
House of Cards was a landmark show because it introduced the concept of binge viewing for many of us. Unlike a network, where productions deliver a show every week, Netflix makes an entire season available on its release date. But, according to Jans-Fazio, the post team schedules episodes like a normal television series. Their first episode delivers well in advance of the show's final delivery date, and then they begin delivering episodes on a regular schedule. The team uses Pix for their entire workflow, posting cuts, commenting on cuts, and reviewing visual effects.
For season 2, Netflix wanted House of Cards to be the first show to stream in 4K so the production shot in 5K with the Red Epic and did a 4K center extraction. For season 3 (and, currently, for season 4), they shot 6K with the Epic Dragon and did a 5K center extraction that gets scaled down to 4K. According to Shaukat, it's the same workflow that House of Cards executive producer David Fincher empoyed when he directed Gone Girl. "We don't do much color management on set," said Shaukat at the event. "We don't bother with it because the Red is fantastic with metadata. The amount of information that is stored in each clip is useful across the board, so we task our DPs to set the look in camera. They'll change the Kelvin, the tint, the ISO, etc. They create a base look, and that's what we edit with. From there it goes to Laura as a base layer and she does her first pass."
Jans-Fazio said the Baselight performed seamlessly with high resolution formats. She brings all of the 6K Red footage into the Baselight and conforms to a multitude of folders and formats, including main titles, graphics and visual effects that come in as 6K DPX sequences. She said she likes being able to grade the Red files because when the effects are delivered she can quickly drop them in and, because of Red's metadata, her color work won't change, saving her a lot of time.
Working with higher resolutions also gave Jans-Fazio more leeway in terms of dynamic range, which is essential for a colorist. "When you can get the original large resolution from the camera, you have so much more to work with," she said. "It gives me the latitude to create the look. In Season 2 they shot HDRx [Red's proprietary HDR acquisition technology], so we were able to blend frames for the sky when shooting into the sun and we needed to take that down a bit. By having the original camera footage, we had a lot of latitude and that makes for a happy day.
"Being 4K on the Baselight, I'm actually reading 6K and playing out 4K," she continued. "It's really streamlined because I can run in a nonlinear fashion, jump through shots, make changes, [and] play, and it's playing in real time. That's really the name of the game for me. If I can get more work done and more details done in a smaller amount of time, I can make it look prettier."
---
Did you enjoy this article? Sign up to receive the StudioDaily Fix eletter containing the latest stories, including news, videos, interviews, reviews and more.