Sony's $6,699 Camcorder Has Some of the Best Features of Its Big Brother, the FS7, Packed Into a Smaller, Lighter Package
In the past several years, Sony has created an impressive lineup of digital cameras, especially with their mirrorless full-frame α series (α7S II, α7R II) and professional XDCAM camcorders. Last year's PXW-FS7 XDCam camcorder (MSRP: $9,599) was a big hit among indie filmmakers who wanted a lightweight run-and-gun camcorder to shoot their low-budget feature or documentary. The FS7 contains a 4K Super 35 Exmor sensor, records 4K XAVC Intra files, and has the ergonomics of a run-and-gun camera.
Sony recently released the PXW-FS5, a professional camcorder that in many ways delivers a bigger punch in a smaller package than the FS7. The FS5 boasts a 4K Super 35 Exmor sensor, an E-mount, an adjustable "Smartgrip" handgrip (Smartgrip), and both an EVF and adjustable LCD panel. It can record 8-bit, 4:2:0, XAVC-L QFHD (3840×2160) files. With an MSRP of $6,699, the FS5 shares many of the same performance specs as its big brother at nearly half the size and weight.
Sony provided a review unit of their FS5K package (MSRP: $7,299), which includes the SELP18105G servo zoom lens. Over a week of testing, the FS5 demonstrated a great balance of both power and accessibility. It's a pro-style camcorder that's as easy to operate as a Handycam.
Body and Handling
The FS5 weighs slightly less than 2 lbs; with the kit lens and necessary camera accessories, it's a tad shy of 5 lbs. The first thing I noticed when taking the camera out of the box and attaching the Smartgrip is that the FS5 feels just right in the hands. The Smartgrip mounts to the camera via an industry-standard bayonet, which you can turn 360 degrees to shoot at any angle. Like its biggest competitor in the space, the Canon C100 Mark II, the FS5 has one of the best run-and-gun form factors I've tested. It's light enough to be a true handheld camera, like a DSLR and unlike the FS7; you don't need the FS7's extension arm and shoulder pad to shoot comfortably for long periods of time.
Unlike a DSLR, the FS5's primary function is video, hence a multitude of buttons, knobs, and switches on the camera body. For me, the most welcome and valuable feature on the FS5 is its built-in ND Filter knob where you can custom set three values, either presets or variable (from 1/4ND to 1/128ND). On the camera body, there are five assignable buttons where you can adjust fast and slow motion speeds, Picture Profiles, Status, Focus Magnification, and Function (exposure, gain, shutter speed). In the long run, mastering assignable buttons will save you valuable time on set, since you won't have to dig through menus to make small changes.
For monitoring, the FS5 has both an EVF (1.44M dots) and a 3.5-inch LCD monitor (1.56M dots). The FS7 contains only an LCD and you have to attach a loupe (included) to view shots in bright environments. What I really loved about the FS5 is that you can break down or build up the camera in seconds. There's a well-designed detachable top handle that also mounts the LCD and microphone. The LCD can be mounted in three different locations on the handle and can be adjusted at any angle. The top handle can be attached or removed with two ¼ screws that you can tighten or loosen by hand. There are also ¼ screw holes on the handle, and on the top and bottom of the camera body so you can mount the FS5 on a drone, gimbal or underwater housing. Without the accessories, the FS5 is slightly larger than a 5D Mark III, making it ideal for under-the-radar shooting.
The FS5 contains an E-mount, which was once Sony's biggest obstacle blocking wider adoption of their cameras. However, in the past few years, there's been an explosion of excellent E-mount glass from Sony and Zeiss, as well as third-party adapters allowing the use of EF lenses. Although not a cinema-style lens like the FS7K's kit zoom lens (FE PZ 28-135mm f/4 G OSS), the 18–105mm f/4 GOSS zoom lens is a solid zoom lens that gives you a constant f/4 aperture as well as Optical SteadyShot image stabilization. It has a 35mm-equivalent focal length range of 27–158mm and two manual focus and zoom rings. The servo zoom can be controlled by the rocker on the Smartgrip or on the body of the lens.
Shooting Experience
You can shoot a multitude of formats with the FS5, including QFHD (3840×2160) at 100 Mbps or 60 Mbps (29.97/25/23.98) using the XAVC-L (Long GOP) codec and Full HD at 50 Mbps XAVC-L or AVCHD. One great option is the ability to capture QFHD on SD cards, which are much cheaper than CFast 2.0 or Sony's XQD cards. For my review, I used a Sony 128GB UHS-1 SDXC card (Class 10/U3) card.
When shooting QFHD, the FS5 records 8-bit 4:2:0 at 100 Mbps. This is where the FS5 falls a bit short when compared with the FS7, which captures more color bit depth internally, recording 10-bit 4:2:2 XAVC Intra files. The FS7 contains more processing power and uses faster XQD cards, with read/write speeds up to 600 Mbps. The FS5 also does not capture 4K DCI (4096×2160). But if you only need to capture Full HD, the FS5 might be a better 1080p camera for your project. You can record Full HD at up to 60p XAVC 10-bit 4:2:2 at 50 Mbps, which is the same spec as the FS7.
Low-light performance on the FS5 was adequate. It's unfair to compare the FS5 to Sony's α7S II's full-frame 12-megapixel sensor, but it still fared well. Shooting a wide-angle night exterior at an f/4 at 0dB, the images were clean with very little image noise. It wasn't until I hit around 9dB that the image started to generate a little too much noise. When compared to the FS7, Newsshooter and a few other user reviews have reported macroblock artifacting during internal 4K recording in low light, especially when there's movement in the frame. I didn't necessarily see these issues in my footage but it's probably a result of FS5's higher compression and slower processing speeds. Again if this is indeed an issue for you, outputting to an external recorder should fix some of these issues, or you can record 10-bit, 4:2:2 Full HD if 4K is not essential to your project. [As this review was published, Sony had just released a statement promising to address image artifacts on the FS5 via a firmware update due by the end of February 2016. -Ed.]
Another early criticism of the camera was that you could not record files internally while using an external monitor/recorder at the same time. Sony recently released a firmware upgrade that lets you simultaneously record 4K internally while outputting 4K via HDMI or HD SDI at the same time, although you will lose your video signal. (Since I don't own an external recorder, I wasn't able to test this.) In a future firmware upgrade (TBA), you'll also be able to output 4K RAW files to an external recorder.
Menu navigation has never been Sony's strong suit and it's no different with the FS5. Being accustomed to touch screens in day-to-day life makes the FS5's menu system seem archaic. You can either use a dial with push button on the side of the camera, or a joystick on the Smartgrip to make changes. I found the joystick to be much quicker and more efficient. Again, making use of your assignable buttons will be a huge time saver.
Even with these shortcomings, it's still about the pictures, right? One of the FS5's strong points is its image quality, with a 4K Super 35 CMOS sensor of 11,600,000 pixels with an effective pixel count of 8,900,000 for 4K recording. Like most digital cinema cameras, the FS5 has a number of gamma curves you can use to fit any shooting situation, including S-Log2 and S-Log3 to capture up to 14 stops of dynamic range.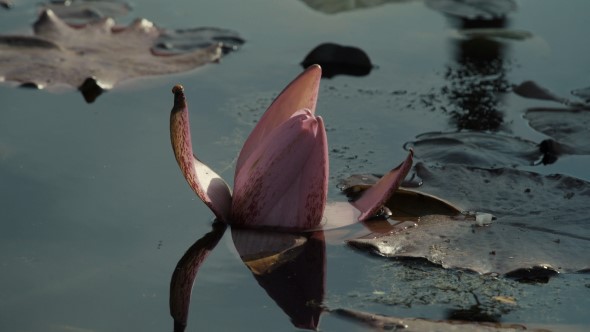 Mouseover corrected still above to compare to original still. Click to see uncorrected original in full-res.
I shot a lot of high-contrast footage with S-Log3 and graded in Premiere Pro CC using the SLOG3 profile LUT, mixed with the CineSpace Look profile. When your gamma setting is selected, you can choose among several color modes in your Picture Profile settings, including Standard, Still, Cinema, B&W, etc. Shooting in S-Log 3, I chose from one of the many S-Gamut looks, usually S-GAMUT3.
There's also an S-GAMUT3 CINE color profile, which emulates the DCI P3 color space. If you're shooting a theatrical project, I would definitely go with this color profile.
In terms of operation, I mainly focused manually, making use of the FS5's solid Peaking and Push AF functions. Autofocus on the camera is just OK and does not measure up to Canon's Dual Pixel CMOS AF, which is used in the C100 Mark II. In the recent firmware upgrade, Sony has added Face Detection in 4K mode, which should improve AF shooting. Another thing I noticed is that the EVF only works if the LCD is not attached or is turned off. Unlike Sony's mirrorless still cameras, there isn't a sensor that engages the EVF if your eye comes close to the viewfinder.
Other cool features include Center Scan Mode, which lets you use Super 16mm lenses and outputs 2K or full HD from the center of the sensor, which eliminates vignetting and gives you a 2x digital extender zoom. If you want to shoot fast or slow motion, the FS5's S&Q mode can perform continuous 60 fps in 1080p, and you can capture up to eight seconds in full HD at 240 fps.
Conclusion
Like the C100 Mark II, the Sony FS5 is an excellent camcorder with a chance to convince DSLR users to step up to a more professional system. It's small and lightweight, has a modular design for run-and-gun shooting, contains S-Log2 and S-Log3 for extended latitude, and has the ability to capture QFHD XAVC-L onto inexpensive SD cards. Although it doesn't outperform the FS7, the tradeoff is half the size and weight with a less expensive camera body.
The FS5 is a great match for a number of users. News, documentary, and event shooters will appreciate its ergonomics and filmmakers will love the ability to capture S-Log for efficient color grading. It would make a perfect B-camera for an FS7 shoot, or even an F55 shoot where drone and gimbal work is applied.
Finally, when compared to the C100 Mark II, the FS5 has the one feature that C100 Mark II users long for — 4K.