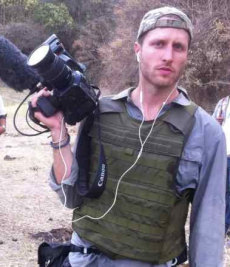 How a Low-Profile Canon C300 Kit Helped the Filmmaker Document Shocking Reality in Real Time
Matthew Heineman's documentary Cartel Land moves far beyond the realistic yet calibrated fictions of what we might think we know about the drug wars depicted in films like Traffic or Sicario. It begins just over the U.S. border in Arizona but soon travels to Michoacán, Mexico, and back to tell parallel, complex stories of citizen militias taking the law into their own hands as they try to stop the gruesome, erosive effects of drug cartel barbarism on their communities.
Heineman, the film's 32-year-old director, cinematographer (with co-DP Matt Porwoll), co-editor and one of several producers (including Kathryn Bigelow), finds his twinned tragic heroes in American veteran Tim "Nailer" Foley, the paramilitary leader of the scrappy Arizona Border Recon patrol, and José Manuel Mireles, the calmly magnetic community doctor and leader of Michoacán's Autodefensas — community-based self-defense groups. Both men make convincing justifications for their missions and sometimes tilt at windmills, but Heineman, shooting with a Canon C300, a small team and fearless precision, tells their stories with unrelenting honesty, dodging bullets and pushing into startlingly violent, emotional and haunting territory. By the end of the film, it's more clear why these open wounds are so difficult, and dangerous, to cauterize.
Tim "Nailer" Foley, left, questions a traveler near the Mexican border in Arizona. (All photos courtesy Matthew Heineman.)
"I shoot by necessity, and I love to shoot, but I guess I don't consider myself any one thing alone. I'm a filmmaker, and the documentary is such a beautiful way to provide windows into unknown or seemingly unknowable worlds," says Heineman, whose earlier documentaries include Maria Shriver's The Alzheimer's Project and the Emmy-nominated Escape Fire, co-directed with Susan Froemke. His journey into Cartel Land, two years in the making, was different from anything he'd ever experienced. "I'm not a war reporter, and I've never been in any situation like this before," he explains. "But the film led me into some pretty dangerous places. The shoot-out between the vigilantes and the cartel, the remote meth labs in the dead of night — these were places I could have never imaged being in, let alone shooting in."
After reading about the Autodefensas in a magazine article while filming Foley in Arizona, Heineman headed for Michoacán, a cartel-ravaged Mexican state that touches the Pacific and was once known only for its migrating Monarch butterflies. "My Dad sent me the article, and it took a few weeks for my Mom to start talking to him again after that," he admits. "But I knew I had to follow it. I thought I was going to be down there for only one or two weeks, tops. I figured I'd get enough footage of what Mireles and the Autodefensas were doing and create this juxtaposition with the Arizona story. But those weeks turned into months and months, and eventually I found myself down there for about half a month [out of every month] for nine months. The story just intensified and I had to keep going."
The Autodefensas of Michoacán, Mexico
Although he says he set out to frame his narrative like a classic western, "a simple story of good vs. evil, with guys in white shirts vs. guys in black hats," those lines became increasingly blurry. "I became obsessed with trying to figure out who these guys were. Both Tim and Dr. Mireles are 55 years old [and] both believe the government has failed them but their circumstances are quite different, so I kept returning to Mexico until I felt like I understood what was actually happening."
In Mexico, he knew, the violence was and would continue to be visceral. "There have been some 100,000+ people killed and 25,000+ who have disappeared since 2007," he says. "In Arizona, that violence is much more of a theoretical fear. That first shootout in Michoacán was absolutely terrifying for me. I don't know how to use a gun or know anything about military tactics. But I do know how to film, so it actually helped me sharpen my focus on the things I needed to: framing, exposing and, of course, making sure the record button was on! These things helped calm me down in this incredibly chaotic, intense environment."
Countless times, some of which ended up on the cutting room floor or were not filmed, Heineman says he was surrounded by masked men threatening to take away his camera and rough him up. "There's a lot of stuff that happened outside the frame, but I just wanted to bear witness to what was happening to these people."
He credits many of those moments of zen to the Canon C300's run-and-gun portability and high quality image. "I don't think there's any other camera I could have used to achieve what I wanted to with this film: a very visceral yet cinematic you-are-there experience," he says. Heineman used the C300 without a rig, shooting through image-stabilized Canon zoom lenses (17–55 mm and 24–105 mm) and with a simple shotgun mic and lav mics on his subjects. That low profile let him and his two- to four-person crew go places a bigger entourage and larger setup never would.
"I owe enormous amounts to our local fixer, Daniel Fernandez, and to co-producer Myles Estey, a journalist from Mexico City," he adds. "I barely speak Spanish, and there were many situations where I just hid behind the camera and pretended I didn't understand what was being said. In reality, I understood about 50% percent but, especially in those threatening situations, I'd just pretend I didn't get what they were saying as Daniel or Myles helped get me out of it."
Heineman with Mexican journalist and "fixer" Daniel Fernandez.
Cartel Land won best director and the special jury award for cinematography at Sundance in 2015 and was released theatrically in the U.S. and Mexico last fall. It has since won a George Polk Award and more than half a dozen international film festival awards, and has been nominated for a BAFTA and Academy Award. This February, Heineman received The Directors Guild of America Award for Outstanding Directing of a Documentary. He is grateful all the attention is keeping the conversation alive.
"There had been so much coverage of the drug wars, both in the media and glorified in TV and movies," he says. "My goal in making this film was to put a human face to this conflict, to see how everyday people were affected by this cartel violence and to see everyday people rising up to fight back, but also to see the ramifications of what happens when they do so. I didn't want to do it from the outside through talking heads or experts in retrospect. I wanted to be there on the ground in real time right in the middle of this. I wanted the film to play out like that and take the audience on this journey. The positive response in Mexico City, in fact, has been overwhelming. I guess I was shocked at how shocked people were, even in Mexico, by what they saw in my film."
Cartel Land is available for instant streaming on Netflix, YouTube, Google Play, iTunes and Amazon.
A meth lab at night.
---
Did you enjoy this article? Sign up to receive the StudioDaily Fix eletter containing the latest stories, including news, videos, interviews, reviews and more.