A Winning Combination for 1080p Shooters, with Some Caveats
With the proliferation of drones and handheld gimbals, compact cameras have become very popular for professional cinematographers. ARRI's Alexa Mini and the 3.3 lb. Red Weapon are recent examples.
For low-budget filmmakers, the GoPro Hero4 Black has been the go-to camera for POV action shots. But with most action cams, you're working with a fixed lens, a small sensor, and highly compressed H.264 footage. Last year, Blackmagic released the Micro Cinema Camera, a compact box-shaped camera that captures raw or Apple ProRes footage that you'll be able to seamlessly cut into your professional NLE timeline.
Weighing in at less than 11 ounces, the Blackmagic Micro Cinema Camera (MCC) is the smallest digital film camera with a Super 16mm sensor (12.48×7.02mm), and it delivers 13 stops of latitude. The MCC has almost the same specs as Blackmagic's Pocket Cinema Camera, which was released in 2013. Instead of being used like a point-and-shoot, the MCC is designed to perform like an action cam, mounted on a helmet or drone or in a hard-to-reach location.
Blackmagic sent over the Micro Cinema Camera and Blackmagic Video Assist for review. Sigma also provided its 19mm f2.8 DN Art MFT prime lens for testing with the camera.
Mighty Micro

Without a lens attached, the MCC is about the size of a baseball. It has an MFT lens mount, letting you use a growing number of MFT lenses from various lens manufacturers. The right side of the camera has six buttons, including Record, Play, Reverse, Forward, Menu and Power. Navigating through the MCC's menu is a little tricky. Because the camera does not contain its own display, you're going to need a separate monitor to view or change your settings. Pressing the Forward and Reverse buttons advances right or left or up and down. You press Play to make a change to a setting and press Menu to return to your picture. The right side also contains an HDMI output and a new expansion port with PWM and S.Bus inputs that allow you to use a model airplane remote control to operate the camera wirelessly. To power the MCC, Blackmagic was clever to use Canon LP-E6 batteries, since they are the batteries most commonly used by low-budget filmmakers. There's also a 12V DC input jack so you can use external power for longer shoots.
Since the MCC is primarily an action cam, you have one 1/4-inch mounting point on the top of the camera and three at the bottom. It would be nice to have a hot shoe mount but, because the camera is very small, there probably wasn't enough real estate.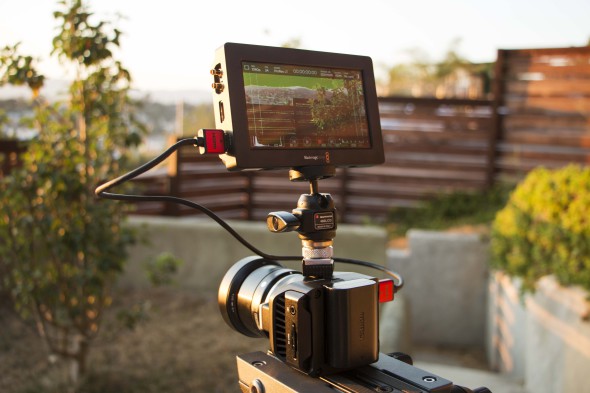 As with the Pocket Cinema Camera, the MCC's biggest advantage is the ability to capture raw CinemaDNG files as well as ProRes files in full HD (1920×1080). Although it doesn't capture UHD like its big brother, the Micro Studio Camera, 1080p will be sufficient for most projects and users. (I would always choose ProRes or raw files over more heavily compressed UHD files.) It's quite an advantage to be able to obtain raw video files for more options in post, especially from a camera this small with its low price point ($995).
One downside is that, although the sensor is bigger than your average POV action cam, the MFT lens mount means a 16mm-sized sensor is going to give you a 2.88x crop factor compared to full-frame. My 19mm lens shoots like a 55mm prime. Speaking of the lens, the Sigma Art lens performed extremely well. The lens had a solid feel due to its metal construction and contains a long focus throw for a small barrel. But in order to get a wide field of view, you're going to need something wider. A 7mm lens, for example, will give you a 21.6mm equivalent field of view.
Although I didn't get to test, the new expansion port includes NTSC and PAL composite video output that can be connected to a wireless video transmitter for remote monitoring. That means you can see exactly what you're capturing when the camera is flying on a drone or attached low to a car mount. For better viewing, you can use the HDMI output with wireless HD video transmitters. Both the composite and HDMI outputs can give you overlays for camera status, lens settings, file formats, histogram, audio meters, battery life, and more.
Blackmagic Video Assist

As previously stated, because the MCC does not contain an LCD screen, you're going to need a separate display to view your footage and make changes to settings. Blackmagic's Video Assist is a great solution. The five-inch 1920×1080 display is just one function of a hybrid device that lets you capture full HD edit-ready files.
I connected the Video Assist (VA) to the MCC with an HDMI-to-HDMI cable. You need to make sure your camera has a clean HDMI output or you will receive a 'windowed' image on the VA's display. In terms of hardware, the VA is a simple to use, no-frills display/recorder. It allows HDMI input and output as well as SDI in and out so you can connect to any DSLR or pro video camera. The VA records 10-bit 4:2:2 files, supporting Apple ProRes 422 HQ, 422, LT, Proxy, and Avid DNxHD. Unlike many new recorders that record ProRes to SSDs or CFast 2.0 cards, the Video Assist records to less expensive and more accessible SD cards.
To power the Video Assist, there are two battery ports for Canon LP-E6 batteries — so you're going to need a pocketful of batteries to run this and the MCC together. There's a 12v DC input for continuous power. Also, since the VA has a headphone jack, you can now monitor audio when shooting with the MCC.
With just a power button and no knobs or joysticks, the Video Assist is controlled by touchscreen. By swiping the display with your finger, you can change settings, monitor audio and video levels, and change frame rates, as well as view your histogram and timecode. I would highly recommend using the Video Assist with the MCC, as well as with any camera that has a clean HDMI output, such as the Canon 5D Mark III or Nikon D750.
The only real disadvantage of the Video Assist as a recorder is the lack of 4K capture. But, since the MCC does not capture 4K, it's still the perfect tool for the job. Blackmagic also offers the new Video Assist 4K, which should work well with any of the latest 4K cameras.
All in all, I like to think of the MCC as a modern, rough-and-tumble miniature 16mm camera. You can capture exciting action shots in places where you might be hesitant to put your larger, more expensive professional camera in harm's way. If you need a camera that's more like a point-and-shoot video camera, the Pocket Cinema Camera might be the better unit — and you won't need to purchase an additional monitor. But with the Video Assist, you can use the MCC as a decent B-camera for a Blackmagic shoot, or capture a backup of your footage. It's a win-win situation.
---
Frame grabs from the Blackmagic Micro Cinema Camera. Click any image to see a full-resolution version.