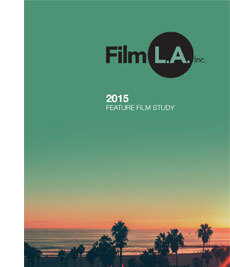 This week, the nonprofit film-permit office Film L.A. released its annual feature-film production study, tracking locations used for production and post of 109 U.S. theatrical releases by the six major Hollywood studios (Disney, Warner Bros., Universal, Paramount, Sony and 20th Century Fox) and six of the "mini-majors" — Dreamworks, Lionsgate/Summit, The Weinstein Co., CBS, and Blumhouse. The numbers map out trends in film across the U.S. and internationally, showing how productions react to tax credits and other incentives for shooting or doing VFX in a given state or country.
You can download the full report online. Here are some key excerpts.
Locations: California Is King …
After a startling result in 2013, when three more films were shot in Louisiana than in California, the Golden State has returned to its preeminent spot as the leading location for Hollywood production. Nineteen films were shot in California for 2015 release, compared to 12 in Louisiana. (The U.K. was in second place, with 15 productions shooting there.) Still, that means fewer than one in five 2015 theatrical releases were filmed in Hollywood's home state.
… Depending on How You Count
Source: Film L.A.
But the study also found that the biggest films don't shoot in California any more. In fact, it said, 2015 was the first year on record when none of the top 25 live-action movies at the worldwide box office were filmed in California. That will change, Film L.A. noted, with recent improvements to the state's tax credit program bringing business back to California.
New York: Can You Make It Here?
New York came on strong in 2014, placing second only to California with 13 films shot in the state. That number dropped to 7 in 2015, placing New York well behind California, the U.K., Georgia, Louisiana, and Canada. The report notes that, unlike some of its competitors, New York's tax credit program is capped at $420 million annually and excludes above-the-line expenses, but doesn't delve into the reasons for the year-to-year decline in New York feature-film productions.
VFX in the U.K. and Canada
Film L.A. says California is no longer the leader in VFX work. Only nine 2015 movies had VFX created primarily in California, the study indicates, trailing behind both the U.K. (15 films) and Canada (14 films). "The growth of work in Canada and the U.K. suggests that California is unlikely to regain its position as a major player in VFX in the near future, if ever," the study says.
Give Us Some Credit(s)
Two movies shot in the U.K. were, far and away, the leaders when it came to taking advantage of tax credits. The Avengers: Age of Ultron, made on an estimate budget of $316 million, collected $48.6 million in incentives from the British government, Film L.A. said. Star Wars: The Force Awakens, made on an estimated budget of $306 million, was right behind it with $47.4 million in incentives. The biggest beneficiaries in the U.S. were shot in Louisiana: Terminator: Genisys ($33.10 million in incentives) and Fantastic Four ($29.10 million in incentives).
Location, Location, Location?
Source: Film L.A.
The scripted setting of a film has less than ever to do with where it's actually filmed. For example, 11 2015 releases were shot in Canada and 12 were shot in Georgia, but none of those films were either primarily or partially set in those locations. However, out of 19 movies shot in California, 15 were primarily set there.
---
Did you enjoy this article? Sign up to receive the StudioDaily Fix eletter containing the latest stories, including news, videos, interviews, reviews and more.