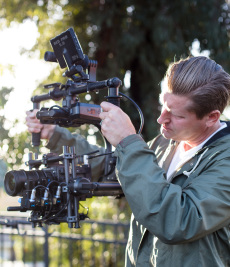 Redrock Micro is shipping Torque Lens Control Motor bundles that add remote focus, iris and zoom control to the Freefly Movi Pro gimbal.
Redrock Torque Motors are digital motors that plug directly into the Movi Pro and enable focus, iris and zoom control on any cinema or still lens with standard 0.8 pitch gearing, the company said.
"The Torque Motors make this great gimbal even better by adding precise and reliable lens control that is perfectly matched to the Movi Pro," said Redrock's James Hurd in a prepared statement. Redrock also touted an endorsement from skateboarding film director and DP Ty Evans, who has employed them on some recent projects.
The Torque Motors list for $695 per motor, and are available in a single-motor kit for focus or a three-motor kit for focus, iris and zoom. Each motor plugs into the Movi Pro's motor-control board using motor cables from Freefly.
---
Did you enjoy this article? Sign up to receive the StudioDaily Fix eletter containing the latest stories, including news, videos, interviews, reviews and more.