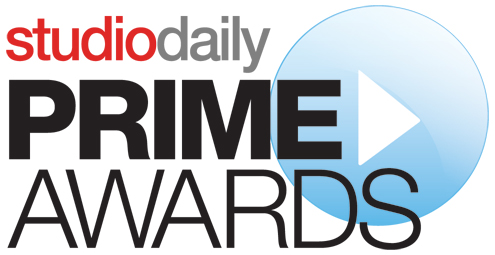 StudioDaily is seeking the top new products representing cutting-edge thinking and high-end craftsmanship in the production and post-production industries
New York, NY, November 14, 2017 – StudioDaily announced the call for entries for the seventh annual StudioDaily Prime Awards, adding four new categories recognizing achievement in truly bleeding-edge technology plus a new section of the awards looking at the best representations of new technology on screen.
The Prime Awards honor the latest, groundbreaking tools for content creation, including the latest hardware and software enabling 8K production, HDR workflow, VR and AR, and virtual production. StudioDaily is accepting entries through Friday, December 8. Winners will be announced at a special awards event during NAB Show, April 7-12, 2018.
"The scope of change has never been broader in the media industry, with this year seeing massive forward strides in technology supporting higher resolution, wider color gamuts, and more immersive experiences than ever before," said StudioDaily Editorial Director and Associate Publisher Bryant Frazer. "For the seventh year running, our judges are looking forward to getting their hands on the latest boundary-pushing media creation technology."
2018 Prime Awards Categories
Technology On Screen — Recognizing the Best Use of New Products As Seen in Finished Projects.
Cameras, Lenses, Grip and Lighting.
Audio Recording and Mixing/Sound FX/Foley.
Manipulating the image or adding elements that take narrative to the next level.
Stock Footage/Library Music/Custom Score.
Bleeding Edge — Tools and Technology That Map Out Uncharted Territory
8K+ Production and Post
HDR Workflow
Virtual Reality/Augmented Reality
Virtual Production
General Categories
Audio (Production and Post-Production)
Cameras
Camera accessories/support
Collaborative workflow tools/platforms
Dailies/File Delivery
Drones, UAVs and accessories
Displays/monitoring
Finishing/Color-Grading
IO/transcoding/encoding
Lighting
Lenses
NLEs and Other Editorial Software/Plug-ins
On-Set Recording/Color-Grading
Routers/Switchers
Storage hardware and software
VFX/Animation
Other/Uncategorizable
​
Presented by StudioDaily, the awards are open to all individuals and teams worldwide. Finished products must ship to paying customers (not beta sites) between January 1, 2017 and February 28, 2018. For the Technology On Screen category, the media in question must have been released in theaters, broadcast on television or via OTT and similar services, or streamed online during the same timeframe. The deadline for this program is Friday, December 8. Enter Online Now.
###
For questions regarding StudioDaily's Prime Awards, contact Mary-Lou French at mfrench@accessintel.com.