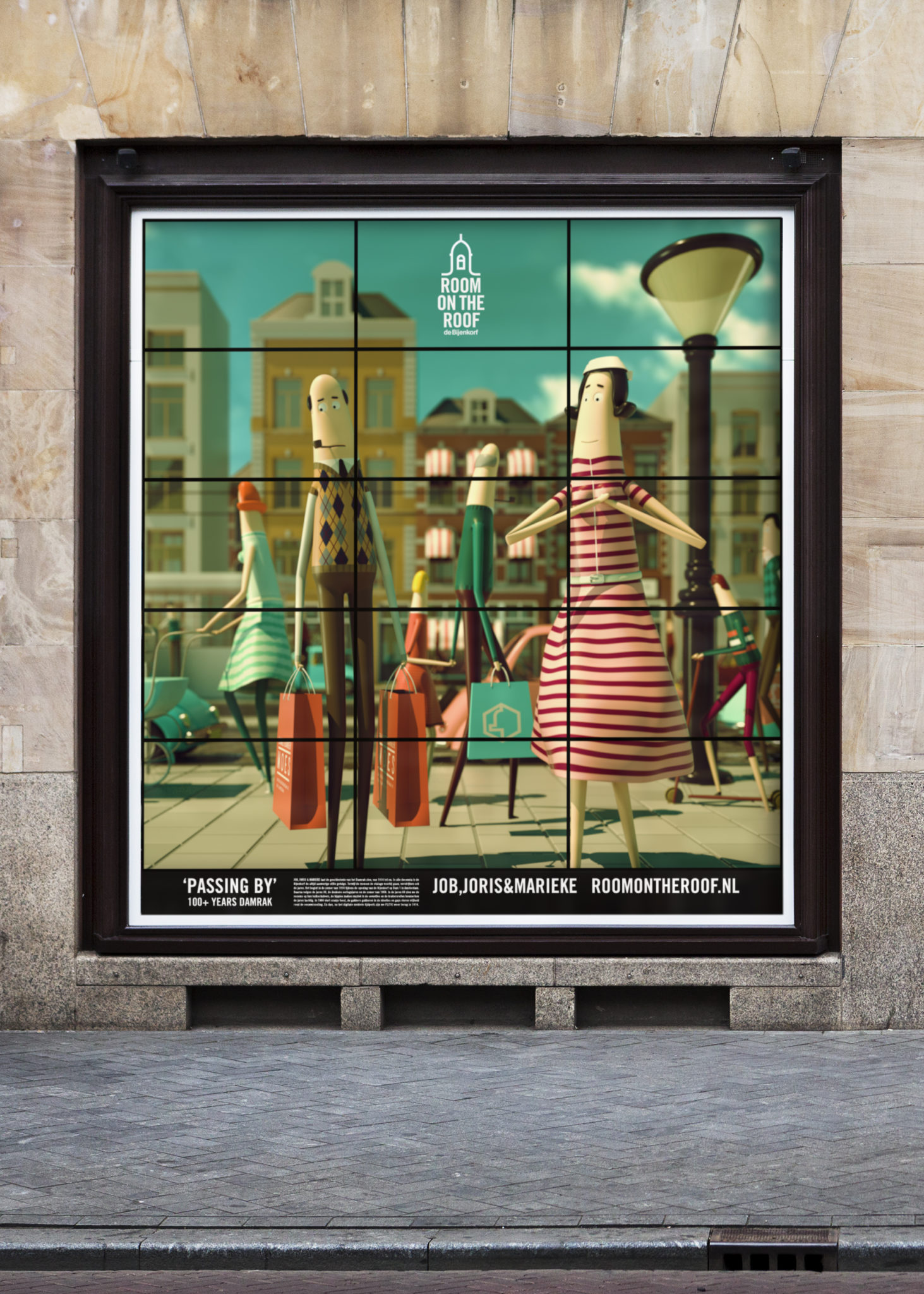 We Asked the Creative Team About Researching, Creating and Executing the Time-Traveling Short
Job Roggeveen, Joris Oprins and Marieke Blaauw were all studying product design at the Design Academy Eindhoven, in the Netherlands, when they met and soon realized they ought to team up and use their animation skills to tell stories. After founding their studio, Job, Joris & Marieke, in 2007, they have been collaborating on a wide range of projects, including an award-winning short film, "A Single Life" (previously covered here). Nominated for the Academy Award for Best Animated Short Film in 2015, the film tells the story of Pia, a young woman who finds a mysterious record on her doorstep and discovers that by playing it, she can travel back and forth in time.
The trio's latest animated short, "Passing By – 110+ Years of Damrak, Amsterdam" also focuses on time. In this case, time moves in a linear fashion, offering a one-minute history of Amsterdam as seen through the large front window of the Amsterdam department store De Bijenkorf. Using Maxon Cinema 4D and OctaneRender, Job, Joris & Marieke created ever-changing street scenes showing everything from important historical events to the evolution of cars and fashion designs.
StudioDaily asked them to explain the making of their new film, which was made as part of the artist-in-residency program Room on the Roof from De Bijenkorf. Watch the short, then read the Q&A below:
StudioDaily: How did this artist-in-residency opportunity come up?
Marieke Blaauw: The department store invites national and international artists to work in their special tower above their main building in Amsterdam. And then they try to find the right spot in the store to exhibit the work of the artist. For us, they chose the shop window and we came up with a concept that was perfect for that spot—an animation that takes the viewer on a rollercoaster through time. De Bijenkorf's shop window displays have always been quite famous. We wondered what the view must have been like from the shop window throughout time. How did the street change? How did the passers-by change? And what historical events took place?
SD: How did you decide what to portray as you moved through more than 100 years?
Joris Oprins: We are nostalgic people. We love looking at old pictures. We are all around 38 years old, so we have good memories from the eighties and nineties when we were young. For instance, gabber culture [a 1990s Dutch music and dance phenomenon] was part of our youth so we really wanted that to be in this film. We also included other things we feel nostalgic about that have disappeared, like the telephone booth, the good reputation of our Dutch soccer team and the Australian track suit the gabbers used to wear.
We decided to show every decade from the opening of De Bijenkorf in 1914, so we did some research on which historical events took place during that time. We chose the ones we wanted to portray and then we made a list of props and fashions for each decade. We also researched how the street changed over time. How did the street lamps change? What happened to the houses across the street from the store? When were cars allowed on the street, and what did the trams look like? We tried to tell the history of this street, but also the Netherlands in general. Each period had a different emotion to it: the 40s were dark, the 50s and 70s were vibrant, the 80s were grim and the 90s were also a bit dark.
Normally your films tell a story. How did you handle that with this film?
MB: We really struggled with the narrative of this film. We had a huge amount of props and people and we were basically just putting together scenes with only a setting in common. It really came together when we decided to use one main character who transforms through all the periods. That's what tied everything together and guided all of the other animations.
How did you go about modelling all of those props and characters?
Job Roggeveen: With so many characters and props moving around, we had to model everything with as few polygons and details as possible. We needed to work fast, but we also had to make sure that Cinema 4D and Octane could handle the files. When we work with props and characters, we always start by searching for a lot of reference images. Then, we stylize those to fit our style. Textures were really important in this film, especially those of the characters and their clothes because fashion was such an important part of portraying different periods in history.
Talk a bit about the film's wonderful sound design and music.
JR: I am our studio's composer and sound designer. Each period has a specific sound. For example, the 30s are pretty quiet because you don't hear cars yet. By 2000, it's very chaotic, with loads of cars, scooters and bikes. Finding all of the sounds for each atmosphere was a nice challenge.
What are you working on now?
MB: A new short film. We're making a two-minute film for the Ultrashort competition. Our film "A Single Life" was made as part of that same competition in 2014. Our new short is called "A Double Life," and it is a story about Ben and his girlfriend Sam. Sam has a deep desire to become a man, but Ben thinks she's only joking.
---
Did you enjoy this article? Sign up to receive the StudioDaily Fix eletter containing the latest stories, including news, videos, interviews, reviews and more.