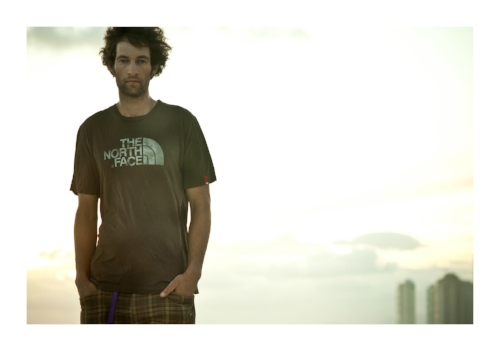 The documentary Mountain, directed by Jennifer Peedom and shot by Renan Ozturk, attempts to convey the intensity and awe of the experience of mountain climbing. It features numerous shots of small human figures against huge mountains, with a voice-over by Willem Dafoe drawn entirely from Robert McFarlane's memoir Mountains of the Mind and wall-to-wall classical music including an original score performed by the Australian Chamber Orchestra. Using both new and found footage, Mountain takes images shot from drones, GoPros and helicopters to create a sense of overpowering spectacle. Ozturk himself is as much athlete as filmmaker. His website is well worth a look, with glimpses of the films he's shot and his paintings. One of the subjects of the documentary Meru, he's considered one of the world's top mountain climbers. Mountain benefits from his insider's perspective into its subject.
StudioDaily: You started out as a painter. How did that lead you to cinematography?
Renan Ozturk: Well, there was a point in my career where I got the opportunity to go on bigger and bigger Himalayan expeditions. The camera technology also got a lot smaller. We had the opportunity to take these HD cameras up these big Himalayan first-descent climbs. At the same time, I realized there was a bigger opportunity with film to include art, music and cinematography and reach a lot more people than you could with a single painting.
I noticed on your website that every single painting depicts a mountain. Is that totally representative of your artwork?
They're all done on location, on expeditions. I've got rocks holding down the canvas, painting through storms. The landscape will be part of the story of the canvas, and I'll have to work with it and the painting that way. At the moment, all of my traditional artwork is focused around landscape and mountains.
You've both been both the subject of documentaries about mountain climbing and shot them. How does it feel to be both in front and behind the camera?
I didn't set out to be an artist, cinematographer or mountain climber. Sometimes I just found myself in front of a camera. These days I often find meaning in telling other people's stories. I'd say more than anything it's been unexpected to be on both sides of the lens, and I try to stay as open to it as I can.
I know that you were born in Germany. The genre of mountain climbing films has a long history there, although perhaps a sometimes checkered one since it's associated with fascism. That's where Leni Riefenstahl got her start as an actor and director. Is that a history that interests you at all?
The history of German filmmaking definitely interests me, but I just don't know that much about it. The history of German alpinism is even more interesting. I have a lot to learn, I think. I spend most of my time telling the story of other people in the Himalayas, and often my own history and heritage gets overlooked. Maybe in the future I'll spend more time and dive in deeper into it.
In Mountain, would you have been able to shoot so many images of tiny human figures without being able to shoot from helicopters?
Certainly not. The advent of higher-end systems on helicopters and drones played a huge role in Mountain. It's been a long quest of me and many of my peers to find a way to capture the imagery of those mountains and answer the question of why we do it. It's a question we're constantly asked. Why would we risk our lives for something that's seen as uncomfortable and full of suffering? Due to the helicopters in small locations, it captures the grandeur without me even having to say anything.
Did you worry about finding a balance between the beauty of the images and the risk of mountain climbing and the critique of some climbers offered by the voice-over?
Personally, the critique in my life is that just that the dedication it takes to be a climber forces you to forfeit a steady nine-to-five job and a career. Essentially, you spend years living in dirt in national parks practicing to crash. It's a long process that's not full of traditional career-making. It's a hard thing to explain to your family in the beginning when you're seen as a dirt-bag or derelict. Eventually that comes around.
You've suffered some very serious fractures, right?
I crushed my skull and broke two vertebrae in a skiing accident where I was extremely close to losing my life. I was lucky to survive. One of the vertebrae that broke sliced the vertebral artery that cut off half the blood flow to my brain. They caught it just before the clot went up and gave me a stroke. There were a lot of levels of luck involved in that one.
Do you feel self-conscious about the fact that Mountain has an epic, monumental quality that demands being seen on the big screen but after the first month of its release around the world, its audience will see it on video? I think a lot will get lost on a small monitor.
I'm blown away at the support that it's getting and the theatrical run it will receive. I know it's already been seen by a good number of audiences with a live orchestra playing with it. That's sometimes unique for any film. It's already touched thousands of people in that way. It's also been appreciated in the smallest form, in stills on Facebook and Instagram. Some of the images that have gotten the most response show tiny figures and giant mountains. They just resonate no matter what size the screen.
What different types of cameras did you work with?
We mostly worked with Red cameras, up to 6K resolution. We also had everything down to some of the original Sony handycam cameras. There was a full range. Some of the cameras captured human emotions because they're small and work in the moment. The bigger Red cameras were used on helicopters flying through the air on a gyro-stabilized unit beneath the helicopter with a 6K camera inside the gimbal hanging below.
The credits list about 20 countries where the film was shot. How large was its budget?
The thing about the film was that you can see all these countries, but a lot of that footage was curated by myself and Jennifer, because there was no way we could afford to go to all those countries just for this film. Plus there's no way it would be authentic to do that because we wanted to bring together the most beautiful moments captured by myself and my group of peers over a long period of time. It's awesome to see that long list of countries we've all shot in.
Jennifer has made two other documentaries that deal with similar subjects, including Sherpa. Did you work on that?
I was the director of photography and also the high-altitude director on that. We worked closely. Essentially, our discussions on that project led to this. We first started talking about Mountain during the production of Sherpa. Jennifer gave me the book Mountains of the Mind by Robert McFarlane on that shoot, and it sparked a lot of conversation and started the whole process.
Have you done D.P. work on films that have nothing to do with mountain climbing or any form of athleticism?
I've been a professional mountain climber on the North Face team for 10 years, and we've produced a film called Meru, which won the Audience Choice Award at Sundance and you can find it at Netflix and iTunes. I've produced other mountain-climbing shorts and I'm co-directing a personal feature documentary called  Sanctity of Space with my friend and climbing partner Freddie Wilkerson. A lot of the footage in Mountain is actually from Sanctity of Space. That's coming out soon as well. I've done a lot of work on these kinds of films over the past 10 years.
Was Robert McFarlane involved in the production to any extent, or was his book just used as an inspiration?
No, he was heavily involved. He was adapting lines and re-writing lines. He was in constant communication with the director the whole time. He was a brilliant collaborator.
---
Mountain opens May 11 in New York and May 25 in Los Angeles. Visit the film's official website for details on the nationwide expansion through June and into July.
---
Did you enjoy this article? Sign up to receive the StudioDaily Fix eletter containing the latest stories, including news, videos, interviews, reviews and more.