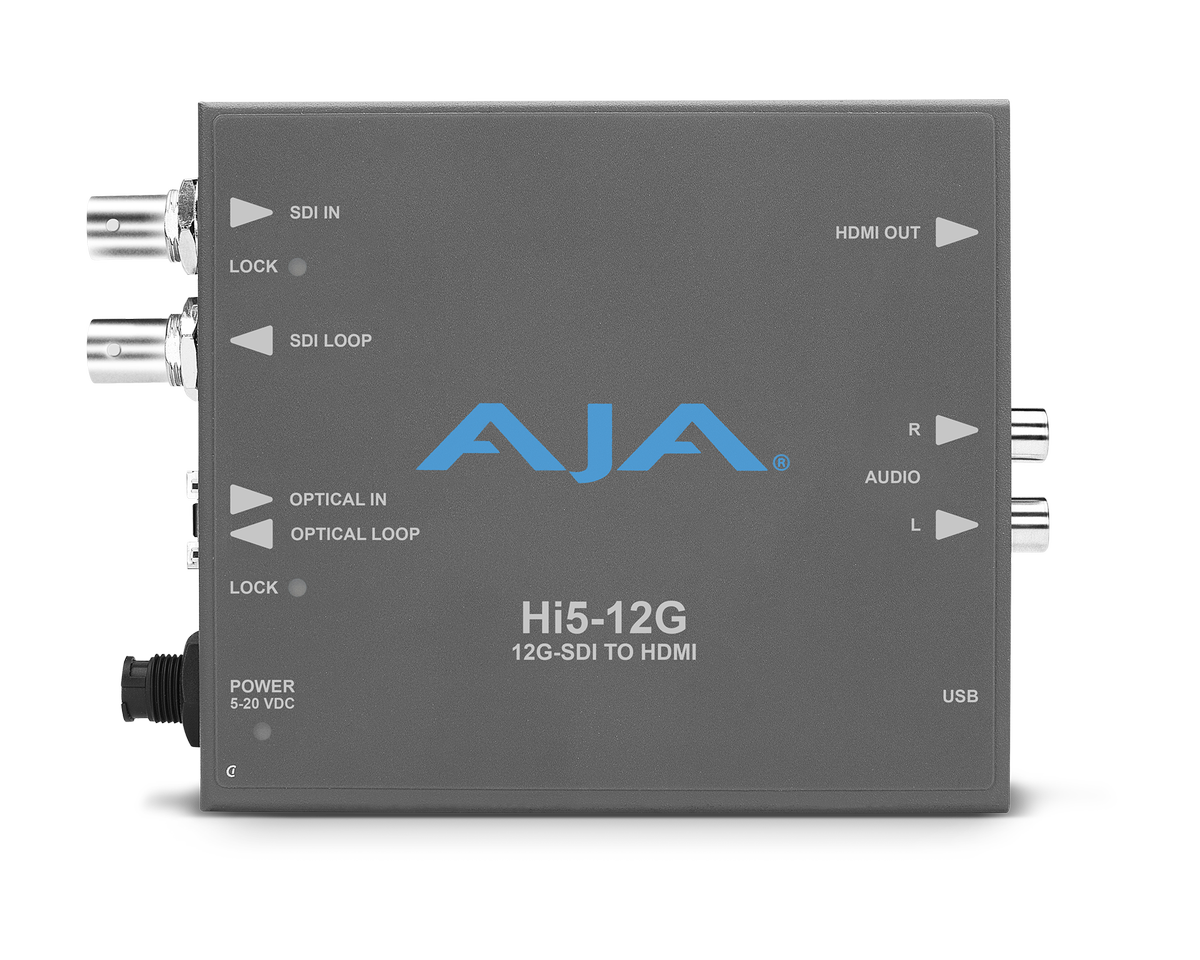 AJA announced the Hi5-12G and HA5-12G mini-converters, two new devices for converting between 12G-SDI and HDMI 2.0,  at InfoComm this week.
The Hi5-12G follows in the footsteps of the 3G-SDI Hi5-4K-Plus, converting a single-link 12G-SDI input with up to eight channels of embedded digital audio to an HDMI 2.0 output with either two or eight channels of embedded audio. The converter can also generate HDR metadata, and features a re-clocked SDI loop output.
The HA5-12G does the reverse, converting HDMI 2.0 input with up to eight channels of digital audio or two-channel analog audio to two 12G-SDI single-link outputs with embedded digital audio. This converter also analyzes HDR infoframe data contained within the HDMI signal.
Both converters are available in basic versions for $795 each, or in fiber SFP equipped models with a fiber receiver (Hi5-12G-R and HA5-12G-R; $995 each) or transceiver (Hi5-12G-TR and HA5-12G-TR; $1,195 each), which can be used for extending 4K signals over longer distances.
"As 4K [and] Ultra HD workflows become more common across production, broadcast, post and pro AV, we're seeing an uptick in the demand for 4K [and] UltraHD conversion between HDMI 2.0 and 12G-SDI," said AJA President Nick Rashby in a prepared statement. "Hi5-12G and HA5-12G answer that need, making it easier and more cost-efficient to transmit high quality signals between 12G-SDI and HDMI devices and displays located far apart, with single-cable simplicity."
All models of the two new converters are expected to ship this summer, AJA said.