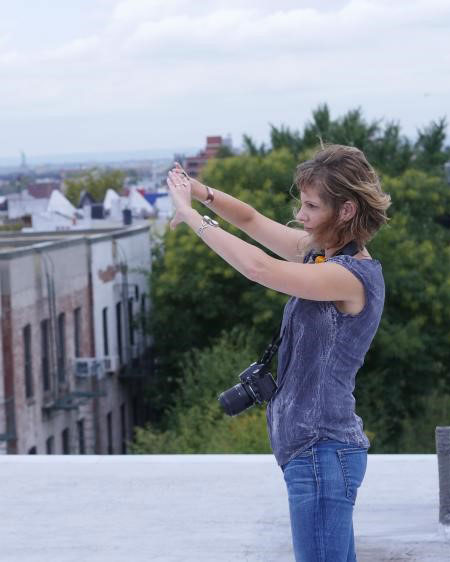 On Filmmaking Style, Science and Psychology, and Committing to the "Depth Year"
Dara Bratt is a Montréal-native and Brooklyn-based filmmaker with both fiction and nonfiction projects on her resume, as well as an enviable body of commercial and corporate work for clients including Maybelline, Movado, and PepsiCo. Bearing an MFA in film from the Tisch School of the Arts, Bratt has found a kind of cinematic niche in science, especially in her fascination with the ways that psychology shapes society. See, for instance, her short documentary for Topic, "Black Dog," about black dog syndrome — an apparent color bias, well-known in the world of animal shelters, that favors lighter-colored animals for adoption. Or "Flutter," the story of a butterfly collector that touches on issues having to do with endangered species and preservation efforts. She is the recipient of the Alfred P. Sloan Production grant, the FAP grant from the National Film Board of Canada, the Tribeca Film Institute Sloan Award, and the documentary grant from the Academy of Motion Pictures, Arts, and Sciences. We asked her Five Questions about her work, the industry, and inspiration.
StudioDaily: How much does your work in commercials inform what you do as a fiction and nonfiction filmmaker?
Dara Bratt: I love to direct, be engaged, and have an opportunity to be creative. Working in commercials keeps me sharp technically and keeps me working collaboratively. Commercials can be a completely different challenge because a 30-second spot redefines how to tell to story. However, my cinematic docu-lifestyle and narrative filmmaking style is something I bring to every project, regardless of length or subject.
Why do scientific themes particularly appeal to you?
I'm a curious person, always looking for new discovery, and I approach new ideas with a sense of wonder. I'm always interested in why people do the things they do, the psychology behind our actions, and I'm equally intrigued by how the world works. I've explored scientific themes from prosopagnosia (face blindness) to mechanical resonance, and I approach these themes in a non-expositional way — bottom line, it's about story and character.
How do you feel about diversity in the production industry?
Creativity blossoms when new voices are heard. I hope more and more doors for women will continue to open, which is becoming an increasing possibility through initiatives like Free The Bid, which supports women in the advertising and film industries by offering us a platform to share our voices. I recently joined Free the Bid, along with Big Block, the creative services company where I'm represented, in an effort to increase diversity in the creative community. Since joining, I've experienced firsthand the results of this initiative: more exposure, leading to more agencies and brands noticing, and taking our abilities and talents seriously by hiring more female creators.
Tell us about a recent project you worked on.
I loved working on The Millie Project, which was an opportunity of a lifetime to travel to Jordan and film the experience for the launch of a new organization that seeks to empower women through mindful travel. The challenge was that we were a mere team of two filming from the crack of dawn until we lost the light, every day, in very hot weather. Grant Greenberg, my DOP, was a great partner who rose to the challenge, even when it meant filming a hike up the mountains in Petra, underwater diving in the Red Sea, and insane waterfall climbing in Mujib Dam. Ultimately, we wanted to capture this journey in a visceral, sensorial film that really made you feel the heart and pulse of the country, but also through the lens of the Millie experience.
Tell us about something you've seen, heard or read recently that inspires you.
I recently read a post by a journalist friend of mine, Adria, in which she references the notion of having a "Depth Year", an idea initiated by David Cain. Instead of making unattainable New Year's resolutions, we commit to going more in-depth with ideas we've already started; whether it's a hobby, an unfinished project, or a book not yet read. I've never been a fan of resolutions and thought it was just something that left us feeling worse by mid-January when we've abandoned these so-called missions, but the idea of going further into depth into what's already in our lives resonates. It's about being present, being mindful, continuing to be creative, and it feels responsible. I'm all in.
Learn more about Bratt's work at darabratt.com.