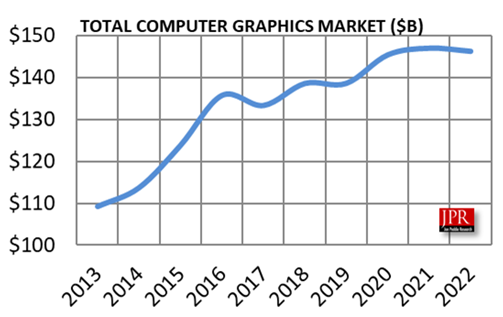 The computer graphics market is in for a slow but steady rate of growth for the foreseeable future, according to a new report from analyst firm Jon Peddie Research (JPR).
After a period of rapid growth between 2013 and 2016, the firm said, the compound annual growth rate for graphics hardware and software has slowed to an average of 2% — not a big number, but enough to grow the computer graphics market to $150 billion by 2022. Of that number, JPR expects more than $133 billion to be CG hardware.
The computer graphics software market, meanwhile, should grow to $17.3 billion by 2022, according to JPR, with growth driven by services moving to the cloud and the continued adoption of subscription models.
JPR said CAD and CAM software continues to make up the lion's share of the CG software market, accounting for nearly 80% of its value. The firm also noted that, despite the emergence of new applications for CG software and hardware including AI, real-time ray-tracing, and augmented reality, it expects the rate of growth will remain steady.
"Virtual reality, which has gained so much attention, is hardly a factor in either hardware or software, and, despite some glowing forecasts, we don't think it will be for a while," JPR said in a press release. "The main point of exploration for VR today is in content creation, where it is used for virtual production, a glamorous but tiny market, and design for professionals, its traditional market."