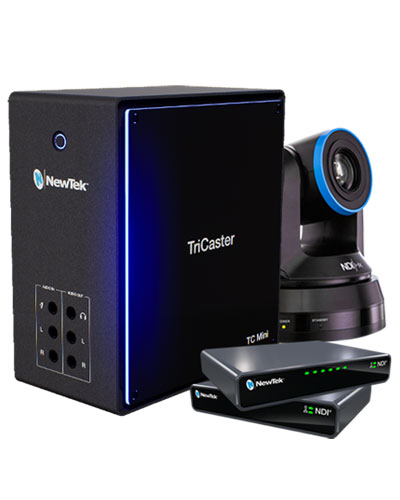 NewTek announced an updated TriCaster Mini, a new 4K NDI switcher with support for up to eight simultaneous robotic cameras, including four plug-and-play NDI Ethernet connections.
The NDI connections support power-over-Ethernet (PoE), making single-cable camera control possible. The system comes with two PoE input modules, allowing HDMI cameras to be connected as NDI sources.
iPhone camera feeds can be added to the mix via the NDI HX camera app, which will allow an iOS device to be used as an NDI source, transmitting video over Wi-Fi to TriCaster Mini systems.
For monitoring, the new TriCaster Mini has four Mini DisplayPorts (with HDMI adapters), two of which support multiviewers. Recording to external storage via USB 3.0 is supported.
The whole package measures 4.6 x 9.2 x 7.9 in (11.7 x 23.4 x 20.1 cm) and weighs 9 lbs (4.1 kg), NewTek said.
The TriCaster Mini includes built-in virtual sets, animated transitions, replay capability, and support for streaming, recording, projecting and publishing to social media with selectable formats and aspect ratios. Graphics and animations can be imported from Adobe Photoshop or After Effects using NewTek LiveGraphics, and text and image links can be imported via NewTek's Datalink system.
NewTek said the new TriCaster Mini will ship this month in different packages starting at an $8,995 option that includes the TCM4KUHD TriCaster Mini hardware and two input modules. Upscale versions of the system include a control surface, travel case, and/or a pair of NewTek PTZ1 cameras.