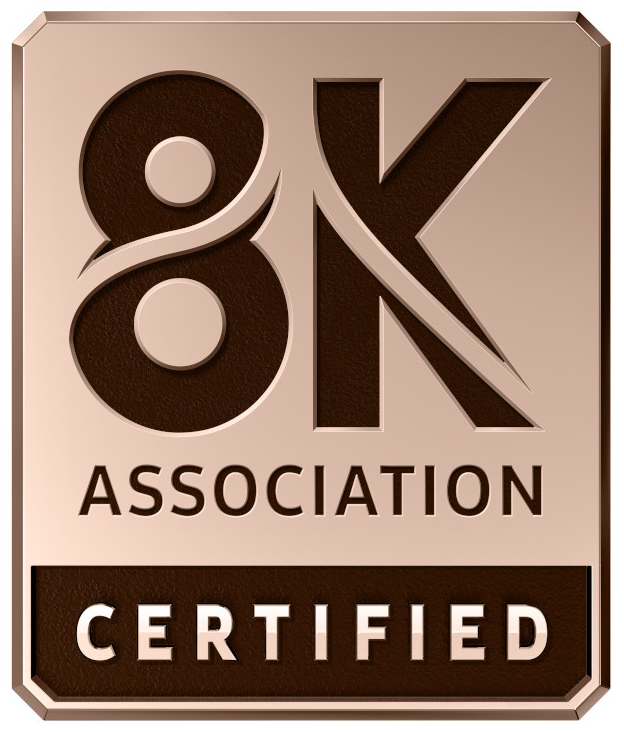 The 8K Association (8KA) said its certification program for 8K TVs is underway with a performance specification in place to help define the next-generation TV standard.
The certification logo will be available for display on TVs from member companies that meet or exceed the requirements, which include benchmarks for resolution, frame rates, display luminance and more.
Full specs, including more granular parameters for 8K input, display performance, and interface and media formats, are available only to 8KA members.
The 8KA said its membership includes suppliers that represented more than 70% of global TV-panel manufacturing capacity in 2019. The 8KA has 22 members, including eight with a seat on the organization's board: AUO, Hisense, Panasonic, Samsung, Samsung Display, TCL, Tencent and Xperi. Notably absent from the roster are Sharp, Sony and LG.
---
8K Association Certification Specs
Resolution: 7680 x 4320 pixels
Input Frame Rate: 24p, 3op and 60p
Display Luminance: > 600 nits peak luminance
Codec: HEVC
Interface: HDMI 2.1
Additional performance and interface specs available to members
Source: 8K Association
---
Founding member Samsung Electronics said its QLED 8K TVs will be among the first to bear the new logo when they are released this year. "Our goal is to provide consumers with the ability to easily identify premium 8K displays from other devices when making purchasing decisions," said Samsung Electronics Visual Display Business EVP Hyogun Lee in a prepared statement. "Home entertainment and TVs are important investments for many of our consumers, and we hope that the 8KA Certification Logo will help guide them."22
The 8KA said it will launch promotional initiatives this year including "cutting-edge demos showcasing the maturing nature of 8K products, production workflows, delivery options and display devices" and efforts to support adoption of higher-efficiency streaming technology.