Update 1/3/20: The 2019 Camera Comparison Chart [PDF] has been updated this week with the addition of the Canon C500 Mark II, the Sony PXW-FX9, and the higher frame rates enabled by the latest Sony Venice firmware. The Canon C700FF and the Sony FS7 II have been dropped from the previous version of the chart to make room for the new entrants.
Which widely used cinema-style camera is the lightest? What's the power draw of the Arri Alexa LF? And is the Blackmagic Ursa Mini Pro G2 Netflix-approved?
You can hover your cursor over those questions to see the answers. Or you could just refer to a single document — the 2019 Camera Comparison Chart, compiled and updated by imaging gurus Gary Adcock and Thomas Fletcher with input from cinematographers, rental houses and camera manufacturers.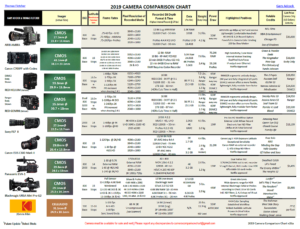 The latest edition of the long-running chart series compares specs across a range of 15 digital cinema cameras available for sale and rent — plus 35mm film as a baseline format. The listed data includes imager sizes, base ISOs, available frame rates, dynamic range, resolution, recording options, camera weight and power draw, and more.
Adcock and Fletcher warn that the chart's data is not "scientifically tested" — it's largely based on specs as reported by camera vendors. "Our goal is to help producers make an educated decision in our rapidly changing camera and optical landscape," they write. "That said, numbers do not tell the whole story. Look at the images and consult your cinematographer. We encourage you to test for yourself!"