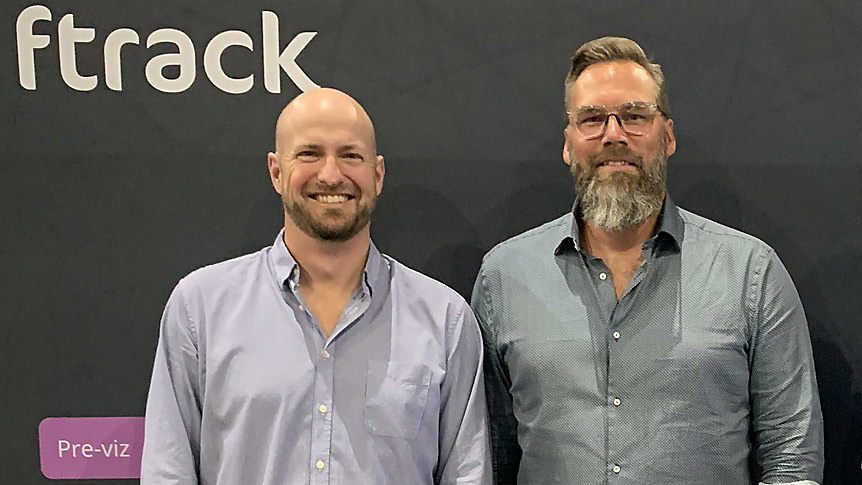 Last month, Ftrack acquired Cospective, maker of the widely used CineSync review-and-approval tool. As usual when it comes to mergers and acquisitions in the text space, details on strategic plans were sparse, though Ftrack said its future was in expansion, not consolidation, and promised that new hiring was set to take place in 2020. The companies also alluded to new futures and new workflows in development. StudioDaily checked in with Ftrack founder and CEO Fredrik Limsater and Ftrack Australia GM Rory McGregor, formerly the CEO of Cospective, to get a little more perspective on how they see their future together developing.
StudioDaily: How have things gone since the acquisition? Specifically, has cineSync customer support been successfully transitioned to ftrack?
Fredrik Limsater: They have gone exceptionally well. The response from the industry has been hugely positive and our customers are excited about the news. We've spent the last few weeks integrating the ex-Cospective team into the Ftrack family. That's meant plenty of company video calls — where we have people joining not just from Adelaide, but also team members from Barcelona, London, San Francisco, Shanghai and beyond — and also some in-person trips for the development team to meet, discuss the products, and start collaborating on our plans for the future. This recently included CineSync Product Manager Neil Wilson visiting the Ftrack Stockholm HQ to share product knowledge with the team and get stuck in with new developments. I am also heading over to Australia soon to work closely with Rory on our plans for 2020.
Rory McGregor: I have to echo Fredrik's views that things could not have gone better. I recently visited a variety of CineSync users in the U.S. and all were very interested in the acquisition and what it will mean in the coming months. We've already started to enact some of the plans we developed when the conversation around this acquisition first started. It's been a really smooth ride so far and we're pleased with the foundations we've put in place to take our products to the next stage. With regards to support, the whole team is now working together, we've started connecting with customers in various regions, and things are well underway.
Should customers expect cineSync to remain available as a standalone product indefinitely? What about Frankie?
RM: Yes, CineSync and Frankie will be available as standalone products, no matter what other developments occur in future. If people want to buy CineSync and nothing but CineSync, or Frankie, they will be able to do so. The last thing we want to do at Ftrack is to force people into buying products they don't need. We create a suite of tools that work incredibly well together, but also cater to different needs and goals. If a new customer only wishes to buy one of those platforms to address a particular creative challenge, then we'll make sure that they can. The idea is to give the customer choice, rather than to force one upon them.
What does 2020 hold for Ftrack as a company? Do you still expect to staff up around the world?
FL: We have big plans for 2020. In terms of staff we have a set plan to grow all departments, from development to sales, marketing, and support. The exciting thing is that we can source talent from anywhere. Ftrack is a global organization with five offices across 11 cities, six countries, and four continents. As we grow we will continue to develop our remote workforce, while also continuing to hire staff at the Ftrack headquarters in Stockholm. We will also specifically grow the Ftrack team in Adelaide. Our growth plan is built first and foremost around the evolution of Ftrack's product ecosystem, and ensuring that our customers have the resources and support they need to make the most of Ftrack Studio, Ftrack Review, CineSync, and Frankie. All new team members will work towards that goal as a priority.
RM: In terms of the product, we have some exciting things to release in 2020. It's early days to say exactly what they are, but be sure to keep an eye out. It's exciting because both Cospective and Ftrack have worked to create solutions for this industry for many years now – and both companies have a similar history in that they were both born out of real production environments and in response to real production problems. We haven't just been creating tools we think creatives need — we're creating solutions we know are necessary. Now, working together as the same company, we can truly take that knowledge and expertise to the next level.
What plans do you have for integrating CineSync with Ftrack?
FL: Ftrack and CineSync have shared an integration since 2015. The team in Adelaide has improved upon it over the years and naturally, this integration will continue to grow and improve now that both products are under the Ftrack umbrella. All other third-party integrations with CineSync will also continue to be built upon and improved.
With the increased availability and affordability of bandwidth, have we reached an inflection point for cloud workflow in production and post? And what does that mean for CineSync and Ftrack?
FL: I would say that we are at an inflection point, but it's not a sudden change. This is a long and gradual curve and it will be some point before we see full uptake of cloud across the post-production industry. Not enough studios are willing to work via a fully cloud-based pipeline at this point due to legacy systems. More commonly, we're seeing a hybrid infrastructure approach being the norm, where companies mix on-premise and cloud to balance efficiency and cost with security concerns.
I predict that we will see cloud become the norm, rather than something companies hedge their bets on, but that won't happen overnight, for several reasons. Cloud is a lot easier for young studios to adopt than mature ones, for instance, where an overhaul of established infrastructure may be required, and that's simply not something that happens with the click of a finger. Also, not only does cloud technology need to become more advanced, but so too does the internet connection that supports it. It can be a major bottleneck when transferring terabytes of data. When we all get 1 Gbps-plus connections at home and on the move, now we're talking. Offices will need dedicated lines too, not shared. So that process of making cloud readily available needs to improve too, because it's a massive cost to get that in place.
In the context of Ftrack's products, we've been cloud-based from day one, as our particular kind of products and the way in which they are used are more appropriate for a cloud-based workflow than a fully-fledged digital content creation app, for example. We have a wealth of security procedures, policies and tool implementations in place to counter security concerns, not to mention compliance with industry-standard content protection initiatives such as the Trusted Partner Network. Thanks to this, our customers have always felt safe using Ftrack in the cloud to manage the work that they create. For those studios that have strict security requirements, we offer an on-premise version of Ftrack too, so everyone can work with our tools in the way they need to.
What else do you want your customers to know about the future?
RM: That they can rest assured we are working together in their best interests. From the very first conversation about this acquisition we discussed the importance of putting the customer first, and everything we're doing, from improving the products we create to increasing the team size and bolstering support, is with that aim in mind. The only big changes are going to be positive ones that help our customers to work more efficiently and to achieve better results with the technology we build. Watch this space in 2020.