Christopher Nolan's nearly-three-hour-long spacefaring epic Interstellar, which opens November 5 in theaters showing film and November 7 on digital screens, is one of the year's most ambitious and highly anticipated movies. Until very recently, it was also the big studio release that we knew the least about—even if you had seen it, you weren't allowed to say anything about it until this week. That didn't stop some high-profile colleagues of Nolan's from having their say.
Dazzled by the ambition & intelligence of Chris Nolan's INTERSTELLAR. Terrific performances, haunting imagery, WOW. See it in 70MM IMAX.

— Brad Bird (@BradBirdA113) October 21, 2014
Saw 'Interstellar' for a second time projected on IMAX film. Truly an magnificent film. Emotional, visually stunning. See it large and loud.

— edgarwright (@edgarwright) October 23, 2014
Interstellar is bold & ballsy. Huge ideas done in a concrete grounded way, and some of the finest space travel spectacle this side of 2001.

— Rian Johnson (@rianjohnson) October 23, 2014
And now movie critics have started weighing in. Interstellar has earned a Metacritic Metascore of 77 ("generally favorable reviews") from 11 writers and a Tomatometer rating of 69% from 26 reviewers (18 favorable, 8 negative) at Rotten Tomatoes. Here are some quotes from both sides of the aisle.
Interstellar reaffirms Nolan as the premier big-canvas storyteller of his generation, more than earning its place alongside The Wizard of Oz, 2001, Close Encounters of the Third Kind, and Gravity in the canon of Hollywood's visionary sci-fi head trips. — Scott Foundas, Variety
The movie's strengths and weaknesses are profoundly bound up together, producing a riveting push-pull dynamic throughout. You watch the film lamenting its most recent slip-up, only to be knocked sideways by its next extraordinary flourish. — Tim Grierson, Screen Daily
It's a bold, beautiful cosmic adventure story with a touch of the surreal and the dreamlike, and yet it always feels grounded in its own deadly serious reality. — Dave Calhoun, Time Out London​
It's a glorious spectacle, but a slight drama, with few characters and too-rare flashes of humour. It wants to awe us into submission, to concede our insignificance in the face of such grand-scale art. It achieves that with ease. Yet on his way to making an epic, Nolan forgot to let us have fun. — Henry Barnes, The Guardian
It's impossible to not admire the technical achievements of Interstellar, but as Michael Bay and so much more modern moviegoing has proved, rapturous visuals can't make up for a ruptured script. Christopher Nolan's Interstellar spends hundreds of millions to take the audience on a journey to the farthest parts of the cosmos … so they can be told sentiments as close, and as cheap, as any of the offerings at your local Hallmark card retailer. — James Rocchi, The Playlist
OK. So some people will love it and some will hate it. But the most controversial thing about Interstellar on the exhibition side of the industry is the director's stubborn refusal to give up on film. What does it mean for moviegoers? Well, beyond the different look of film prints, Nolan's use of multiple formats means the movie will be screened in many theaters with a changing aspect ratio, and audiences will see a different frame depending on where they see the film.
According to the official "technical specifications," Interstellar was photographed in 35mm anamorphic and 65mm 15-perf IMAX formats. When the film is projected in an old-school 70mm IMAX theater, the aspect ratio will switch between 2.40:1 (35mm anamorphic) and 1.43:1 (IMAX) at "key dramatic moments".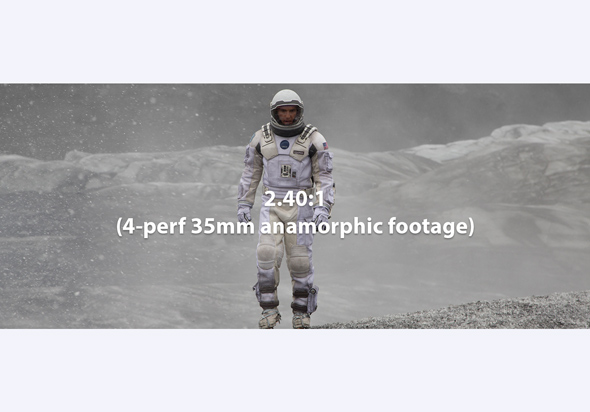 Mouseover film still above to compare aspect ratios. Note: this is a publicity still, not an actual frame from the film. We're just using it to show the difference between the aspect ratios; we have no idea whether the scene in the film was shot on 35mm or in IMAX. Photo courtesy Paramount Pictures.

For "digital IMAX" exhibition, the original film elements have been scanned at 6K and 8K before being scaled down for the DCP. The aspect ratio will switch between 2.40:1 and "up to 1.9:1," presumably depending on the height of the screen at any given digital IMAX installation. All IMAX screenings, film and digital, will feature an uncompressed IMAX sound mix.
At 70mm screenings, the IMAX footage has been cropped top and bottom (and the widescreen footage cropped slightly on the sides?) to create a 2.2:1 aspect ratio. The six-track audio will be delivered on a Datasat disc. 35mm anamorphic prints are made from the original 35mm camera negative intercut with 4K negative sourced from 8K scans of the original IMAX negative. Sound will be encoded on the prints in six-track Dolby SRD.
Look for more news on Interstellar when the film is in release … and the people who helped make it are finally allowed to talk about it.
---
Did you enjoy this article? Sign up to receive the StudioDaily Fix eletter containing the latest stories, including news, videos, interviews, reviews and more.