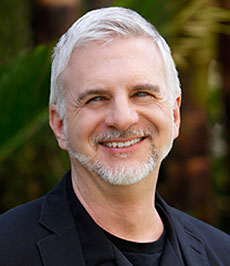 Sony Pictures Imageworks Senior Visual Effect Supervisor and Creative Head Ken Ralston (Star Wars, Dragonslayer, Alice in Wonderland) will receive the Visual Effects Society's (VES) Lifetime Achievement Award at the VES Awards ceremony next February 7 at the Beverly Hilton Hotel.
"Ken Ralston is an amazing force and a defining voice of the visual effects community" said VES Board Chair Mike Chambers in a prepared statement. "His creativity, leadership, and ability to use technologies to enhance the art of storytelling have brought us some of the most memorable films of all time. His pioneering work has truly raised the bar and helped redefine entertainment and our industry on a global level. For this and more, we are honored to award him with the prestigious VES Lifetime Achievement Award."
Dragonslayer (1981)
Ralston is a five-time Oscar recipient, including the Special Achievement Oscar he received for his work on Star Wars: Episode VI — Return of the Jedi as well as Best Visual Effects Oscars for Forrest Gump, Death Becomes Her, Who Framed Roger Rabbit and Cocoon. His most recent project as VFX supervisor was this year's Alice Through the Looking Glass.
Ralston got his start in Hollywood in the early 1970s at Cascade Pictures, where he worked on advertising campaigns that featured Poppin' Fresh, the Pillsbury Dough Boy and The Jolly Green Giant.
---
Did you enjoy this article? Sign up to receive the StudioDaily Fix eletter containing the latest stories, including news, videos, interviews, reviews and more.