Mercury, where have you been all my life?
Adobe
Creative Suite 5 (CS5) has plenty of enhancements, but Premiere Pro received the biggest upgrade of all. Now Adobe's rock-solid editing software takes a step into a new era, running only on 64-bit operating systems such as Mac OS X and Windows Vista or Windows 7. Premiere Pro's been drastically improved, to such a profound extent that it could save you dozens of hours on every project you produce.
For the past three years, Adobe has been secretly working on what it calls the Mercury Playback Engine. The company teamed up with graphics card giant NVIDIA, using that company's multithreaded Cuda graphics architecture that uses the GPU (graphics processing unit), to significantly accelerate both previews and rendering in Premiere Pro. Unfortunately, those who would rather use ATI graphics cards don't get to share in the tremendous benefits of Mercury, but Adobe says that might change sometime in the future.
For now, if you're using one of a limited group of NVIDIA graphics cards (including the Windows-based versions of the Quadro CX, Quadro FX 5800 and 3800, and the Windows and Mac-compatible NVIDIA GeForce GTX 285 and Quadro FX 4800, then you're in business with Premiere Pro CS5's Mercury Playback Engine. And here's a helpful hint: if you're choosing a graphics card for use in Premiere Pro only, Adobe told me you'll enjoy almost exactly the same Mercury Engine performance out of the cheaper Quadro FX 3800 graphics card (the one I used for testing here) as you would from the highest-end, much pricier Quadro FX 5800. So save your money if Premiere's your game.
What kind of speedup can you expect from Mercury? Frankly, I was astonished at the difference it makes. I used a variety of footage from the RED camera, various 720p camcorders, video from the Canon 5D digital SLR, DVCPro HD, and XDCAM, and all were easy to play back with the Mercury Engine on. Previewing those same sequences with Mercury turned off, there were frames dropping and stuttering just like in the old days.
Even with effects-heavy sequences with huge files, I still got smooth playback. However, with some of the gigantic RED files, I had to play back the timeline at quarter-rez, or I'd get frame drops and stuttering. That lower resolution playback is good enough, though, because even at quarter-rez, those high-resolution files still look great. Besides, few content creators have a monitor big enough to watch them in full resolution, anyway. Making life even easier is Premiere's new control that lets you separately adjust the resolution of the video when it's paused, or when it's playing. Choose to see full rez when you pause to check focus or detail in a specific shot, then select a lower resolution when playing back. Good idea, Adobe.
How much faster can you work with this Mercury Engine? To give you an idea, we stacked up nine 720p shots in a picture-in-picture arrangement, and with the Mercury Engine engaged, the entire sequence played without dropping a single frame, even at full resolution. We could scrub back and forth, start and stop, and still, playback was flawless. However, without the Mercury Engine, the sequence played, albeit dropping numerous frames throughout.
Not only is the Mercury Engine a tremendous boon for previewing and playback, even on a laptop – it speeds up rendering for output as well. When I output a huge composite I'd been previewing to the Blu-ray format, it took 3:42 (three minutes, 42 seconds) to finish its rendering using the Mercury Engine, versus 12:25 without that GPU assist, using software only. That's an astonishing 235% faster. Whoa.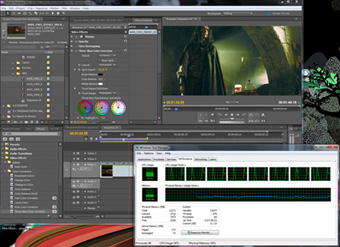 Premiere Pro CS5's user interface looks almost the same
as its predecessor, but it's what's underneath that counts.
While that brawny new engine that was just dropped right in the middle of Premiere Pro eclipses all this CS5 version's other refinements, it isn't the only nicety folded in. For example, I'm especially fond of the ability to adjust complex effects within a sequence in real time, while the clip is playing, something Sony Vegas has had for years. This new (for Adobe) capability is extremely helpful when you want to adjust a chromakey effect, for example: simply play a section in a loop, and then you can make your adjustments in real time as you watch the results.
I'm also highly impressed with the new native support for a variety of formats not supported elsewhere, such as Sony XDCAM HD 50, Panasonic AVCCAM, DPX, and AVC-Intra, native support for a variety of DSLR cameras, including those from Nikon and Canon, and the McGill, native support for RED R3D files, which can be imported directly with no other software necessary.
Check Adobe's site for all the other helpful enhancements in this new edition of Premiere Pro, while keeping in mind that the Mercury Engine is well worth the price of an upgrade itself. Jaw agape, I'm positively astonished with this technology, remarking multiple times, "Mercury, where you been all my life?"