The Loupedeck CT is an inexpensive control panel that offers an experience that comes close to much costlier dedicated control surfaces. It has a touch screen, a wheel, dials and buttons, and it carries the promise of usability with multiple applications. We tested the Loupedeck CT with Premiere Pro and Final Cut Pro X.
The Loupedeck CT device ships inside a lovingly designed box along with a generous-length braided nylon USB-C type cable with an angled connector and a USB-C to USB-A adapter. The CT communicates with your Windows 10 or MacOS 10.13 computer through an editing app. The app holds the configuration parameters to all of the Loupedeck models and comes with a large number of preset workspaces, many of which are Adobe-oriented with support for After Effects, Premiere Pro, Lightroom, Photoshop and Adobe Camera Raw. However, Final Cut Pro X is also supported.
The CT weighs about 300 grams. This has two advantages: it's heavy enough to keep the device from wandering about your desk while you're using it, and it's light enough to be tossed in a backpack together with a laptop for editing on the road. Eight GB of built-in memory and a Bluetooth chip round up the offering. The memory shows up as an external disk drive when you connect the Loupedeck to a computer, allowing files and settings to be stored and transported. The Bluetooth chip is meant for the obvious functionality, but the software doesn't yet support it.
The Loupedeck is USB-powered, with an anodized aluminum topside and a sturdy plastic bottom. The working surface holds six dial/press caps, eight rounded buttons that have heavy-duty dome switches, 12 square gaming-switch buttons, a touch screen and a touch-sensitive wheel. RGB LEDs light up the buttons and enable working at night.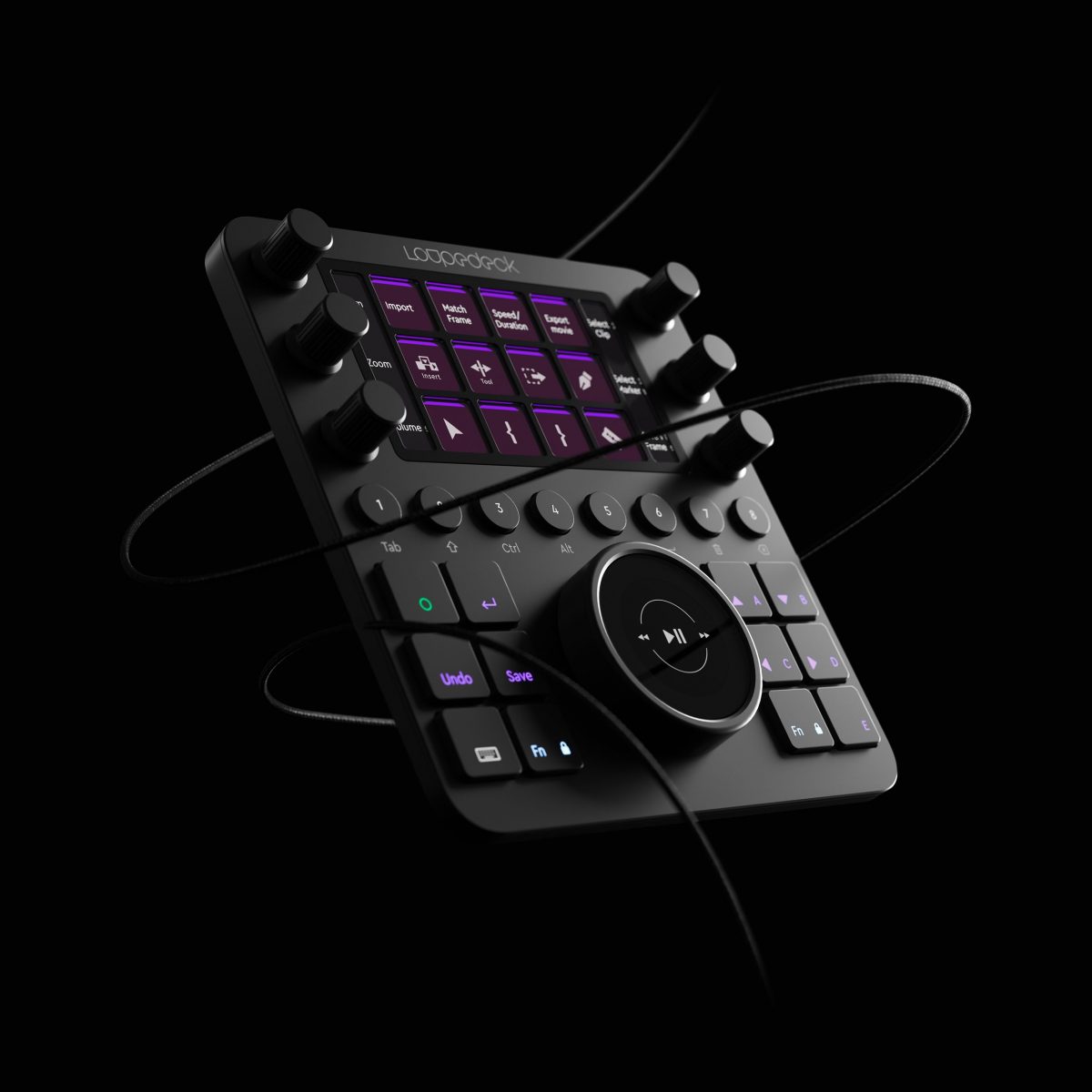 First observation: it quickly became clear that the Loupedeck CT is not designed to be used without ever touching the mouse. You can set the center of the wheel — a touch-sensitive disc — to mimic mouse movement, but it's a tiny surface and freely moving around the cursor is a frustrating affair. That's why the CT works best when you use your mouse to select a curve, a clip, etc. The Loupedeck CT does offer the same functionality as dedicated control panels such as the Tangent Wave 2 when used, for example, to navigate the timeline, move clips and adjust color wheels.
All of the round buttons can be fully customized, as can some of the square ones. However, settings for the dials, touch buttons and wheel can only be customized in the context of the software you're using. The app allows for a huge number of commands and actions you can perform through the CT, while the customization capabilities allow it to fit your needs exactly. To give an example, you can set the round and square buttons to act as individual characters on your keyboard. Together with the function (Fn) key, this allows for at least 16 shortcut keys that you can use any way you like. A keyboard button changes the round CT buttons so they act like your keyboard's modifier keys, allowing you to put the keyboard aside for most operations. To make sure you don't lose your head over all the different options, the Loupedeck app assigns different colors to different actions and functions.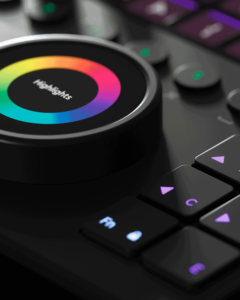 As with other Loupedeck devices, the CT adjusts to the app you're working with by just launching it; the controls will automatically switch to the right preset. In Premiere Pro, the touch screen is divided into three workspaces: Editing, Color and Audio. The Editing space gives access to everything project-related, including basic editing tasks like adding bins and sequences, sending a clip to the source window, reviewing a clip and marking in/out points. Here already, it became obvious you sometimes need the mouse. For example, to add a new sequence, you need to make sure the project panel has been selected.
On the other hand, there's no need to switch to your keyboard when you need to confirm a selection in a dialog window — there's an enter button on the CT that does that and closes the window as well.
I had high expectations for the Color workspace with Premiere Pro and I wasn't disappointed. The CT allows you to swipe and rotate the wheel to make color and tint adjustments and even enables you to undo your changes without going to the mouse or your keyboard. You can even make color adjustments in full-frame mode. Curve manipulation is a bit less user-friendly in that you need to move your cursor close to the curve before you can set a point and manipulate it. Vignettes are among the easiest to work with: the Vignette Wheel page lets you rotate the wheel to create one and pressing the wheel, with or without the Fn button, gives access to more options.
Audio editing in Premiere Pro with the CT is also very user-friendly, even letting you create and manipulate keyframes and their interpolation settings.
I also tried the CT with Final Cut Pro X and found that it offers the same sort of functionality, although the integration with Premiere Pro goes deeper, as far as I could tell.
The Loupedeck CT doesn't work with other NLEs such as Blackmagic Design DaVinci Resolve or EditShare Lightworks. The reason is probably that the developers of those apps have also developed their own control surfaces and therefore don't open up their APIs to companies like Loupedeck. Equally frustrating, yet understandable, is that it doesn't work with plug-ins such as Color Finale or Codex's ColorSynth. It's frustrating, because I honestly think the Loupedeck CT has a huge advantage over others: it serves several different apps well and it is portable.
The Loupedeck CT retails for $549.