This Loaded HD Camcorder Gives You 35mm-like DOF for the Price of an HDSLR-Without Rolling Shutter or Moirà©
Ever since the introduction of the modern day video camera, digital filmmakers and producers of every genre have been striving for that elusive "film look." The advent of affordable high-definition camcorders like the Panasonic HVX200, with its cinema gamma and 24p recording, has brought us much closer to this. But no matter how good the lighting, composition and subjects are, one thing screams video from a mile away: the lack of cinema-style, shallow depth of field.
DOF, for the neophyte, is a distance range in which objects appear to be in focus. Deep DOF means more of the scene will appear in focus, shallow DOF means the range will be smaller and objects closer or further will appear blurred. Also known as selective focus, it's artfully used by DPs to naturally draw the viewers' attentions to the primary subject.
Here at Del Padre Digital, we have had great film-like results in the past with our Redrock M2 Cinema Lens Adapter mounted on our Panasonic HVX200 and, more recently, the RED ONE. In 2009 Canon released the 5D Mark II, primarily a digital SLR still camera, but also with the ability to capture 1080p HD video. This was the first affordable camera capable of mounting still camera lenses with an adapter. With its larger 35mm-sized CMOS sensor, the 5D offered groundbreaking control of depth of field.
Canon enjoyed-and still enjoys-tremendous success with the 5D, launching a huge DSLR video revolution. The one major drawback: the cameras were designed primarily as still cameras and are thus much more difficult to control ergonomically compared to already existing camcorders in terms of operation, handling and monitoring. You need to purchase so many extra accessories just to make it feel more like a video camera.
From lens adapters for cameras like the HVX200 to the pricey and rather large and heavy RED ONE there has been a need for 35mm-like depth of field in the form factor of a traditional video camera that accepts 35mm still or PL-mount lenses. And if it's going to sell, it's got to be priced like an HDSLR.
A New Breed
Panasonic put it all together, answering many of our prayers, with their new AG-AF100 film-like digital camcorder. The AG-AF100 is the first professional HD camera recorder to adopt the Micro Four Thirds standards. I really think the AG-AF100 is a digital SLR killer. It's a real HD camcorder with a form factor similar to the HVX200 and only a slightly higher price.
The AG-AF100 uses a 4/3-inch MOS sensor, which is virtually the same size as a 35mm Hollywood film camera. The MOS sensor has two control lines as compared to the three lines required by a conventional CMOS sensor, providing a larger light receiving area. Extensive noise reduction measures, such as embedded photodiodes isolated from noise sources and low-voltage operation, are also employed. By guiding more light to the pixels, the AG-AF100 achieves a wide dynamic range and detailed gradation with minimal blocked shadows or blown highlights in high-contrast scenes. You get exactly what you're after: true-to-life textures and rich colors.
To create the amazing-looking shallow depth-of-field you get with the AG-AF100, Panasonic uses an optical low-pass filter, optimized for HD motion images, that reduces the aliasing noise often occurring in motion images captured by an image sensor with a high pixel density. In addition, the MOS image sensor is scanned at a high speed in order to minimize skew distortion.
The result, an HD video camcorder with all the usual camcorder features like white-balance, zebra stripes, cine-gamma settings, timecode recording, balanced XLR inputs with Phantom Power, 48-kHz/16-bit two-channel audio recording, HD-SDI out, HDMI out, headphone out, and a built-in optical ND (neutral density) filter wheel with 2, 4 and 6 stops, so you don't have to mess around with dropping ND filters into a matte box anymore. You can shoot in bright conditions and use these ND filters to get the lens open for depth of field control with no need to change the shutter speed.
The AF100 records 1920 x 1080 full-HD images. The AVCHD PH mode is compatible with multiple HD formats, such as 1080/60i, 1080/30p, 1080/24p and 720/60p. Additionally, the AG-AF100 series lets you select 60 Hz or 50 Hz to support HD systems used around the world. It also has a variety of over- and under-cranking frame rates in 1080p, which will be familiar to anyone who has used Panasonic's VariCam series and HVX200 cameras. The camera shoots in AVCHD format at up to 24 Mbps using dual SDXC cards.
Impressive Heft, SD Memory and On-Camera Controls
My first impressions of the camcorder body itself were very good. For starters, it was surprisingly smaller than I pictured it would be in person but it felt solid and all the switches, dials and controls are logically laid out and easy to get to. The camera was shipped to me with a Lumix G Vario HD 14-140mm/F4.0-5.8 lens.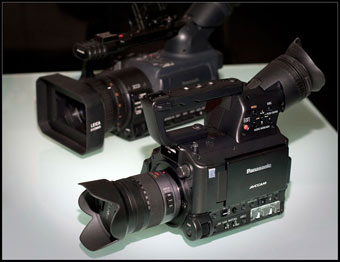 The new AF100 is not much bigger than the HVX200, pictured behind it.
Something that impressed me was the vast volume of footage I could record on SDXC cards. I ordered a Patriot 16GB Card for less than $30 that gave me about 90 minutes of recording time in the highest quality PH Mode at 1920 x 1080. I'm more accustomed to the RED and P2 cameras, where you have to keep your shooting ratio in the back of your in mind, as you can run out of available media if you're not careful. By contrast, the SDXC cards are so cheap and hold so much footage, there's really no concern here. You can shoot non-stop all day long on a handful of cards and never have to stop to download if you don't want or don't have time to.
The Panasonic AG-AF100 takes interchangeable lenses. Simply buy the adapter you require and stick on your Canon, Nikon, Olympus or a PL-mount lens.
The camcorder has a foldout HD LCD screen. The 3.45-inch LCD screen has very good definition with vibrant colors, making it easy for setting white balance and other basic color adjustments. The screen also displays a very cool waveform monitor for exposure tools with the usual two levels of zebras and colored peaking focus assist with a red/blue outline. There is also a spot meter, and a vector-scope. All these on-board tools make achieving perfect focus and exposure a breeze. I can't say this enough: The waveform and vector scopes are absolutely fantastic aids that make judging exposure refreshingly easy.
Located behind the LCD screen are various buttons for BARS, ZEBRA, OIS (optical image stabilizer), EVF DTL (electronic viewfinder detail), WFM (waveform monitor), COUNTER, TC SET, and audio controls for CH1 SEL, CH2 SEL, INPUT 1 and INPUT 2. Below the LCD screen you'll find the usual controls for PUSH AUTO-FOCUS, a FUNCTION mini joystick, USER 1, DISP/MODE CHECK, POWER ON/OFF, CAMERA/MEDIA MODE, IRIS with a dial wheel, GAIN, WHITE BALANCE, USER 2, AUDIO CH1 and CH2 level wheels.
The removable battery is found on the back of the camera where, just above this, you'll also find two slots for SDHC or SDXC solid-state cards with a cover. To the left of the battery is a SLOT SELECT button, a DIAL SELECT button and a SHUTR/F.RATE dial. I particularly like these on the back of the camera, which let me change my shutter speed, frame rate, and other functions right there on the camera using the dial and the DIAL SELECT button. Previously, I would have had to dig around in the menus-a huge time waster. To the right side of the battery are inputs/outputs for AV OUT, USB 2.0, HDMI, INDEX, CAMERA REMOTE, HEADPHONES and HD/SDI.
Lenses Galore
The Panasonic AG-AF100 has a 4/3-inch Bayonet Micro Mount for interchangeable lenses. This is a digital photographic still camera standard lens mount established by Panasonic and Olympus. This 4/3rd mount is the same one found on digital SLR stills cameras such as Panasonic's own Lumix models. You can choose from any of Panasonic's Lumix 4/3-inch mount lenses; they just mount right on. If you have a stack of Nikon AIS or Canon FD lenses from the 1980s, just buy an adapter (literally a mechanical adapter with no optics, so no loss in quality) and use those.
35mm filmmakers will be glad to know that you can also fit C-mount Cinema lenses and Professional PL mount lenses and other 35mm primes to the AG-AF100-again, with the use of an optic-free adapter.
Here's the lowdown on the recording formats the AG-AF100 supports:
1080/50i, 1080/25p, 1080/60i, 1080/30p, 1080/24p, 720/50p, 720/25p, 720/60p, 720/30p, and 720//24p. The AVCHD recording options are PH (21 Mbps – Max. 24Mbps), HA (17Mbps), HE (6Mbps), HA, and HE only for 1080/60i and 1080/50i.
The AG-AF100 has a lot of potential, and I'd definitely choose it if the alternative was an HDSLR. Its layout and controls are familiar and it's designed to do what it does, so it's much faster and easier to program, judge focus and expose than an HDSLR. It also doesn't create moirà© or rolling shutter artifacts the way an HDSLR will.
If you love the shallow depth of field and image control you can get with film cameras and DSLRs but want the ergonomics and affordability of an HD camcorder, this is the camera you've been waiting for.
Nino Del Padre founded and launched Del Padre Digital in 1991. Today he oversees a business that now encompasses digital cinematography services, animation and interactive design solutions to ad agencies, corporate clients, broadcast networks and the entertainment industry as well as partnerships with institutions as diverse as LEGO, Hasbro, and NASA.