Site Gives Colorists and DITs 24/7 Access to Software Seats Plus Third-Party Plug-ins and Hardware, Even T-shirts
Assimilate has followed up the spring launch of it $4995 SCRATCH Lab with a new way to buy the on-set and VFX dailies suite. Customers can now download the software 24/7 from
a specialized online store
within Assimilate's main web site.
The main impetus for the store, says Assimilate's VP of marketing Steve Bannerman, was to give existing and potential Lab customers around the world instant access to the software. "If you don't happen to live in a place with one of our resellers, or it's 2:00 a.m. on set in the middle of nowhere and you have a machine down, the store will be a lifesaver," he says.
The store is also a reflection of Assimilate's broadening market, the emergence of sophisticated e-commerce sites like Apple's Mac App Store, and pressure from competitors like Blackmagic Design, which currently offers DaVinci Resolve Lite for free. "We began reaching a new type of customer with the introduction of the lower-priced Lab and realized that we had to connect with them where they are—online," says Bannerman.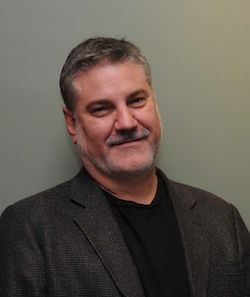 Steve Bannerman
The new store is hardly a single-shelf operation. "There's a whole SCRATCH ecosystem that's evolved," says Bannerman. "We want the store to be a place not just to try out or buy Lab but a place where our customers can discover new ways, through our partners, to expand SCRATCH Lab."
Assimilate has already lined up a nicely edited set of additional wares from third-party software and hardware partners and Bannerman says many more will join them. The offerings right out of the gate include top-level plug-ins like GenArts Sapphire and Twixtor from RE:Visision Effects and Wave color panels from Tangent. There is even a monitoring system from 3ality Technica aimed at stereo3D workflows. The hardware products, subject to varying tax and shipping charges depending on their destination, require the additional step of placing the order via email with Assimilate.
Bannerman says one of the plug-ins on offer, HS Art's PixelBuster, was expressly created for the SCRATCH workflow. In the coming months, he says he also expects to add some free code, including sample scripts the Assimilate engineers created that will move customers easily from Lab to NUKE, for example. "We want to encourage other developers to do the same thing," he says.
The site, with its secure login and XML-based protocols, says Bannerman, was the logical next step for Assimilate's customers outside the big markets in London, LA and New York. Previously, those customers had to forward log files to Assimilate and wait for a license, a process that could take more than 24 hours. After registering at the site, customers type in a credit card number and can instantly download Lab. A license key is sent automatically.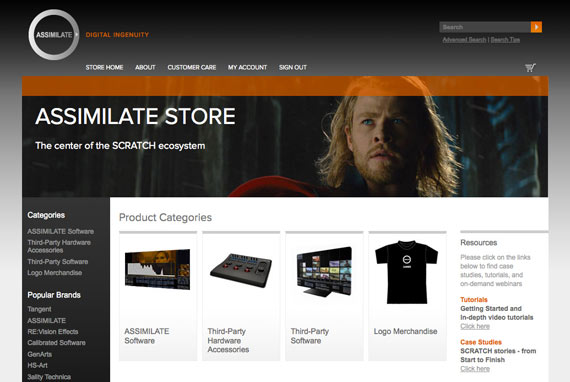 You won't find Assimilate's SCRATCH 6 system or turnkey solutions available for download anywhere in the new store—those products are still sold only through the company's dedicated reseller channel. For that reason, the store only pops up as a "Buy Now" link once customers arrive on the SCRATCH Lab product page. Bannerman says rental options for SCRATCH Lab will be coming in the near future.
The store also sells a selection of logo-wear, including stickers and t-shirts. Familiar to those who visited Assimilate events at industry trade shows, the black logo t-shirts ($29.95) come in a choice of ten different cities, selected for their famous film festivals, and ship with a small flat-rate charge.
For more information: http://store.assimilateinc.com/
---
Did you enjoy this article? Sign up to receive the StudioDaily Fix eletter containing the latest stories, including news, videos, interviews, reviews and more.