Fifty years ago, Neil Armstrong and Buzz Aldrin walked on the surface of the moon. To celebrate the event, the BBC decided to host a weekend of programs under the Moon Landing banner. They needed an accompanying campaign that included a series of idents and promos. That task fell to Carlos Gálvez, an award-winning senior motion designer and art director working for BBC Studios in London.
Using Cinema 4D, Arnold, V-Ray and X-Particles, Gálvez created light-hearted idents and promos that combined the retro feel of the actual moon landing photos with colorful explosions and astronauts dancing.
Originally from Valencia, Spain, Gálvez started out doing media studies before working as a video editor and, later, in motion design. In 2012, he moved to London and was offered a full-time job by what was then known as BBC Worldwide, the commercial arm of the BBC. He's spent the intervening years doing branding and promos in both 2D and 3D for various BBC channels across a number of countries, including Poland, South Africa and the Netherlands. He's also worked on spots for major shows, including Doctor Who, Top Gear, Sherlock and The Brit Awards, and has won more than 20 international awards.
Carlos Gálvez started out doing media studies before becoming a motion designer. Later he worked in broadcast design where he learned to use C4D.
Here Gálvez talks about his work for the BBC and describes his process for creating Moon Landing.
StudioDaily: Are you a full-time employee at the BBC, or a contracted freelancer?
Carlos Gálvez: I'm a full-time senior motion designer. I'd say 99 percent of the work is motion design for animated idents and bumpers or a new promo or campaign for a show. The most extreme project would be a fully animated promo. I work through all of the process, starting with mocking up some style frames and moving on to the animatics. [Watch the Moon Landing animatic on YouTube.] Next, I start working on the final animation. We might use freelancers to work on some parts, but usually, it's two or three people on each project. We very rarely have projects longer than one month, unless we have something like a rebrand or a refresh, which can take longer.
How does the BBC's commissioning process work?
The project is always for BBC Studios, but each country has its own brand, their own office and their own marketing department. It's usually the marketing team that does the brief and asks if we'd like to come up with a pitch. For this project, they wanted to promote BBC Earth's programs about the moon landing in different countries at the same time. So all of the territories came up with similar briefs, and we created a campaign that could feed each of their needs. [Watch more Moon Landing idents on Vimeo.]
The concept is quite unusual. How did you come up with it?
The producer, Shaun England, came up with the idea of travelling back to the moon 50 years later, like a nostalgia kind of trip that becomes a celebration of the many ways in which that first visit inspired us. The first version of the idea referenced Bowie, Pink Floyd's The Dark Side of the Moon cover, and other visuals from popular culture.
But in the end, we decided to simplify that and play with the disruption of the almost monochrome historical images, so it would be like you're going back to the common places we all know when, suddenly, colorful explosions of dust disrupt the grey surface and our astronaut starts dancing and enjoying himself.
At first, I tried to replicate the retro feel of the original photographs, which were taken with a Hasselblad 500EL camera and had dust, scratches, light leaks and fiducial markers. But the creative lead wanted the piece to feel like a new moon landing, as if we'd gone back there today and shot it with modern cameras. Once I removed all of that stuff, including the film borders, the approach was much cleaner.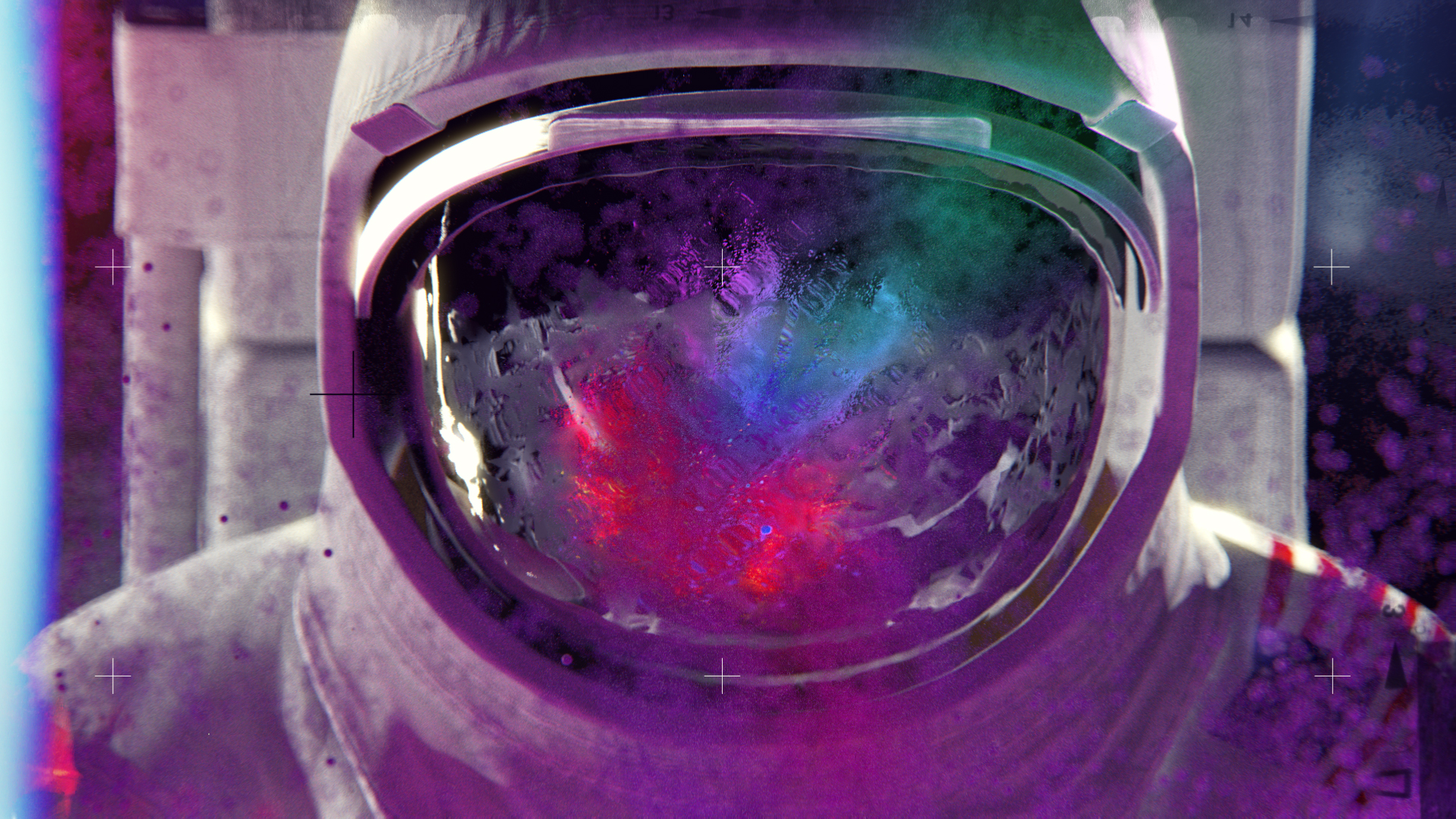 Do you mainly use C4D's native toolset, or do you add other plugins and extensions?
I think the main plugins the BBC owns are third-party render engines. We play a lot with Arnold and V-Ray. I know there are new ones that are exploring GPU rendering, like Octane and Redshift, but because we are Mac users we stick to Arnold and V-Ray. The landscape and the astronaut are V-Ray, and the particle renders and moon shots are Arnold. I'm really looking forward to Redshift support on Metal, which is supposed to happen before the end of the year.
How did you use Cinema 4D and V-Ray for this project?
C4D was our main tool. The creative director insisted that we use the exact same spacesuit from 1969. Luckily, we found a model on Turbosquid that was an exact replica. I rigged it in Cinema 4D and used [Adobe] Mixamo motion capture data for some of the animations, which really helped me bring the model to life easily. V-Ray ended up being the fastest tool for rendering the specific setup we needed with the lighting for hard shadows and rough surfaces.
How did you create Moon Landing's realistic colorful explosions?
There are some X-particles in the final version, but the biggest bits are stock footage. I basically did all of the simulations in X-Particles and rendered the animatic for timing purposes. But then render times became critical, so we isolated them and rendered them in Arnold and then mixed them with stock footage of powder explosions during compositing. I find that combination usually does the trick because I really enjoy when people wonder: "How was that done? Is that footage? Is that X-Particles?"
X-Particles is quite complex. What do you like about working with it?
I really enjoy using it. And I think it's quite intuitive to use it for something like an explosion. The main limitation is that, to make it realistic, I had to use a crazy number of particles, and that slowed the V-Ray renderer down massively. It was super-slow when I wanted to have proper global illumination, like the actual particles illuminating the rest of the scene. Once I had a specific number of particles, each frame was taking half an hour to render and that was too much. That's the reason I ended up going back to Arnold.
It must be nice to work across such a wide range of subjects and styles.
Yeah, absolutely. I would say that's one reason why I really enjoy this department. It also comes down to my personality. I don't really get that excited about being asked to be a specialist in one single thing. I like working on a fully 3D-animated project for three weeks or something, and then moving into a 2D-animated style. I'm a very curious person, and I find it more interesting to learn new things than to master one single thing.
---
Did you enjoy this article? Sign up to receive the StudioDaily Fix eletter containing the latest stories, including news, videos, interviews, reviews and more.