Peace of Mind for the Professional
We all know the drill: We spot what appears to be a great price on a name brand, U.S. made computer product, only to discover later the manufacturer has since joined the march offshore to China and elsewhere, and thereby realize vastly increased profits from markedly inferior products.
The (still) U.S. manufactured Sonnet F3 is an extremely robust RAID SATA storage system for serious industrial and rack-mounted applications. A simple user interface, battle-hardened steel and alloy case and paired full-size 3.5-in internal hard drives contribute to the unit's reassuring heft and usability.
In an era of tapeless recording to SD, P2, and SxS memory cards the design and construction of post-camera storage devices are critical to our livelihoods. There can be no compromise here: Go ahead and buy the cheapest drive you can find with the flimsy neon plastic case and paper-thin connectors. If you want trouble in your life you've now discovered the perfect formula. These low-cost units invariably bear descriptive names intended to inspire confidence like "heavy-duty" and "extra rugged", but true media pros understand we need more than mere words and hype. We need practical robust tools we can actually hang our bits and bytes and digital careers on.
The Sonnet F3 is in this vaulted class of top professional gear, with a hulking mass of 3.9 kg (8.5 lbs.) and a case with girth of almost 36 cm (14 inches).

The Sonnet F3 RAID system is a serious professional tool. It is extremely fast at almost 200 MB/s when configured RAID 0 and silent running for use in shared office environments. The F3 features a multiple FireWire/USB interface with a locking eSATA connector. Question is, why don't we see more widespread use of these more secure eSATA connectors?
While the F3 ships with a nifty valise approximately the size of a standard laptop case, the unit's primary application is for rack use in a control room environment. With current capacities up to 6TB configured for maximum speed (RAID 0), the F3 will meet the needs very well of top audio/video facilities. I use mine in SAFE MODE (RAID 1) for daily backup of my P2 HPX2700 original camera footage in the field, and for that application the F3 is a rock-solid performer.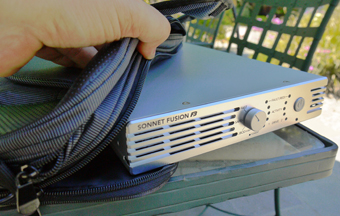 The F3 system ships with a handy soft case for portability typically set up my F3 in a motel room at night to offload original camera flash memory cards.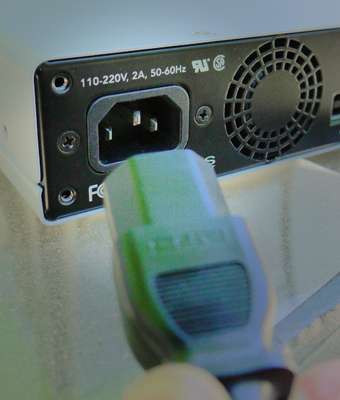 Many manufacturers have adopted a separate wall wart power supply to save money and expensive UL certification fees. Not Sonnet. The F3 features a robust internal power supply utilizing a standard D-plug.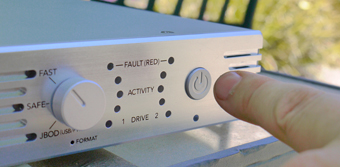 The F3's power switch seems rather feeble given the drive's intended high-end applications.
Summing Up
Some users may find the F3 unwieldy for portable applications, and for these itinerant folks a bus-powered mini RAID system might be more appropriate. But for everyone else on the higher end of the business the F3 offers superb performance and operational simplicity. In my career in remote corners of the world I've experienced notable failures of storage devices, mostly from defective controllers and substandard connectors. In this way the F3 offers something the cheap units could never provide me: peace of mind.