EF- and PL-Mount Versions Can Be Remote-Controlled from an iPad
In a much-hyped event this afternoon in Los Angeles at the storied Paramount Studios lot, Canon introduced two new cinema cameras that appear to be competing directly with Sony's CineAlta line, both in price and in specs. The Canon EOS C300 (EF-mount) and EOS C300 PL (PL-mount) are built around an 8.29 Megapixel Super35 CMOS sensor and feature native 4K (4096 x 2160 pixels) resolution. The C300-which includes an LCD monitor, battery, charger and more- will list for $20,000 and is scheduled to begin shipping in January. The PL-mount version will also list for $20,000 and begin shipping in late March.
Canon's chairman and CEO, Fujio Mitarai, introduced the camera, which he said was inspired by the hugely successful 5D Mark II. The new Cinema EOS cameras will work with Canon's own cinema zoom lenses, including the E30-300mm T2.95-3.7 telephoto zoom and E14.5-60mm T2.6 wide zoom, as well as the forthcoming Canon Primes (24mm, 50mm and 85mm).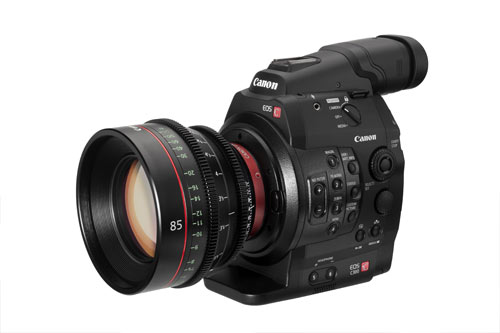 The EOS C300 will accept a variety of lenses, including Canon's upcoming 85mm Prime.
The cameras look, at first glance, like fully decked Red EPICs and appear to be grabbing at both the Red and Arri Alexa market. But the price, CMOS imager and 4:2:2 1080p30 output bear more of a direct similarity to Sony's CineAlta F3. That camera, however, has the option to record RGB 4:4:4 to external decks, and the new Canon cameras currently don't offer a 4:4:4 out feature.
According to StudioDaily contributor Barry Braverman, who attended the event, the footage played well on the 60-foot screens inside the Paramount theater. "When the demo started, there were none of the DSLR issues we are used to seeing on the big screen," he says. "Most of the images in the demo and sample scenes are nice, though I did notice a few 'uh-oh' scenes." The cameras use the Canon XF codec to record at 50Mbps 4:2:2 1080p30 MPEG2 MXF.
The demos shown, says Braverman, ranged from "some exceptional shots of San Francisco at night" to footage with lots of VFX, showcasing how well this camera will handle both night footage and greenscreen shoots in controlled studio environments. The last demo shown was apparently going for the jugular and featured some "gruesome, disturbing and extremely violent images," he says. The night footage shown at the event was shot with Canon's new 30-300 telephoto at 20,000 ISO at T5.6-T8. Braverman says the greenscreen footage, most shot at 16,000 ISO, was still very pleasing to look at. "Lighting kits going forward will be limited to a few Litepanels and an iPad," he adds.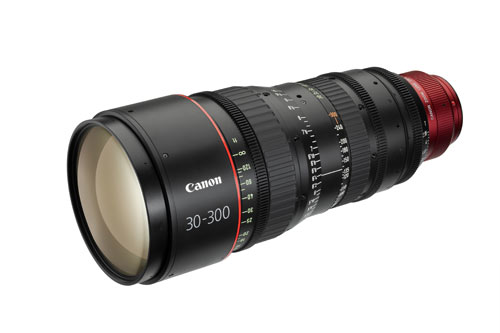 One of Canon's new EF Cinema Zoom PL-mount lenses (CN-E30-300mm T2.95-3.7 L SP).
The new cameras can capture to two CompactFlash cards simultaneously, what one panelist at the event likened to "the 5D MK II all grown up." All of the features on the new cameras are controlled manually; there are no automatic or semi-automatic features that shooters of fast-paced, one-shot-only productions like live sports, for example, rely on. This is obviously aimed only at the television and film market, especially studio production.
Special guests Martin Scorsese and Jon Fauer, who spoke to the crowd less about the new camera and more about what inspires them as filmmakers, drove home that point during a presentation that felt more like a film premiere than a product unveiling. They emphasized the need for continually evolving "portable tools."
Canon also hinted at yet another "Digital SLR" camera with a "4K movie function," still under development, that will record at 24p using Motion-JPEG compression. A product name, launch date and details for that camera "have yet to be decided," the company said in a simultaneous release.
One notably missing topic during the Paramount event was stereo 3D, which Braverman says may regrettably not be on Canon's initial roadmap for the EOS C300 cameras.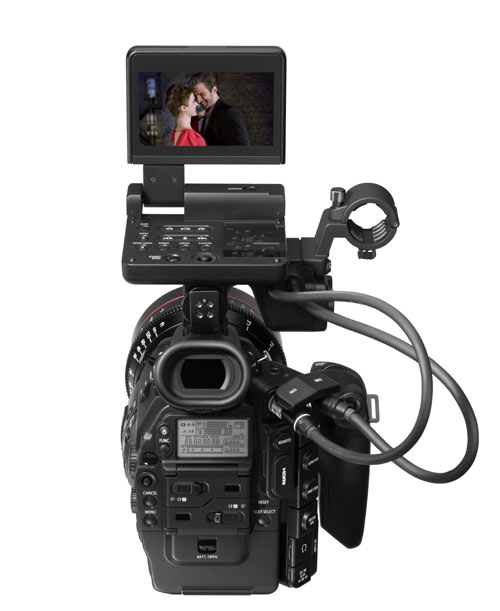 This view shows the LCD monitor and XLR audio attached.
Braverman will be meeting with Canon reps tomorrow during a one-on-one session and will report back with all the details here. "Canon's push into the pro space will likely prove very disruptive to other camera makers," he says, "but should also prove highly beneficial for filmmakers everywhere."
For more information: www.Canoncinemaeos.com
---
Did you enjoy this article? Sign up to receive the StudioDaily Fix eletter containing the latest stories, including news, videos, interviews, reviews and more.