Multicam and Its Angle Editor Shine but Broadcast Monitoring Has a Way to Go
When I
reviewed Final Cut Pro X last July
I had some conflicting reactions. While I felt that the initial release was largely Final Cut Pro in name only, I also recognized that Apple challenged us (angering many) by bringing some very interesting new ways of working to the editing world. But because the original version of Final Cut Pro X lacked some very basic features, it felt a bit schizophrenic and, quite honestly, like an application that was released too soon.
Since that warm summer day Final Cut Pro has gone through several updates that have taken it from version 10.0.0 to 10.0.3. Those numbers may look small but the feature improvements are big and 10.0.3 feels more like what should have come out the door first. Still, there are plenty of improvements worth reviewing as part of a much-improved whole.
Multicam
Of all the features left out of FCPX's original version, Multicam was the biggest. FCP7's Multicam was entirely usable – and I have cut many music videos and concerts with it over the years – but it was sometimes difficult to set up, clunky to use and nearly impossible to amend once you had it working. Apple obviously realized this, too, and went back to the drawing board for this version of Multicam, which is extremely well thought out and a pleasure to use.
You may have already heard how this version uses the built-in audio syncing functionality in FCPX 10.0.3 to magically synchronize camera angles based on their scratch audio. While this is hugely important, very nice and could save you amazing amounts of time, I think the bigger deal is 10.0.3's ability to easily adjust and manage the Multi-camera Clips once they are created, even after editing has begun. Think of how much easier it will be to edit a large concert where you might even come close to hitting FCPX's extremely generous 64-angle limit for a Multi-camera Clip.


The Angle Editor is a special timeline stacked with multiple angles that makes syncing, adjusting sync, adding/deleting angles and adding effects fast and easy.
What makes FCPX Multicam work so well is its unique Angle Editor, basically a special timeline where the editor can see all the angles stacked in sync in different video layers. Often called a sync map, it looks like a multi-layer timeline. There you can view and scrub angles, rearrange angles, add and remove angles (audio, video or even still photos, if you have that rather unique need), adjust and slip sync and add filters and effects to an individual angles. It's worth repeating that this Angle Editor makes it easy to add new angles and adjust and slip sync after the Multi-camera Clip has been created and after it has been used in an edit. That's some refreshingly nice functionality.


Multicam angles can be switched by a new Angle Viewer or directly in the timeline.
The power of the Angle Editor is pretty impressive, making FCPX's Multicam the clear leader among multi-camera editing tools in competitive NLEs. Once you start working with Multicam, it is fairly standard stuff. The new Angle Viewer lets you view and switch angles in a 4, 9 or 16 split. You can also now switch video only and change angles via a submenu in the timeline. I liked the nice set of squares at the bottom of the Angle Viewer that let me see how many banks of angles I have in a Multicam Clip (and easily view them), how they are positioned, and what audio and video is active. It is unbelievably nice, especially if you typically work with more than four or eight angles. It'll be a Godsend if you end up using all 64 angles.
Broadcast Monitoring
For all that's right about Multicam, the broadcast monitoring support in 10.0.3, though still in beta, barely works. Broadcast monitoring is a non-issue for some, but post houses and editors who have to work with clients in the room are lost without it. Personally, I just like to be able to watch the cut on a bigger monitor that's not the computer display that I look at for hours on end.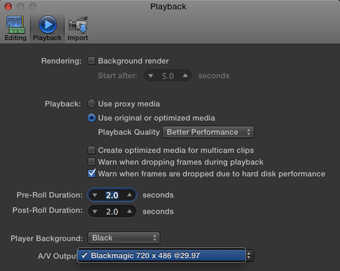 An A/V Output preference has been added to FCPX for choosing your format as well as an A/V Output option to turn monitoring on and off. Why my FCPX install only allowed a single SD option when all of my projects were HD is beyond me. Another reason it's still beta, I suppose.
Most of the major third-party hardware developers have already written FCPX drivers (Blackmagic Design, AJA and Matrox) but I'm guessing there is still a fair amount of work to do since Apple is calling it a beta feature. Issues I've already read about include sync, picture quality and an annoying tendency for the broadcast monitor to flash the image on and off the screen as you move around the interface. I've seen all three of those issues, making it fairly unusable in this form.
A New FCPX XML
A new, FCPX-specific XML format was introduced with version 10.0.1. With that the "FCPX is an island" criticism began to disappear. It's not compatible with the old FCP7 XML format so those legacy third-party tools won't work with the new XML, but most of the standard tools are upgrading to FCPX and new tools are also coming online that will work with the FCPX XML.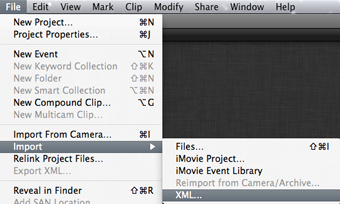 XML Import provides a wealth of functionality when it comes to moving things in and out of Final Cut Pro X. XML Export is an option when a project (aka timeline) is selected in the Project Library.
Blackmagic Design was quick to update DaVinci Resolve with the ability to both import and export an FCPX XML. An upcoming tool called X2Pro Audio Convert will be able to send OMFs from FCPX to Pro Tools. And the XML wizards at Intelligent Assistance have utilities that can move projects both to and from Final Cut Pro 7. Their $10 7toX for Final Cut Pro addresses one of the biggest early criticisms of the original FCPX release: the fact that you couldn't move legacy FCP7 projects to the new version. I wrote a more in-depth article about this FCP7 to FCPX conversion over on my blog and I was impressed with the quality of the conversion. I've read what Apple has said about this conversion but it worked well enough to really wonder why Apple didn't just build this into FCPX itself.
The new FCPX XML still has a few limitations and there is certain data that it does not yet translate. But Apple updated the XML in FCP7 all the time, as you may remember, and the same will happen with FCPX XML.
From 10.0.1: Roles
A new feature that came along in the 10.0.1 update was Roles, a brand new concept that lets you assign a designated Role to clips and then do special things to them in the application.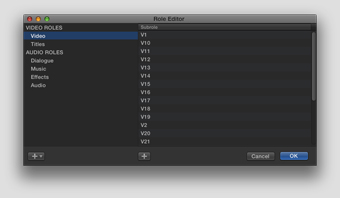 Roles can be created in the Role Editor and assigned to clips. The large number of Roles in the image above came from an edit that was imported from Final Cut Pro 7 using 7toX for Final Cut Pro.
On one level, you can think of Roles of as a kind of substitution for video tracks, since the FCPX magnetic timeline doesn't use tracks. In a track-based NLE you might put all lower thirds on their own upper video layer track and just turn that track off to output a textless sub-master version of an edit. Easy enough. In FCPX you could assign your lower third with a Titles Role and just turn those off in the Timeline Index to get that textless version. Easy enough. But Roles won't let you organize the timeline into anything neat and tidy so they don't replace tracks in that sense.


You can see Roles at work in the image above (and larger at the top of the page). An edit imported from Final Cut Pro 7 with 7toX for Final Cut Pro assigns clips a Role based on the FCP7 video track. Both V6 and V8 Roles have been minimized and the V8 Role is highlighted in the timeline by selecting it in the Timeline Index.
In version 10.0.1 Roles introduced the ability to export audio stems based on their assigned roles. This wasn't a substitute for OMF export, though many thought that it was (OMF export will come from third-party developers). The audio stem export function is nice to have but, to be honest, I can't remember the last time I needed to do that. It's always OMF that an audio mixer needs.
I'm hoping an enterprising third=party developer can work some magic with the Roles functionality. You have to be careful not to overdo it with Roles, since any Roles that have been used in a project will always show up in the Role Editor if that project and media is online. For example, the large number of video track Subroles you see above always show up as long as that particular job's Event or Project (aka timeline) is online. It would also be nice if there was a way to easily delete a user created Role or Subrole.
Manual Relinking of Media
The most recent 10.0.3 update brought with it the ability to manually relink media, both in an Event and a Project (aka timeline). This is another one of those features that FCP7 users really felt uncomfortable without, since a manual relink is a fail-safe way of getting media back online. But even when using it back in FCP7, you often got odd error messages when you knew you were relinking to the right file.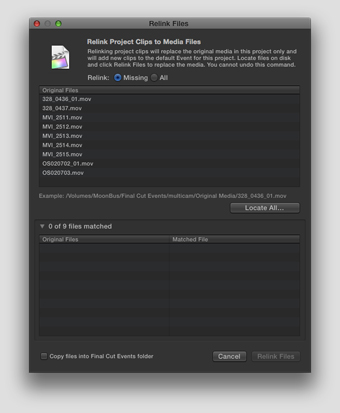 The FCPX Relink dialog box is much more detailed tool for relinkling offline files than what existed in its FCP7 predecessor.
On the one hand, FCPX shouldn't need to ever relink to an offline file, now that it has introduced a very Avid-like way of organizing media by default. When importing media into FCPX the default setting is to "Copy Files to Final Cut Event Folder," which means FCPX is moving the Event media to a place where it can best track that media. This is FCPX managing the media in a very structured and very specific way. When that preference is unchecked, you get an alias to the media file placed in the Final Cut Event folder. That works but aliases can be a bit scary. In fact, I've had random media go offline in FCPX. Not a lot but enough to be concerned. With manual relinking it is now easy to point an offline file back to the online media. This was one of those features that I think we all knew would be added eventually.
Quite a Few Little Things
Another feature we knew would arrive soon and did in 10.0.3 was the ability to import layered Photoshop files. FCPX's inability to do this initially was a stumbling block for many. If you tried to do it, the layered PSD would come in flat. Many established graphics workflows and editors had come to rely on this feature for speed and ease of graphics compositing, so it's nice to have it back.
Two nice things in the 10.0.1 update were the ability to apply a custom sequence starting timecode and XSAN support, which lets you support an XSAN volume for media and event storage. That doesn't mean true collaborative editing yet but it's a start.
In case you haven't heard, FCPX now offers a free 30-day trial. That came with the 10.0.1 update and marked the first time Final Cut Pro had ever been made available as a demo. Adobe does it. Avid does it. It made sense for Apple to finally do it, too.
Now What?
Now that Final Cut Pro X is sitting at version 10.0.3 it has reached a critical equilibrium: many of the missing features from Final Cut Pro 7 have been restored and most of those features are better now than they ever were in FCP7. There still are a number of things missing, including roundtripping of in-timeline clips to Motion, out of sync indicators, match frame/through edit indicators, native RED R3D support, native XDCAM support (coming as soon as Sony releases its updated XDCAM EX plug-in), customizable windows and workspaces and customizable Event columns.
Overall, however, there is a pretty nice feature-set within FCPX. Up until version 10.0.3 part of the argument against FCPX was its lack of certain core functions that editors have always relied on. Now that many of them are back the questions to ask about moving to FCPX is less about editing features and more about editing philosophy. You may still have to ask yourself the following questions:
Is the Magnetic Timeline and its less disciplined, trackless way of working something that appeals to you?
Does the FCPX Event-based idea of tracking media (all media available all the time unless media is taken offline by a manual process) favorable to your workflow and client structure?
Is the FCPX idea of a single Project being a single timeline something that trips up an editing style of duplicating your timeline every time you make a significant change?
Does the lack of a Viewer/Canvas, two-up monitor layout slow down your editing or disallow certain editing techniques you've come to rely on?
Even if the goal of the new FCPX editing technique is much faster editing over the long term, how much time will you need to spend to learn to edit another way?
These are just a few of the questions I've been asking myself recently before using Final Cut Pro X on client projects and I know other editors continue to ask them as well. Now that Apple has gotten most of the feature-set stumbling blocks out of the way, it comes down to how willing you are to teach yourself some very different but potentially rewarding new tricks.