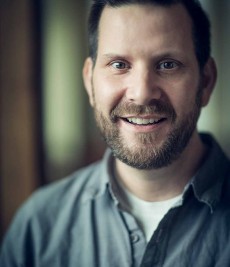 How His Artisan's Eye Led Him Through the Ranks to Captain America: Winter Soldier
In high school shop class where most kids build cutting boards, bookshelves, and little wooden boxes, Russell Earl built a Queen Anne highboy, a Queen Anne lowboy, and a serpentine-front desk. Today, Earl is a visual effects supervisor at Industrial Light & Magic, where he recently completed work on Marvel's highly-praised film Captain America: The Winter Soldier.
How does that furniture-building passion of his youth relate to visual effects?
"It doesn't," he answers.
"It does," he quickly corrects himself. "It's. . . I'm a visual person."
We're sitting at a round table in ILM's large Craftsman-styled dining room in San Francisco. It's an overcast day, with long-awaited rain in the forecast, and it's lunchtime, so the room is filled with conversation and laughter and silverware clinking against plates. Floor-to-ceiling windows offer million-dollar views of the Golden Gate Bridge to the north and the city skyline to the east.
"I look at everything," Earl says. "The way everything is put together. The way the windows are framed. The way lights are hanging. The way people walk. And all of that applies to my job, to looking at shots."
Most of the 900 shots (including omits) created by artists at ILM for Captain America take place in the film's action-packed third act—a complex choreography of hand-to-hand fighting, rocket fire, machine-gunning, high-tech aerial dogfights, and superhero stunts against a digital Washington D.C.
"How do we know the good guys from the bad guys?" shouts the character Sam Wilson, aka the Falcon (actor Anthony Mackie).
"If they're shooting at you, they're bad!" yells Captain America, aka Steve Rogers (Chris Evans).
Joe Morgenstern, film critic for The Wall Street Journal, writes: "Awesome doesn't overstate the case for some of the action sequences, especially a climactic battle in the skies over Washington: It's as if the immense warplanes in Hayao Miyazaki's animated classic Castle in the Sky had come to life, or the kind of heightened life that's conferred by digital effects at their most inspired."
Directed by Anthony and Joe Russo, the film had a reported $170 million budget. Dan Deleeuw was the production visual effects supervisor, overseeing work by numerous studios including Scanline, The Embassy, Whiskytree, and others in addition to ILM, but ILM did much of the heavy lifting.
"Scanline did the bridge fight when Captain America is on his motorcycle," Earl says. "We did the D.C. S.H.I.E.L.D. headquarters on the Potomac, a 600-foot tall building between Rosslyn, Virginia, and the downtown [National] Mall area. We also did the helicarrier bay that sits in the river, the launch sequence, all the shots of the Falcon flying, the helicarrier battle, the World Security Council, the fight between Winter Soldier and Captain America, several digital doubles, and the transition of [one character] into [another]."
Further, because the filmmakers couldn't shoot planned shots in Washington D.C., the ILM crew built backgrounds in CG, especially for shots that take place on Theodore Roosevelt Island in the Potomac.
"Proof did the previs," Earl says. "When you plan shots, you design the shots the way you want them to be. You don't want to think about restrictions you might have. So the previs guys put cameras where the directors wanted to see them. But when I looked at the previs to come up with a plan to shoot aerials for the backgrounds, I realized it's a highly restricted no-fly zone. I called the pilots. They said, 'You can't fly there.' Not even a 'We could kinda go over that way a little.'"
So Earl considered how they might use still photography and substitute moving plates to create the shots. "We did rough match-moves of the previs to figure out where the camera was," Earl says. "When we got to the no-fly zone, Tim Dobbert, our layout supervisor, came up with alternate shots that had the same feel as the previs, and that we knew we could actually shoot. Production said, 'That's great. We can do that for the trailer. But for the movie we want the camera where it was in the previs.' So we ended up doing a digital D.C."
And the shot count grew. "When we originally bid the film it was smaller," Earl says. "The fight between Winter Soldier and Captain America was on the deck of one of the carriers, but it moved into a cooler area, and then a big pirate-ship battle broadside was added. I think we had the largest number of shots."
Captain America is Earl's 25th film at ILM and his sixth as a visual effects supervisor. He has received two Oscar nominations (for Star Trek and Transformers), a BAFTA nomination (Star Trek), three VES nominations, and a VES award.
His journey began in Westford, MA, moved to the Rhode Island School of Design, detoured to L.A. for a quick stop at the studio that became VIFX, traveled on to Douglas Trumbull's legendary studio in Massachusetts, and took another detour to L.A., where he worked for a fish-tank manufacturer before settling at ILM.
"I guess I've always been curious and observant," he says. "Even as a young kid I would take all my toys apart. When I couldn't put them together, I'd hide them until I figured out how. My parents would say, 'Where's that remote-controlled car you got for Christmas?' I'd say, 'Oh yeah, it's, uh, under my bed.'"
The furniture-making skills provided the ticket to the Rhode Island School of Design, where he was introduced to filmmaking. "I was always interested in movie effects," he says. "When I was a kid, I had the Star Wars books. I'd take a wrench and bang on the guy-wires for the telephone pole and make the lightsaber sound. All that stuff. But I really liked building things by hand."
While he was in college, though, his father, who worked for Ray Kurzweil, helped him land an internship at Video Image, the L.A. studio founded by Richard Hollander and Greg McMurry that evolved into VIFX.
"They were doing screen graphics and had storyboards up on the wall," Earl says. "They didn't have a lot for me to do, so I learned the software they were using and I started designing graphics."
His work was good enough that he created the screen graphics for Patriot Games. "I got to go on set at Paramount and install the graphics in the CIA office where Harrison Ford goes," he says. "I thought that was really cool. I sort of got hooked a little bit there."
Thus, during his senior year at the Rhode Island School of Design, he was quick to respond when he spotted a flyer advertising positions available at Douglas Trumbull's new visual effects company in Western Massachusetts. His friends applied, too. The school had acquired three Alias-based workstations by then—one for the film department, one for the industrial design department, and one for the fashion department—and they all had some computer experience.
"We set up a camera in front of the computer and took slides," Earl says. "This was before PowerPoint. I took my slide carousel to my interview. Three slides in, the thing jams. We only had 15-minute time slots. I had to pull the slides out and talk through the thing."
Two weeks later, he was crushed when he realized two of his friends had gotten a callback and he hadn't. "I walked into the computer room where my friends were, and they all got really quiet," he says. "I think I wanted the job more than anyone. I went home. There still wasn't a message on my answering machine."
As it turned out, his roommate had listened to the message and deleted it. "He was like, 'Some guy called about an interview…,'" Earl says.
At the end of the day, Earl was the only one who landed the job. "It was as a traditional model-maker," he says. "At school, they had a Masters program in furniture making, but I was already a fine craftsman. My high-school shop teacher was a Harvard-educated guy who built harpsichords, so it was more like a New England fine-furniture apprenticeship than a shop class. When I was 17, I had more experience than a lot of the Masters students. I knew the techniques and tools."
The Trumbull job offer was his second offer after graduating, but his first choice.
"I had auditioned for a summer stock theater company," he says, "and I got offered that job, too. I had acted in high school and in college and for a while I thought I wanted to be an actor. The Trumbull job paid more, not that it was a huge amount of money, and I thought, 'Wow, you're going to pay me to make models all day long? That's great!'"
"It's funny," he laughs. "When I got the job, one of my friends said, 'Well, you've been acting like an industrial designer for the last four years.'"
At Trumbull, Earl helped build a miniature city—buildings, spaceships, and so forth—on a large motion-control stage. When that ended, he went back to Rhode Island, but soon got a call from the assistant to the producer at Trumbull. Because Earl had run the laser camera, the producer's assistant believed he could do digital compositing.
"He said, 'Hey, you know Unix, don't you?'" Earl says. "I said I did, which I didn't. He said, 'Can you start today? At 7?' I said, 'Yeah, I can do that. I thought I could figure it out. I packed my car, went to the bookstore, bought a book on Unix, hid it in my bag, and drove up there. I had these little Post-Its. When they would ask me to do something, I would write it down on my Post-It, go back to my desk, and look in the book."
At Trumbull, he worked for Joel Hynek, who would go on to win an Oscar for the visual effects in What Dreams May Come. "We worked on 'In Search of the Obelisk,'" Earl says, referring to the interactive film project at the Luxor hotel. "John Gaeta was Joel's assistant at the time."
Earl turns in his chair and points to another table near a window in ILM's dining room. "John just left," he says. "He was sitting right there." Gaeta, we learn, is now the Creative Director for New Experiences at Lucasfilm/ILM.
Earl joined ILM in 1994—today is his 20th anniversary. When he got the call, he was working at a friend's fish-tank company in Los Angeles. "I had sent a résumé, and they offered me a job as a technical assistant working nights," he says. "I wasn't interested in working nights, so I said, 'No thank you.' When I got off the phone, I thought, "What did I just do?'"
But two months later, they called again, this time with a day job. "I later found out that John Berton [a former VFX supervisor at ILM] had seen Trumbull on my resume and Trumbull was one of his heroes," Earl says. "They called on a Thursday. They said, 'Can you start Monday?'"
He did. But not as a digital compositor. He started at the bottom. "I was a tape robot," he says. "I'd run tapes all day long and then stay however long at night learning the software."
All that extra effort moved him up the food chain. "I'd find someone to ask, 'Hey, I'm trying to move this light. Is that how you do it?'" he says. "And, when I'd learned the tools, I started saying, 'Hey, I can do a shot. Can I light a shot? Can I comp a shot?' And they started letting me."
He rotoscoped shots for Forrest Gump, moved up to technical director on Dragonheart, began doing effects with Deep Impact, and he was on his way, moving through work as a digital effects artist on Star Wars: Episode I – the Phantom Menace, sequence supervisor on Men in Black II and Pirates of the Caribbean: The Curse of the Black Pearl, associate visual effects supervisor on Mission Impossible III and Transformers, and then visual effects supervisor with Roger Guyett on Star Trek.
Today, he confines hands-on building to remodeling the house he shares with his wife and two young daughters. "I bring people into the kitchen and the first thing I do is tell them, 'You see that? You see how out of the level the floor is?'" he says. "My wife asks me why I point out all the things that are wrong. The answer is because that's what I see. And all of that applies to my job. OK, this shot doesn't look real. Why doesn't it look real? What would it take to make it look better? I think that's the challenge and one of the best things about this job. A lot of it comes down to problem solving."
And he had plenty of problems to solve in Captain America.
"This was my first big movie," Earl says. "Except for a sequence in Cloud Atlas, I had always worked with another supervisor from ILM. And this is my first Marvel movie. But it was great. It was very much a collaborative team, and everyone was really helpful on set, too. Everyone wanted to make a good movie. They'd say, 'Hey, can we get you a bigger blue screen? Is this lighting working for you? What can we do?' I'm really happy."
Captain America's success likely means he'll see more big visual effects projects in the future, and his dream of having a woodshop at home will have to wait.
"I think that what I'm best at is probably building things with my hands," he says. "But I don't do that any more. It's funny – you'd think we'd have nice furniture. My wife will want to buy a nice piece. But I see the price tag and say 'No, I can build that.' She says, 'When do you have the time?' I do miss the hands-on stuff. But I really enjoy what I do now."
---
Did you enjoy this article? Sign up to receive the StudioDaily Fix eletter containing the latest stories, including news, videos, interviews, reviews and more.